Article
Diversity in Health and Care Partners Programme
This programme supports health and care organisations to create more inclusive workplace cultures, where difference is welcomed and celebrated.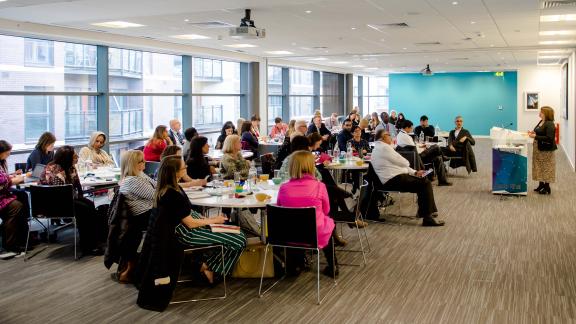 Forty-eight organisations from across health and care have joined the 2022/23 programme starting in September 2022. The year-long programme includes four face-to-face interactive modules, specialist virtual masterclasses in partnership with our colleagues at the Employers Network for Equality and Inclusion (ENEI). It also includes access to leading industry experts, good practice, guidance and resources. 
Built on a foundation of over ten years' experience of delivering a successful diversity and inclusion partners programme, this initiative will provide thought leadership, tools and tips to help put your organisation at the forefront of equality, diversity and inclusion (EDI) practice.
Underpinned by the NHS values, the programme supports:
leaders to integrate the latest sustainable diversity and inclusion practices

the creation of culturally appropriate and inclusive services to meet the needs of a diverse range of patients and care service users

organisations to be the best employers and service providers they can be

eff

orts to achieve the requirements of NHS and other external benchmarks and standards.
Watch this short animation to learn more.
(Should you have any technical issues playing the above animation please clear your web browser cache data, eg, chrome://settings/clearBrowserData)
Audience
Organisations
Individuals

NHS trusts (including acute, community, learning disabilities, mental health and ambulance) 
Local government organisations
Private sector organisations providing health and social care services
Voluntary and charity sector organisations 

Board members
Equality and diversity leads
Human resources professionals
Learning and organisational development leads
Service improvement, staff-side representatives and project managers
Birmingham and Solihull Mental Health NHS Foundation Trust 
Black Country Healthcare NHS Foundation Trust 
Bradford Teaching Hospitals NHS Foundation Trust 
Calderdale & Huddersfield NHS Foundation Trust 
Chesterfield Royal Hospital Foundation Trust 
Coventry & Warwickshire Partnership NHS Trust 
Cumbria, Northumberland, Tyne and Wear NHS Foundation Trust 
Cygnet Health Care 
Doncaster and Bassetlaw Teaching Hospitals NHS Foundation Trust
East Cheshire NHS Trust and Mid Cheshire Hospitals NHS Trust 
East Sussex Healthcare NHS Trust 
Greater Manchester Mental Health NHS Foundation Trust 
NHS Gloucestershire Integrated Care Board 
Herefordshire and Worcestershire Integrated Care System 
Homerton Healthcare NHS Foundation Trust 
Hull University Teaching Hospitals NHS Trust 
Integrated Care Northamptonshire 
James Paget University Hospitals NHS Foundation Trust 
Kent Community Health NHS Foundation Trust 
Leeds and York Partnership Foundation Trust 
Leicestershire Partnership NHS Trust 
Mid and South East Essex Integrated Care System  
Mid and South Essex Health and Care Partnership 
NHS North East North Cumbria Integrated Care Board 
NHS North West Leadership Academy 
NHS Professionals 
NHS South, Central & West Commissioning Support Unit 
NICE 
North Cumbria Integrated Care NHS Foundation Trust 
North West Ambulance Service NHS Trust 
Northern Care Alliance NHS Foundation Trust 
Nottingham University Hospitals NHS Trust 
Queen Elizabeth Hospital King's Lynn NHS Foundation Trust
The Royal Free London NHS Foundation Trust  
Royal United Hospital Bath 
Sheffield Teaching Hospitals NHS Foundation Trust 
Shrewsbury & Telford Hospital NHS Trust 
Southport & Ormskirk Hospitals NHS Trust 
St Catherine's Hospice 
Suffolk and North East Essex Integrated Care Board 
Sussex Partnership NHS Foundation Trust 
Newcastle Hospitals NHS Foundation Trust  
University Hospitals Dorset NHS Foundation Trust 
University Hospitals of Leicester NHS Trust
Walsall Manor Hospital 
Warrington & Halton Teaching Hospitals NHS Trust 
Wirral Community Health and Care NHS Foundation Trust

The dates confirmed for this year's face-to-face modules are:

29 September 2022 - Leeds
15 December 2022 - London
2 March 2023 - Birmingham
22 June 2023 - Leeds 

"Our organisation has really benefited from being a partner. The principles of partnering and learning from others are fundamental to the equality, diversity and inclusion agenda and the partners programme delivers these."

"Helped me to really focus on some of the specific challenges and raise the profile of diversity and inclusion within my organisation." 

"Inspiring sessions that enabled partners to engage with each other in small virtual group sessions to share best practice and to make useful connections." 

Historically a free programme, there is now a standard charge of £1995+ VAT per organisation (not per individual). We recommend and encourage that board members, EDI leads and staff network chairs attend the face-to-face modules and benefit from the great networking opportunities this provides. There is more flexibility for additional delegates to attend the virtual masterclasses.