Article
Diversity in Health and Care Partners Programme
This programme supports health and care organisations to create more inclusive workplace cultures, where difference is welcomed and celebrated.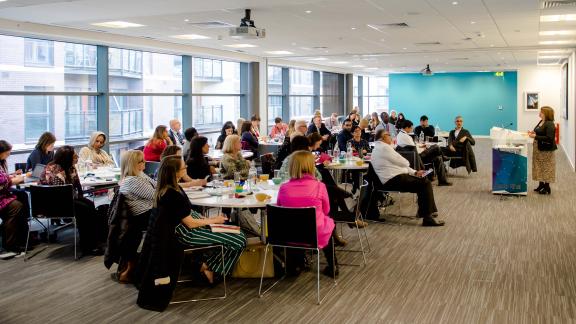 Formerly known as Diversity and Inclusion Partners, the initiative has been updated and now offers a new and comprehensive annual programme, delivered through 4 all day modules and a series of masterclasses. We are now open for applications until Friday 26th August 2022. Further details and online application is included below.
With the first module starting in September 2022, the Diversity in Health and Care Partners programme includes four face-to-face interactive modules, specialist virtual masterclasses in partnership with our colleagues at the Employers Network for Equality and Inclusion (ENEI), plus much more.
Built on a foundation of over ten years' experience of delivering a successful diversity and inclusion partners programme, this initiative will provide thought leadership, tools and tips to help put your organisation at the forefront of equality, diversity and inclusion (EDI) practice.
Underpinned by the NHS values, the programme supports:
leaders to integrate the latest sustainable diversity and inclusion practices

the creation of culturally appropriate and inclusive services to meet the needs of a diverse range of patients and care service users

organisations to be the best employers and service providers they can be

eff

orts to achieve the requirements of NHS and other external benchmarks and standards.
Watch this short animation to learn more.
(Should you have any technical issues playing the above animation please clear your web browser cache data, eg, chrome://settings/clearBrowserData)
Audience
Organisations
Individuals

NHS trusts (including acute, community, learning disabilities, mental health and ambulance) 
Local government organisations
Private sector organisations providing health and social care services
Voluntary and charity sector organisations 

Board members
Equality and diversity leads
Human resources professionals
Learning and organisational development leads
Service improvement, staff-side representatives and project managers
Cost
Historically a free programme, there is now a standard charge of £1995+ VAT per organisation (not per individual). We recommend and encourage that board members, EDI leads and staff network chairs attend the face-to-face modules and benefit from the great networking opportunities this provides. There is more flexibility for additional delegates to attend the virtual masterclasses.
What our partners think
"Our organisation has really benefited from being a partner. The principles of partnering and learning from others are fundamental to the equality, diversity and inclusion agenda and the partners programme delivers these."
"Helped me to really focus on some of the specific challenges and raise the profile of diversity and inclusion within my organisation." 
"Inspiring sessions that enabled partners to engage with each other in small virtual group sessions to share best practice and to make useful connections."
Read our partner organisation case studies
Partnership working during organisational change - Find out how staff networks supported University Hospitals Dorset NHS Foundation Trust during a period of organisational change.

Listening to the voices of staff with disabilities - Read how University Hospitals of Morecambe Bay NHS Foundation Trust improved the experiences of staff with disabilities.
Widening participation as a strategic approach - Learn how Sandwell and West Birmingham Hospitals NHS Trust used widening participation initiatives to help the local refugee and migrant population return to a career in healthcare.
Dates of modules
The dates confirmed for this year's face-to-face modules are:
29 September 2022 - Leeds
15 December 2022 - London
2 March 2023 - Birmingham
22 June 2023 - Leeds
Find out more information and apply
Take a look at our Diversity in Health and Care Partners Programme brochure to learn more and complete our online application. The closing date for the 2022/23 programme which starts in September is 26 August 2022.
If you have any questions about the programme, please email the team at diversityandinclusion@nhsemployers.org.