Article
Advanced practice and enhanced practice
Learn more about advanced and enhanced practitioners and what they can do to support your multi-disciplinary teams.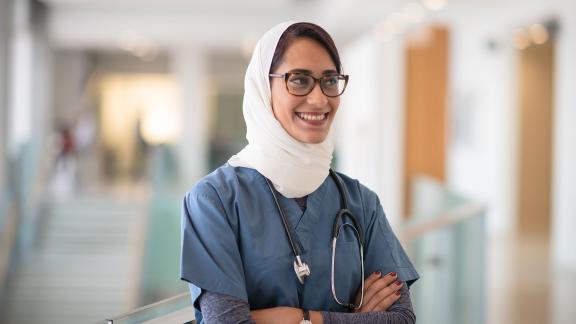 Learn more about advanced practitioners and other clinicians working at an enhanced practice level and what they can do to support your multi-disciplinary teams across a wide range of care settings.
Advanced practice
Advanced practice is a level of practice in which a practitioner has demonstrated their ability to work autonomously at a high level (level 7/ Masters level) across all four pillars of advanced practice. The four pillars of advanced practice are clinical practice, leadership and management, education, and research. 
Advanced practitioners can be found across a range of professional backgrounds and settings including but not limited to nursing, pharmacy, paramedics, other allied health professions, and midwifery. The term advanced practitioner is used as a consensus umbrella term to encompass the wide range of registrants who work in advanced practice roles, often with variable job role titles, for example (though not exclusively): advanced clinical practitioner, advanced nurse practitioner, 'advanced paramedic practitioner; advanced physiotherapist practitioner; or advanced pharmacist.
Advanced practitioners are educated to master level and map to Health Education England's (2017) Multi-professional framework for advanced clinical practice in England, the framework sets the minimum standard for the safe and effective requirements for clinicians working at this level to take on expanded roles within their scope of practice. 
Having healthcare professionals at advanced level increases capacity and capability within services. By integrating into multi-professional teams, advanced practitioners provide clinical leadership and enable collaboration across the multi-disciplinary team through complex decision making and managing risk. This also gives organisations a flexible workforce to meet changing population, patient, and service delivery needs. Advanced practitioners help to improve clinical continuity and provide high-quality care for patients. They enable workforce transformation to initiate a wider range of advanced clinical care being provided by a varied range of multi-professional clinicians rather than focusing on medical doctors as the sole providers of advanced clinical care.  Advanced practitioners can accelerate access to care for patients and help to improve outcomes. 
Multi-professional framework for advanced clinical practice
In 2017, Health Education England and NHS England and NHS Improvement worked in partnership to develop the Multi-professional framework for advanced clinical practice in England, which ensures there is national consistency and common expectations about advanced practice. This is the first time that a national framework for multi-professional advanced practice has existed in England, and it has established a shared understanding of advanced practitioners and how they can be deployed to deliver better patient care.
The framework offers opportunities for career progression, development of knowledge, skills, and experience such as clinical reasoning, diagnostic decision making, and leadership in practice. The framework includes:
a national definition of the advanced practitioner role
what the requirements for entry are
guidance and principles that advanced practitioners should adhere to in their professional practice
a clear career pathway into and within advanced practice across professions.
Subsequently, building on the framework Health Education England has recently worked to define curricula, known as credentials, which set out the purpose, learning content structure and training for discretely defined scopes of advanced practice. The purpose of the credentials is to:
Develop specific capabilities, thereby contributing to system-wide, sustainable workforce development and deployment.  
Develop area-specific advanced practice capability and capacity within areas of high-priority population, patient care and service delivery needs.
Increase efficiencies in workforce development, including by supporting education providers to respond to priority needs at pace and scale, and with consistency. 
Enabling local governance arrangements for safe and effective advanced practice workforce deployment and mobility.
Access Health Education England's Centre for advancing practice website for further information about published credentials for advanced practice.
The ePortfolio (supported) route
Health Education England's Centre for advancing practice designed the ePortfolio (supported) route. This route enables recognition of existing, experienced advanced practitioners, who regularly work in advanced practitioner roles. Details of applications for the second and third cohorts into this route are on Health Education England's ePortfolio webpage. You can read more about the process of application and eligibility criteria in the advanced practitioner applicants' guide.
What can advanced practitioners do and how can their advanced practice be governed?
Health and care professionals working at an advanced practice level will be able to evidence the underpinning competencies, skills, and behaviours applicable to the specialty or health and care setting and job role they are working within. As part of the multi-professional framework for advanced clinical practice in England, advanced practitioners must be able to evidence additional core capabilities across four pillars: clinical practice, leadership, and management, education and research.
Advanced practitioners can demonstrate expertise and professional judgement to achieve these capabilities in areas such as: clinical examination, diagnostic decision making and therapeutics, collaborative communication skills in consultations, critical thinking, and clinical decision-making, and the leadership they demonstrate in their teams and services.
These advanced capabilities can be demonstrated in different ways depending on the setting or role that the practitioner is practicing, which means that there is flexibility for employers to determine how advanced practitioners demonstrate these capabilities, based on person centred care around the service, patient, team, and organisational needs.
Credible governance of the processes for developing and implementing advanced practice in provider organisations is essential for the safe, effective, and successful employment of advanced practitioners in provider organisations across all clinical settings from acute care, community care, mental health, and primary care. Consistent governance of advanced practice within provider organisations also ensures the advanced practitioner workforce is maximally productive for expediting access to care and optimising outcomes for patients. Health Education England (2020) has published self-assessment guidance on effective governance of advanced practice within provider organisations in its Governance Maturity Matrix. 
Workplace supervision of trainee advanced practitioners
Existing workplace supervision practices may not map neatly to the learning needs of developing multi-professional advanced practitioners or trainees. A range of practical and comprehensive guidance for the workplace supervision of advanced practice trainees can be found in Health Education England's (2022) guidance for Advanced practice workplace supervision: Minimum standards for supervision and for further developing supervision and assessment of advanced practice trainees, organisations should be implementing Health Education England's (2020) guidance on Workplace supervision for advanced clinical practice: An integrated multi-professional approach to practitioner development.
Find out more about advanced practice
There is a level 7 (Masters level) apprenticeship in advanced clinical practice available, which can be funded for organisations through the apprenticeship levy. Visit the Skills for Health website for further information about the advanced clinical practitioner (Integrated Degree) apprenticeship. For more information about Health Education England's work on advanced level practice,  visit the website of the Centre for Advancing Practice.
Health Education England has also developed a useful advanced practice toolkit on how this level of practice can be applied to specific roles.
Watch how Nottingham University Hospitals NHS Trust who are using the apprenticeship route to train their Advanced Clinical Practitioners in this video.
Health Education England has added credentials for health and care professionals working in learning disabilities and autism services, to expand their professional competencies. For a full list of the credentials available, please visit the Health Education England website.
Enhanced level practice 
Enhanced practice is a level of practice healthcare professionals can attain and is used to describe the practice of highly experienced, knowledgeable healthcare professionals. It can be the level of practice before advanced practice or a level practice in which people may choose to stay. Those working at an enhanced level of practice can work as part of a multi-disciplinary team across a wide range of health and care settings, including hospitals, community, primary care, social care, general practice, and dentistry and as with advanced practice come from all multi-professional backgrounds. 
An enhanced clinical practitioner apprenticeship has recently become available; this is typically a level 6 course and can be funded through the apprenticeship levy with a usual duration of 18 months. Employers can opt to use level 7 education within the apprenticeship if they would like to.
There is no definitive list of professional backgrounds that are suited to enhanced level practice, but prospective apprentices must be registered with either one of the statutory healthcare regulators, or Social Work England, or with one of the following accredited voluntary registers: The Academy for Healthcare Science, Register of Clinical Technologists or Registration Council for Clinical Physiologists. The apprenticeship is about the level of practice so is not limited to traditional boundaries of clinical specialisms or care settings. 
Enhanced practice healthcare professionals have many job titles and roles across the range of different healthcare professions. They typically have undertaken post-registration education relevant to their area of practice and role. They usually work as part of a multidisciplinary team and apply their enhanced skills, knowledge, and experience to substantially contribute to episodes of care. Although they work across different settings or spheres of practice, they will often have a skillset and depth of knowledge related to their individual specific sphere of practice. 
 
What is the difference between advanced and enhanced level practice?
Practitioners working at an enhanced level of practice must make complex decisions using specific knowledge and skills in a field of expertise. They manage discrete aspects of a patient's care in their current level of practice, which will be particular to a specific context. This contrasts with advanced practitioners who have developed their knowledge and skills to an advanced level of practice and would manage the whole episode of a patient's clinical care, from the time they first present, through to the end of the episode. 
The enhanced clinical practitioner apprenticeship can form part of a career framework that can progress onto advanced practice roles. Employers are encouraged to build the case in integrating enhanced and advanced level practice into the workforce to redesign care across health and care settings. Health Education England (2022) published detailed guidance on enhanced practice in its Employer's guide to the enhanced clinical practitioner apprenticeship. 
Find out more about enhanced practice
Find full details of the apprenticeship standards on the Institute for Apprenticeships website. For more information, you can also access the enhanced practitioner apprenticeship FAQs.