Article
Apprenticeship levy transfer
Explore the options and opportunities for transferring your apprenticeship levy funds to another employer.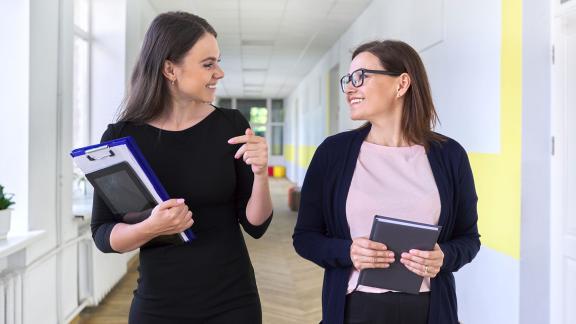 Since April 2017, employers with a pay bill of more than £3 million pay an apprenticeship levy and are then assigned funds through a service account to spend on apprenticeship training. If funds are not spent, they expire 24 months after they appear in the account.

In April 2019, employers were allowed to transfer up to 25 per cent of the value of their annual levy fund to another employer to support the delivery of apprenticeships. This page looks at some of the opportunities and options this transfer function creates.
This video from the Education and Skills Funding Agency explains more about the transfer of apprenticeship levy funds.
Opportunities for employers to use this functionality
Employers can use this function to fund apprenticeships in organisations that they outsource services to, or work with across an integrated care system (ICS). This could support skills development in other parts of the health system and have a positive impact on service delivery in both the funding and receiving organisations.
By forecasting, employers can look ahead to anticipate whether they will spend all of their levy and allocate funds to transfer to minimise the risk of unused funds expiring.
Transfer options
Support the viability of apprenticeship programmes
Your trust may find itself in a situation where it only wants/needs a certain number of apprentices, but the training provider requires a larger number to run the programme. An employer may wish to transfer a percentage of its levy to another trust or health provider (including primary care) to put apprentices onto the same programme and provide the numbers required. This may also give some negotiating power to employers to drive down the cost of the programme with the training provider.
Outsourced services/supply chain
Set up an agreement with an outsourced service, or an organisation in your supply chain, to fund an apprentice who will indirectly support service delivery and patient experience. Examples could include:
gardener (horticulture and landscape operative apprenticeship) – an employer could negotiate that the receiving organisation provides a set number of hours per month, spent onsite maintaining green spaces
on-site retailers – offer to fund a retail leader or manager apprenticeship
catering (hospitality manager/supervisor or team member apprenticeship) – they would then be deployed in the NHS organisation
payroll (accounting apprenticeship) – where the apprentice works for the outsourced organisation who processes your payroll
pensions (workplace pensions administrator or consultant) – where the apprentice works for the outsourced organisation who processes staff pensions.
Work in partners within integrated care systems
Employers could collaborate with other partners in their ICS to identify future health skills gaps across the geography. They could each transfer levy funds to smaller health employers to pay for apprenticeships that provide the skills needed across the region.
Integrated care system priorities
While the levy cannot be used to joint-fund apprenticeship training, you could nominate one trust in your ICS to be the lead organisation which employs apprentices to deliver work benefiting the whole region.
Trusts could transfer a percentage of their levy to that lead organisation to fund those apprenticeships. Examples could include a business admin or project manager apprenticeship. These roles could be used to support and lead on the delivery of ICS-wide projects/workstreams. This approach would also strengthen relationships and encourage collaborative working.
Build capacity in voluntary, community and social enterprise sector
Employers could work in partnership with voluntary, community and social enterprise (VCSE) care delivery partners, such as local health charities, to identify roles that could be trained through an apprenticeship and help support the care delivery of the funding employer.
Support health and wellbeing of staff
Fund an exercise and fitness personal training apprentice in a local sports facility who could offer staff exercise classes at the trust, for a set number of hours per month to support the health and wellbeing of staff.
Support community wellbeing
Transfer levy monies to organisations such as local councils, Sports England, or the British Heart Foundation to provide a community activator coach or community sport and health officer apprenticeship. These apprenticeships could support the engagement of the local community with sports initiatives that help change people's attitudes about health.
Schools engagement
Fund a local school or college to provide an employment related services apprenticeship. This apprentice role would support with careers coaching and guidance. This would strengthen the link between the trust and the school/college, and the apprentice could become an ambassador for the NHS by presenting information to each year group about the roles and careers available in healthcare.
Widening participation agenda
Trusts could work with organisations such as Mencap, JobCentre Plus, homeless charities or other local services to fund youth support worker, and support worker apprenticeships. The apprentices could support and mentor those on work placement as part of a pre-employment programme in the trust. This support could help make the programmes more inclusive and attractive and improve the numbers of those moving into an apprenticeship or a paid role in the trust.
Other care providers
Employers could transfer money to organisations such as MacMillan and Marie Curie, or transfer levy funding to hospices/care homes/nursing homes. This could fund apprenticeships in clinical roles such as health care assistants, which would then support capacity and relationships between care providers.
Facilitating transfers
If you'd like to transfer your levy to/from another employer, Health Education England provides a matching service where they will match you with another employer. You can contact them via your regional relationship manager for apprenticeships or via email.
Receiving transfers
If receiving a transfer from another employer, training and assessment costs for the apprenticeships standard will be paid for in full by the transfer. Any employer can receive a transfer whether you already pay the apprenticeship levy or not. You may be contacted by a levy paying employer to see if this is of interest to you.
You'll need to agree the details of the apprenticeship with the employer sending the transfer, for example the apprenticeship standard and cost. You'll also need to set up an account on the apprenticeship service. The employer sending the transfer should fund the whole duration of the apprenticeship up to the maximum allowed. If the funds run out you will pay five per cent of the training costs for the remainder of the apprenticeship, the government will pay the rest.
The longer your apprentice is paid for through a transfer, the lower the costs will be if you do have to pay.
Sending transfers
If sending a transfer, you'll be able to transfer 25 per cent of the annual value of the funds entering your apprenticeship service account which includes the 10 per cent paid by the government.
Full guidance about transferring levy funds is available at www.gov.uk/guidance/transferring-apprenticeship-service-funds
You can also access further information about receiving a levy transfer from another business to fund an apprenticeship (www.gov.uk)