Blog post
Roz McMeeking - proud to be an army midwife
Midwife and Army reservist, Roz McMeeking shares her story with us.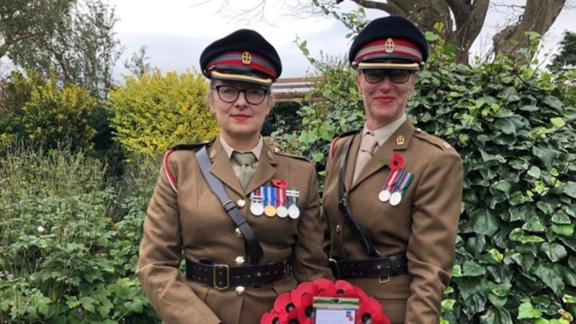 I trained as a nurse in Furness General Hospital and Westmorland County Hospital 1988-91 and as a midwife in Halifax from 1992-93. In 1993 as a young midwife, I joined Queen Alexandra's Royal Army Nursing Corps and was commissioned in Aldershot.
I was posted to BMH Rinteln (a gorgeous little town in northern Germany - twinned with Kendal) and worked on the maternity unit there. I was a newly qualified midwife in the rank of Lieutenant. By the time I left in 1996, I was a Captain. Following this I transferred to the Army Reserves (called the Territorial Army or TA in those days) and stayed in Germany working for Soldiers, Sailors and Airmen Families Association (SSAFA) as a community midwife.
I did some fantastic midwifery whilst working in BMH Rinteln and worked with some amazing midwives who passed on some great knowledge and skills. We barely had an epidural service (very occasionally) and relied on traditional midwifery care, large baths, transcutaneous electrical nerve stimulation (TENS) machines, lots of walking around and a bit of IM diamorphine for pain relief in labour. Through my rose-tinted specs, I remember loads and loads of wonderful normal deliveries. We had great staffing levels so had the luxury of great one to one care and lots of midwife support postnatally. Women could stay as long as they wanted, often their husbands were away on an exercise either in other parts of Germany, Canada or on operations in Bosnia and Croatia. Women could stay with us and get some care and attention before going back to their married quarters. They could also come and stay on the hotel suite antenatally if they were worried about going into labour alone or if they lived far away. We provided a room with some bunks and access to the cookhouse for husbands to stay if they needed to. We had a small kitchen on the maternity unit and we would also cook for our women, toast, soup etc.  In those days we had a very slim file of guidelines and protocols. We relied on experience and Mayes or Myles Midwifery textbooks.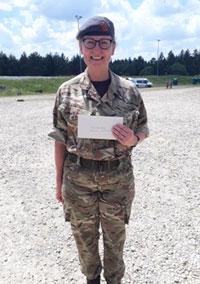 I am still in the Army reserves in 306 Hospital Support Regiment and our unit, a specialist unit with a hotchpotch of medical reservists (specialist doctors and nurses) has slots for midwives. We are the only military unit in the Armed Forces to have midwives and for this I am proud. My UHMBT colleague and buddy, community midwife Ann Beckwith is also in the unit, and we have both represented the trust and the unit regarding NHS/Military engagement. We have recently written the job descriptions for midwives in the military and created a Defence Nursing Competency for Midwives on operations; midwives have a range of transferable skills that can be used in general settings, such as resuscitation, observations, theatres and recovery etc. During our time in the reserves, myself and Ann have done many exciting things, including operational tours, humanitarian aid in Kenya and leave relief in Cyprus, as well as plenty of exercises not only in UK but in Canada, USA, Germany and Poland.  
My current role in the NHS is in governance, but recently I went back to work in maternity for a few weeks to update my clinical skills because of the COVID-19 pandemic. It was an absolute joy to return to midwifery, deliver a baby and look after mums and babies, because deep in my heart I am a midwife. When you work in governance, you miss all the good things that go on in our services, so it's good to return to the clinical areas. I was also impressed by the maternity care given at Royal Lancaster Infirmary, especially during COVID-19, as women needed midwives more than ever. I am now in a better position to inform my midwifery role in the Reserves and continue to do some bank shifts for the teams. 
Imagine my surprise when a young gentleman contacted me on Facebook. He has given me permission to share this with you. I was the midwife who cared for his mum in labour and seemly stayed on after my shift to deliver him. Matt Buckley was born on 10 November 1995 at BMH Rinteln. He shared pictures of himself, his mum Louise and his dad Paul.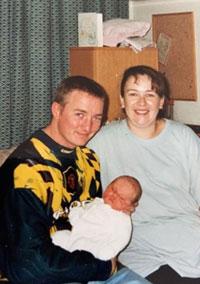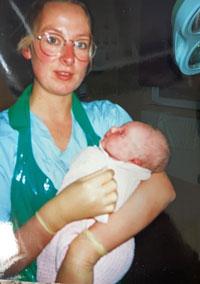 The rather red, fresh-faced picture is me in younger days. His dad served as a soldier in the Royal Electrical and Mechanical Engineers (REME) attached to Queens Royal Lancers (QRL) and only lives down the road in Wigan. How lovely that Matt contacted me. It is an absolute honour and privilege to share a mother's best day and it's great that they still think of me.  
I continue to be proud to be a nurse and a midwife at University Hospitals of Morecambe Bay, where I started my nursing career, and probably where I will end my career, still proud to be an Army Midwife.