Case Study
Hidden Talents: refugee and asylum seeker community recruitment
The charity Growing Points worked with The Leeds Teaching Hospitals NHS Trust to help refugees and asylum seekers into work.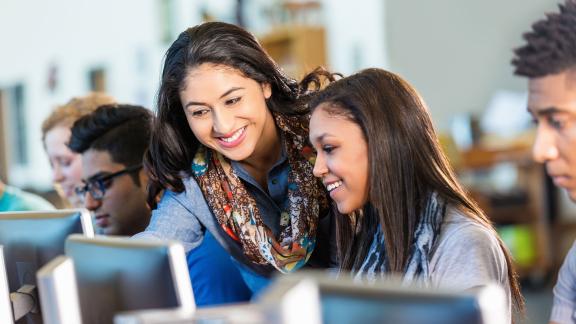 In 2016, The Leeds Teaching Hospitals NHS Trust was approached by a charity called Growing Points and invited to participate in its Hidden Talents initiative, aimed at helping people from disadvantaged backgrounds, principally refugees and asylum seekers, into work. The initiative was a great success and positively impacted both the trust and local community.
Key benefits and outcomes
The trust was able to fill staffing vacancies by providing opportunities for more local people to work in the organisation.

Hidden Talents has helped to create a workforce that is more reflective of the local community, and therefore, the trust's patients.

Through the support offered to those who applied, the skills previously gained by refugees and asylum seekers were recognised, further developed and utilised.

The initiative supported applicants to gain maths and English skills, offered them career guidance and developed their interview technique.

Hidden Talents has served as a blueprint for good practice that has been applied to more recent recruitment initiatives at the trust.
What the organisation faced
For some years, The Leeds Teaching Hospitals NHS Trust had been offering apprenticeship schemes as a way of encouraging people to learn and work within its organisation. As a large employer, it was able to offer around 200 clinical support worker apprenticeships each year, which helped to fill vacancies. The trust had also recognised that the demographic make-up of staff didn't reflect that of its diverse local community as well as it could.
In 2016 the trust was approached by Growing Points, a charity seeking to implement an initiative called Hidden Talents, aimed at helping people from disadvantaged backgrounds, particularly refugees and asylum seekers, to access employment within the NHS. The trust was keen to take part and help those living locally into jobs within its hospitals, as it was aware that the surrounding area included many people from these communities.
What the organisation did
Hidden Talents involved a specific package of support designed to make the application, interview and induction processes more accessible to those from refugee and asylum seeker backgrounds. Initially, the recruitment team at the trust met with each applicant to ascertain their right to work and to check their qualifications to match them to the most suitable vacancy. While many applicants were matched to the apprenticeship route, those with the correct qualifications were able to start in a clinical support worker role straight away.
This was then followed by an informal meeting with the whole group where lead nurse Gill Chapman discussed the trust's values. As well as familiarising the applicants with the ethos of the organisation, this had the added benefit of preparing them for the values-based recruitment activities that would follow if they chose to continue their application. Each cohort would then attend workshops, where they would learn more about the roles available, receive support with completing application forms, and practise interview techniques. Volunteering opportunities were also discussed. Every single applicant was guaranteed a job interview at the end of the process with feedback given to every candidate. They did, however, need to meet the selection and recruitment criteria to receive a conditional offer, pending NHS employment checks. The charity also offered IT equipment to applicants to enable them to complete their applications and support with the interview process. The trust also paid a living wage to all successful candidates. 
Once an applicant was in post, the trust continued to provide support to help them understand the nuances of working in healthcare in the UK. As with all apprenticeships within the trust, line managers were there to offer support, but as a feature of the initiative, each participant was also assigned a guardian by Growing Points. Guardians were able to understand the nuanced issues affecting refugees and asylum seekers and served as another point of support beyond that of the line manager. These dual channels of support had a positive impact on the retention of participants.
Benefits and achievements
Hidden Talents had positive outcomes for both the trust and the local community. Employing refugees and asylum seekers has been particularly beneficial for the organisation, as the demography of its staff now better reflects the diversity of the community around the trust's hospitals. This has strengthened the link between staff and community which ultimately benefits patients. The staff recruited through Hidden Talents understand the struggle of integration into the UK and can highlight issues that might affect patients such as language barriers, cultural differences and unique issues faced by refugee and asylum seeker communities.
 All applicants, whether successful in securing a post or not, found the process beneficial as the workshops prior to interview inspired confidence, belief, and hope. The applicants were given a safe space to reflect on their future career aspirations, one applicant even deciding to pursue their dream of being an actor. For a group of individuals who may have had extremely difficult pasts this may have been the first chance they have been given to consider their career in this country.
There have been many success stories to come from the initiative, with one of its first apprentices winning an IRIS award (an award given at The Leeds Teaching Hospitals NHS Trust for non-registrant nurses). This was awarded for their commitment and enthusiasm in supporting and encouraging the local refugee and asylum seeker community to get vaccinated against COVID-19. Another candidate from the initiative has since gone on to start nursing associate training to further develop their career.
Future plans
By participating in Hidden Talents, The Leeds Teaching Hospitals NHS Trust has shaped its recruitment process so that it is more closely tailored to the needs of those from disadvantaged backgrounds. While it has now concluded at the trust, the lessons learned from it have been used to increase recruitment of applicants from disadvantaged communities.
Following on from Hidden Talents, the trust embarked on another initiative to recruit staff from the Lincoln Green area of Leeds, geographically situated around St James's University Hospital, which is home to many individuals from disadvantaged backgrounds. The trust continued to see the benefits of geographically-targeted recruitment campaigns and therefore decided to upscale to other parts of Leeds. Through collaborative partnerships, the Leeds One Workforce has designed and implemented a campaign called Health and Care Careers, which aims to engage with, recruit and develop a diverse workforce from disadvantaged or under-represented communities in Leeds, improving access to long-term career opportunities, work experience, volunteering, education, training and employment.
The campaign uses a combination of community outreach, one-to-one support and personalised career planning to help those wanting to make their first steps in the sector. It is currently into its eighth week of delivery and has received 305 referrals from the community. With over 50 people undertaking training, 11 people achieving qualifications and 25 conditional offers of employment having been made, the continued success of the initiative, and the learning from it, is evident.
Takeaway tips
Be prepared to change the recruitment process after commencing the initiative, based on feedback from those attending.

Ensure clarity in all communications. For example, when applicants confirm they can access the internet this does not necessarily mean they have access to laptops, and might be using a mobile phone.

Consider the financial implications to those on the Hidden Talents initiative - 

Think about how you promote your whole benefits package to attract a range of diverse applicants from your community.

There may be a range of complex issues affecting refugees and asylum seekers, therefore, be mindful of their backgrounds and prior experiences.

Refugees and asylum seekers may not understand local colloquialisms or certain practices within the hospital and should be supported through this with regular check-ins.

The Hidden Talents initiative will bring individuals into the workplace that have a range of skills that should not be overlooked, for example, they may speak languages that are helpful when engaging with the local community.
Further information
More information on the Hidden Talents initiative, and contact details for those interested, can be found Growing Points' website.