Case Study
Introducing the professional nurse advocate programme at York and Scarborough NHS Trust
York and Scarborough NHS Trust recently trained their first cohort of professional nurse advocates (PNA) to support their nursing workforce.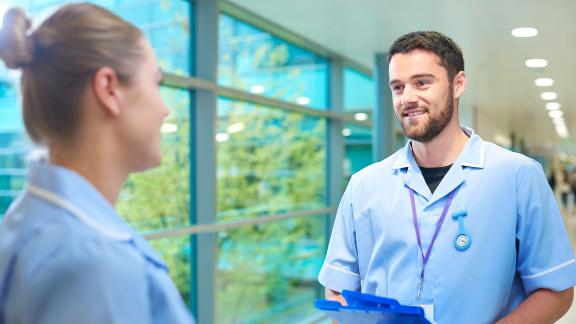 In response to the pressures faced by the nursing workforce and the impact this has on wellbeing, PNA have been introduced. A PNA is an individual who, as either part of their role or as its own substantive post, works with some or all the nurses in a trust to listen and aid them with issues they might be having in the workplace. York and Scarborough NHS Trust recently trained their first cohort of PNAs in the A-Equip model and found the role a great benefit to their nursing workforce.
Key benefits and outcomes
Support for new staff in the workplace and offers them a safe space to hold reflective conversations and build personal resilience.

The PNA encourages nursing teams to lead on quality improvement which is beneficial for improving patient care.  

Offers registered nurses the support of a trained professional to identify and action any concerns they might have in their roles.

Upskills the current workforce.
'The content and the support from Hull University lecturers was fantastic and equipped me with the ability to be more analytical and proactive.  The insight and research studied reinforced for me that we need to provide support for the nursing and also non-registered staff such as health and care work support workers, to develop capabilities to address professional challenges and healthier ways of working.'
Chris Draper, Clinical Skills Educator
What the organisation did
The trust made use of the funding offered by NHS England to train nurses to become PNAs. This is done through a number of universities and could be in-person, or via online learning.
Currently, York and Scarborough NHS Trust has trained five PNAs, who now support newly qualified nurses and international nurses. For newly qualified nurses they provide support that covers; settling into the organisation, the transition from student to registered nurse, and help building confidence as they move into their first post. For international nurses, the support is the same but has an increased focus on any difficulties with the cultural transition and the practical complexities of being in a new country. The PNAs are currently doing this in addition to their main role, but the trust is keen to consider the possibility of dedicated PNAs in the future as the number of advocates grows to one PNA per twenty nurses by 2025.
Support sessions with a PNA are built into preceptorships days for newly qualified nurses. This is to encourage uptake and need extra support adjusting to their new role.  The sessions are not obligatory, but staff are encouraged to embrace the opportunity to raise issues with advocates and reap the benefits of having an established member of staff to speak with. For international nurses a similar approach has been taken, integrating time to speak with PNAs into their training days. For both groups, the trust is keen to make interacting with advocates a part of their daily working lives beyond formal training occasions.
Under the guidance and support of the lead PNA, the advocates meet monthly which gives them the opportunity to discuss the development and implementation of PNAs in the trust.  The trust is keen that the monthly forum is used as a space for PNAs to take ownership of the training process.
After each supervision with staff, the PNAs have a confidential debrief to discuss how to improve supervision meetings in the future and to support to each other as they can deal with potentially emotive and sensitive topics. They have also asked for feedback from those they've worked with, which they reported was positive, and provided suggestions on how the role could be expanded in the future.
'I have joined the York Trust PNA Forum, and we have recently done introductory sessions for the newly qualified nurses. I hope to implement some sessions into community, but I also incorporate the role into my day-to-day practice with the discussions I have with staff, at sickness meetings etc. and signpost to available services for support.'
Rebecca Bradley, Matron for Community Nursing
Results and next steps
The trust noted that participants view sessions with the PNAs as a great opportunity to share challenges and help alleviate any feelings of isolation new staff might be experiencing. While the benefits have only extended to the two groups, NQNs and international nurses, currently receiving PNA support, they are hopeful that as the initiative expands it will help with retention and recruitment. The trust has also found that these sessions serve as a platform for NQNs to share ideas for change that they might not have the confidence to share directly.
They intend to eventually have at least one hundred PNAs who can offer the wider nursing workforce advice and support. There is already a waiting list for those wishing to become an advocate, and they believe that as more staff are trained the impact will snowball.
'Some incidents in the workplace can cause vulnerability and even reluctance to take shifts or engage with work which is what makes these sessions so important.'
Chris Draper, Clinical Skills Educator, York and Scarborough NHS Trust
Overcoming Obstacles
The small uptake of the initiative and the release of staff time for PNA duties has made implementation of the role challenging. Managers were originally hesitant to release staff to spend time on their PNA duties until they understood the benefits that this would bring to the workforce.
The trust found that if sessions with advocates were not integrated into protected time they were less likely to attend. Therefore, meetings have been built into preceptorship and training days.
Take-away Tips
Protected time for PNAs to carry out their role is recommended to ensure they can support others in the workforce.

Ensure the PNAs feel supported themselves, as they are now a support system for many colleagues.

Engage managers early so they are aware of the practical considerations of the PNA having another commitment.

A forum or other platform that allows advocates to come together is useful.  It can ensure the implementation of more PNAs is guided by themselves and allows them to support each other.

Introduce the PNA role with a specific group of nursing staff rather than implement it across the entire nursing workforce at once.