Case Study
Promotion, praise and promise: West London NHS Trust
Read how West London NHS Trust reduced attrition and improved staff engagement with it's new initiative that congratulates staff promotions.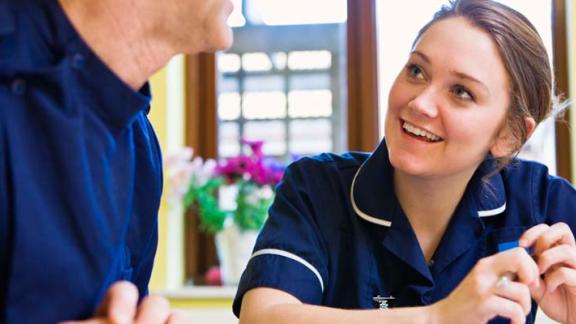 Overview
West London NHS Trust was keen to reduce attrition, improve staff engagement, motivation, and retention in its organisation. The trust did a review of its exit interview data in collaboration with GreatwithTalent and developed a new initiative 'promotion, praise and promise'. This initiative has recently won a Healthcare People Management Award (HPMA).
Key benefits and outcomes
The promotion, praise and promise initiative has:
Boosted staff morale.
Improved retention with nearly a 10 per cent drop in early attrition.
Increased staff engagement.
Produced a five per cent improvement in staff survey results related to staff perception of recognition.
What the organisation faced
The trust was keen to actively communicate and recognise the numbers of staff that developed their careers with the organisation and in doing so, increase morale as well as reduce turnover.
What the organisation did
In April 2018, the trust reviewed its exit interview data to understand why staff chose to leave and move on. The review highlighted three key trends:
Career development (29 per cent).
Recognition and reward (24 per cent).
Personal growth (26 per cent).
It showed that despite large number of internal promotions, many staff were unaware of this and the opportunities for career progression.
On reviewing these results, the trust's learning and development team decided to develop the approach to recognition, in order to improve staff morale and retention.
The first step in the process was to use electronic staff record (ESR) to track the number of staff who were promoted within each month. This information was then used to create a list of staff promotions each month which was promoted on the organisation's intranet.
The next step of the initiative was to engage with the chief executive and enlist her support with celebrating staff promotions. The chief executive now provides a personal hand-written congratulations card for every staff promotion.
Finally, the team worked to develop a pack of development resources and details for newly promoted staff to ensure they felt supported and well equipped to transition into their new roles.
Results and benefits
Since the initiative started, 500 staff have been promoted and received a personal card from the chief executive and dedicated resources.
Two other benefits of the initiative have presented, which meet the organisation's wider workforce strategic objectives around diversity and inclusion. The trust has been able to analyse the demographics of its workforce and map these against the demographics of those who obtain promotions.
The workforce is made up of fifty-six per cent BME and forty-four per cent white colleagues.
Fifty-five per cent of those promoted were white staff and forty-five per cent were BME staff.
The workforce is made up of sixty-one per cent females and thirty-nine per cent males.
Sixty-nine per cent of those promoted were female and thirty-one per cent were males.
The team would now like to build on the positive impact promotions have had on staff and these key demographics to ensure they continue to be representative.
There has also been a five per cent increase in the responses focused on staff recognition and how staff feel the trust values their work in the staff survey.
The learning and development team has evaluated the impact of the initiative on staff, and collected their feedback, including:
"I appreciated the gesture and the information; it definitely got my interest and I thought about which course would be beneficial going forward."
"I felt valued. It was personalised and thoughtful. I actually met with Carolyn after emailing to thank her. Again, I thought this was a really thoughtful and a nice touch."
"I was delighted to receive a card from Carolyn Regan. Often promotions (people) are not recognised by the people at senior levels and this was an acknowledgement that as chief executive you are interested in personal progression, no matter at what level."
Staff have valued the impact of the initiative and often get in touch with the team to check they have been included on the monthly run for the initiative. The team is keen to continue a robust evaluation this year to ensure they can build on the established momentum.
Overcoming obstacles
The team worked hard to ensure the initiative could continue throughout the COVID-19 pandemic, as they recognised that recognition was crucial to retaining staff morale during such a challenging time.
Collecting a large amount of data across the trust was challenging and ensuring attention to detail and accuracy was key to ensuring correct promotional details were gathered. It was important that the information that is shared trust wide is correct. The process of the promotions, praise and promise initiative works well due to the collaborative working between the different teams within OD and workforce.
A report is produced by the workforce team each month which is sent to all HR business partners, they work as a team to collate a final report to confirm who are promotions or acting up positions.
The HR team works closely with their services, so they are aware of the changes that take place in their areas. This streamlines the process and makes it easier to manage because of their input and knowledge.
The learning and development team can then put together the cards and development opportunities for the member of staff. The chief executive then completes and sends out direct to staff across the trust.
Takeaway Tips
Work with colleagues to ensure the work can be shared. Individual HR business partners collate data for a central run.
Have processes in place to ensure data is accurately captured and recorded.
Keep it simple.
Further information
For more information about the work in this case study, contact Ali Webster, Deputy Director of OD, West London NHS Trust, Alison.Webster@westlondon.nhs.uk