Case Study
Recognising the Armed Forces in a primary care setting
A primary care provider in Portsmouth is making good on its pledge to support the local Armed Forces community while championing military employees.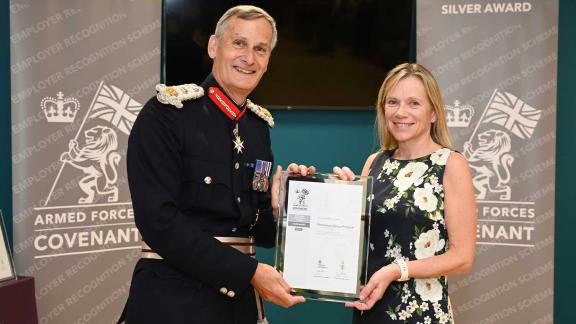 Overview
Portsdown Group Practice (PGP) is an NHS primary care provider based in Portsmouth, very close to a large Naval base. The group employs Armed Forces veterans and family members of current serving personnel. It is also keen to employ and support Armed Forces reservists in its workforce.  
PGP has been working to ensure policies and practices are in place to support staff from the Armed Forces community and to showcase publicly that it is a Forces-friendly employer. As a result of its efforts, PGP was awarded the Ministry of Defence Employer Recognition Scheme (ERS) silver award in 2022. 
Key benefits and outcomes
New Armed Forces reservist policy.
New Armed Forces veterans policy.
Amended recruitment policy to support Armed Forces employment.
Introduction of 10 days additional paid leave for reservists to attend annual camp/training.  
Introduction of flexible leave arrangements for reservists and dependants of serving personnel (on a case-by-case basis, only if deemed viable). 
What the organisation faced
The practice employed veterans and family members of current serving personnel but had nothing in place to demonstrate they were a Forces-friendly employer. It was also keen to attract Armed Forces reservists to the workforce, knowing the excellent training received and skills they develop would benefit the practice. 
What the organisation did
Andy Pearce joined PGP as quality and compliance lead in 2020, after serving in the Royal Air Force for 22 years. With Andy as the Armed Forces champion, supported by his clinical director, he led the way.  
PGP had already been recognised by the Royal College of General Practitioners (RCGP) as a veteran-friendly practice in 2018, supporting the practice to provide the best care to veteran patients.  
Andy was also keen to demonstrate publicly that the practice is a Forces-friendly employer. The group business director and partners were supportive of this, and of developing new policies to support it.  
In 2021, with the support of Defence Relation Management (a dedicated government body), the group signed the Armed Forces Covenant publicly, pledging to support Defence and the Armed Forces community. 
Andy reached out to the Armed Forces champion at the nearby Portsmouth Hospitals University NHS Trust (PHU) to learn more about the Forces-friendly policy in place there, and to hear examples of how the trust had achieved its coveted Defence ERS gold award.  
Results and benefits
PGP was keen to show support to reservists, families and dependants of serving Armed Forces personnel. It published a new Armed Forces reservist policy clearly stating how PGP supports staff who may fall into one of these groups.  
The policy allows 10 days additional paid leave to reservists to attend annual camp and sets out roles and responsibilities for the full deployment process.  
PGP realigned itself with the RCGP veterans toolkit and made positive steps in updating its own website with useful links and resources.  
It also carried out a deep dive into the number of military veterans registered as PGP patients and found a surprisingly low number of 0.79 per cent, approximately 500 of 58,000 patients. After conducting a text message campaign with patients in 2021, that number increased to 1,400 in 58,000 (2.5 per cent). 
The group published a veteran policy, outlining the definition of terms and the support its primary care network offer. This policy has been briefed to staff, management and partners and regular updates are distributed.  
PGP continues to drive its commitment to supporting reservists and veterans through a range of initiatives, with more planned to follow: 
Armed Forces 'tick box' facility added to online and paper new patient registration forms. 
Employment of veterans during the mass COVID-19 vaccination clinics in 2020/21. 
Veteran media noticeboard at every site, listing web links and support groups. 
Key Armed Forces events advertised throughout the year, for example the Falklands anniversary.  
Celebrations for both Armed Forces and Reservists Day. 
Poppy collection tins at all sites during Remembrance Week. 
Annual Remembrance service at group HQ – inviting veterans, laying wreathes and offering readings. 
Tri-service Armed Forces flag stand in the entrance of group HQ.  
The success and dedication of this Armed Forces agenda was rewarded with the Defence ERS bronze award in 2021, closely followed in 2022 by successfully applying and being awarded with ERS silver.  
The focus is now on achieving the top-level ERS gold award in 2023. 
Overcoming obstacles
At the beginning of this project, the biggest obstacle was the perceived lack of knowledge around the military. Not just what individuals do for the country but also the huge benefits that veterans and reservists can bring to roles within primary care. 
The support received from PHU was invaluable in laying out the foundations for the future work required, with the trust's champion always on hand to assist PGP Armed Forces leads with any query.  
Having Andy, as a military veteran, embedded in the organisation has helped in providing good knowledge of how the military functions and the sacrifices often made but easily forgotten; especially concerning dependents and their families.  
The success of the Forces-friendly drive has been down to a multi-department, collaborative approach with many teams playing a part. This includes GP Partners - who are often at the forefront of the many difficult conversations which can occur with patients.  
Take-away tips 
Dedicate an Armed Forces champion to lead the way and coordinate activities. 
Identify reservists or other members of the Armed Forces community in your workforce - get them involved. 
Ensure senior representatives in your organisation are on board with the Forces-friendly project. 
Link with Defence Relation Management to gain support and recognition. 
Make contact with champions in other local organisations to gain advice and learn from best practice. 
Contact details
For more information about the work in this case study, contact Andy Pearce, Quality and Compliance Lead, Portsdown Group Practice, at Andrew.Pearce11@nhs.net; 07585 123612.