Case Study
Team Leeds Hearts and Minds: a health and care collaboration supporting learners and educators
Team Leeds Hearts and Minds is a citywide collaboration to create the conditions for a flourishing integrated health and care system.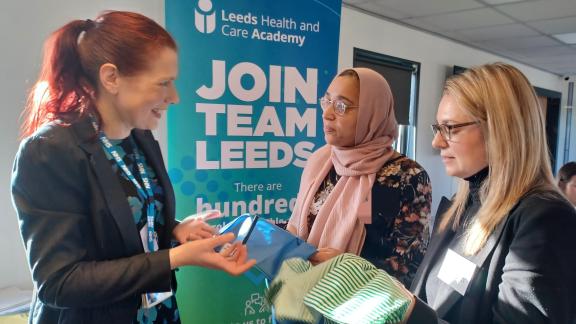 Commissioned by its Partnership Executive Group (PEG) and hosted by the Leeds Health and Care Academy, the Team Leeds Hearts and Minds programme set out to reduce health inequalities and improve outcomes and experiences for the workforce and service users alike. The partnership supports around 57,000 health and care workers, including learners and educators.
Key benefits and outcomes
Successfully connecting staff across the system to discuss experiences of living and working during the pandemic and sharing experiences of partnerships and collaborations with others.

Celebrating the added value that learners and educators contribute to health and care, and increasing the profile of learners, educators, and Team Leeds organisations.

Engaging with learners and educators to enable better partnership working to reduce health inequalities and improve the experience and outcomes for service users.

Working even better together to support the workforce and its learners and educators to feel confident to share risks, decision making and expertise.
What they did
The COVID-19 pandemic significantly changed the way health and care is delivered. The government's legislative direction toward improved integrated health and care is driving system change, leading health and care organisations to prioritise ways to work even better together. 
To meet this new way of working, the Team Leeds Hearts and Minds programme involved extensive engagement with health and care learners and educators, to share knowledge and skills, and align resources effectively to improve future ways of working. In turn, this collaboration will benefit the experience and outcomes for people in receipt of health and care services in Leeds.
Team Leeds engaged with learners and educators to gather key insights on their experience of studying, teaching, and working during the pandemic. They also wanted to understand what the existing barriers are that prevent teams from working better together. They did this by:
Connecting – Through Team Leeds Chats (TLC), a series of web-based and in-person conversations, where hundreds of health and care staff came together to talk, listen and connect with others from across the system.
Celebrating – Developing a series of video interviews called Team Leeds Stories, which spotlight some great examples of Team Leeds in action, with the purpose of celebrating success, inspiring different ways of collaborative working and sharing learning.
Listening – Over 700 people took part in a survey, which included learners and educators from Leeds Teaching Hospitals NHS Trust, Leeds Community Healthcare, Leeds and York Partnership NHS Foundation Trust, GP and primary care, Leeds City Council and other third-sector organisations.
Results
Team Leeds Chats attracted 300 attendees and revealed how the pandemic has negatively impacted learning experiences. Some examples from students included:
Not having available placements, some employers withdrew offers at short notice.

Reduced available support.

Increased stress and anxiety due to changing curricula, placement interruption, remote learning and practice placements and changes to how teaching was provided.

Lack of peer-to-peer support and a sense of disconnection.

Longer-term implications such as personal confidence in clinical competence and reasoning skills in the workplace.

Impact on earning potential, because of reduced access to professional development, lack of confidence and a sense of delay in educational attainments.
There was, however, a positive sense of belonging to Team Leeds and recognition of effective collaboration between health and care partners, something which participants were keen to see continued improvement in, particularly for all health and care learners and educators feeling part of and included in Team Leeds.
To support them moving forward, learners and educators have asked that workplaces:
Demonstrate awareness of reduced confidence of newly completed learners and adjust expectations/milestones accordingly.

Provide increased pastoral support.

Include learners and educators in any future Team Leeds engagement, development or culture change.
New shared learning and development programmes have been created, such as:
Team Leeds Connects is a virtual networking club with opportunities for connecting teams across partner organisations, and shadowing other partner roles.

Team Leeds Learns is a knowledge and skills learning sets, coaching and facilitation.
Team Leeds Stories have attracted thousands of views, and received positive feedback from educational leaders:
The head of the school of healthcare at the University of Leeds, describes the stories, as: 'A great way to promote careers'.

Abigail Wilson, a social science teacher in Halifax shared the stories with health and social care teachers and careers team, and hopes to embed them into the curriculum, reflecting that 'education requires greater buy-in from health and care in future if students are to be influenced to access careers in this field'.
Feedback from students who have seen the stories is also positive, suggesting they provide a level of reality and relatability because they are representative of young people studying in their region, helping them to believe in their own potential and future career possibilities.
Team Leeds Chats and Team Leeds Stories have shown that students, apprentices and educators have found many varied and innovative ways to accommodate the loss of face-face teaching, practice placements, limited supervision, last-minute placement cancellations and the need to provide all coursework as distance learning. Despite the challenges they faced, and the fears of feeling less equipped for the workplace than previous cohorts, the motivation to build a career in health and care, fortunately, remains strong.
The Team Leeds survey received more than 700 responses showing how embedded the Team Leeds culture is:
92 per cent of respondents agreed that working with others across the health and care system is an important part of their role.

83 per cent of the respondents agreed that reducing health inequalities - the city's ambition - is an important part of their role.
Emma Heeson, the associate director of people engagement, who led the programme concluded:
'Leading the programme has been such a privilege. As custodian for the many hundreds of personal insights shared by our fantastic health and care workforce, learners and educators, I have heard both painful and uplifting reflections from those living, working and learning throughout the pandemic. I remain exceptionally proud to work on behalf of our health, care and third sector in Leeds'.
Overcoming obstacles
Due to the large scale of the programme it has presented some challenges. Delivering messages to learners and educators has been difficult, there is no single communications route that can reach the whole workforce, particularly frontline staff. Trying to embed a culture of one team has faced different organisational priorities and messaging, as well as uncertainties about the system readiness for a one-team approach.
To help overcome some of these challenges, the programme continues to create more opportunities for cross-organisational connectivity, helping to strengthen workforce communication channels, with an emphasis on a common purpose of communicating and engaging together. The programme is also developing improvement plans to increase learner and educator identity and a sense of belonging to Team Leeds, as well as acting on the learning and feedback from the Team Leeds Chats and Team Leeds Stories.
Future plans
Team Leeds Hearts and Minds is the first phase of a longer-term engagement, development, and culture change programme.
The insights provided by this programme have helped the Leeds Health and Care Academy's Educational Advisory Group create shared priorities for learners, as well as identify specific areas to strengthen and develop further, which include:
Strengthening the connection between students and the workforce through knowledge, skills and behavioural development.

Embedding collaborative apprenticeships and T Levels to develop alternative pathways into healthcare careers.
Within Leeds there is also a collective ambition to re-imagine clinical placements across the system by using innovative methods, such as promoting interdisciplinary learning and teaching.  One example of this is establishing student-led clinics which provide dynamic learning opportunities for healthcare students  to have real life clinic experience while also providing beneficial outcomes for service users.
Programme stakeholders are considering ways in which to support institutions to develop Non- Professional Statutory Registered Body (PSRB) programmes in the future. These courses are widely available, but commonly as a default position for those who were unsuccessful at gaining entry to courses for registered Nurses, Allied Health Professionals or Social Workers. The aim is to develop the profile, identity and offer opportunities to students currently pursuing a master's in health and wellbeing or an undergraduate programme in health and social care.
Takeaway tips
For workplaces:
Demonstrate awareness of reduced confidence for some post qualifying learners and adjust expectations and milestones accordingly where possible.

Increase the provision of pastoral support for learners and newly completed students.

Ensure learners and educators are regularly included in future engagement, development, and culture change conversations.
For educators: 
Promote and grasp future opportunities to participate in engagement, shared development and learning activities and orchestrate proactive discussions with providers of health and care for shared curricular messages.
Further information
The programme hosted a variety of themed conversations, including groups who were known to be disproportionately impacted by COVID-19, including:
See the full suite of Team Leeds Chats and Team Leeds Stories.
For more information please contact emma.heeson@nhs.net.