Case Study
Using apprenticeships for mental health nursing supply
Read how Lincolnshire Partnership NHS Foundation Trust is using apprenticeships to increase its mental health nursing workforce.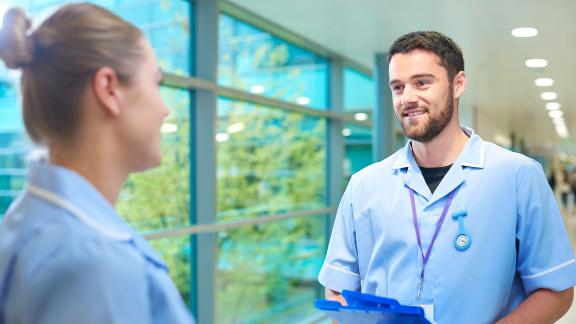 Lincolnshire Partnership NHS Foundation Trust (LPFT) took the decision to offer a three-year mental health nursing apprenticeship to bolster its traditional supply. This was part of its strategic approach to attract and recruit well-trained and competent staff into the nursing workforce. The trust used its apprenticeship levy and significant investment to set up this route into the workforce.
Workforce challenges
Like many trusts across the NHS, LPFT carries out workforce planning that includes looking at the demographic of the current nursing workforce and turnover rates. Through this they identified that to meet future service demands the trust needed to increase its mental health nursing workforce.
The traditional supply routes alone, were not providing the numbers of qualified staff the trust required, so they adopted a 'grow your own' approach and prioritised developing its existing staff and also offering the nursing apprenticeship to create a further pipeline.
What they did
Working closely with the University of Lincoln, the trust carried out a modelling exercise and it was agreed that they would offer the mental health nursing apprenticeship to start in January 2021.

The course entry requirements were amended to accept 96 UCAS points and removed the need to have a science qualification which is often required for nursing. To reduce any unnecessary competition during recruitment, the trust took a co-ordinated approach with a neighbouring community trust. Both organisations advertised at the same time during the summer period and offered the same set salary of £16,500.
Results
LPFT received more than 80 applications and worked in partnership with the University to shortlist and jointly interview the applicants. 13 candidates were selected for the apprenticeship programme.
Two of those selected were able to accredit their previous experience and qualifications and will undertake an 18-month apprenticeship. The remaining eleven will be offered full supernumerary status, enabling them to complete the nursing apprenticeship in three years.
Supporting growth
As part of its 'grow your own' approach, the trust offers the trainee nursing associate apprenticeship and also offers the mental health nursing apprenticeship to five healthcare assistants each year. Funds allocated to nursing vacancies are used to help cover the backfill costs.
A clinical lead role which was established to support trainee nursing associates, has had their remit widened to include the nursing apprentices. Qualified nursing associates are used to help supervise and support staff on the programmes. The groups learn together, which encourages peer support and they bring the learning back into their work bases.

In the future, the trust is planning to explore placements in some of the physical healthcare teams, safeguarding teams, and within the divisional management team for third year students. 
Contact details
For further information about the approach taken at Lincolnshire Partnership NHS Foundation Trust, please contact: Kay Gilman, Learning and Development Manager at k.gilman@nhs.net or Kerry Woodcock, Lead Nurse for Professional Development and Safe Staffing at kerry.woodcock1@nhs.net