Case Study
Yorkshire Ambulance Service affirms its support for Armed Forces reservists and aspires to achieve Silver ERS
Yorkshire Ambulance Service continues work on its commitment to the Armed Forces community since achieving its ERS Bronze award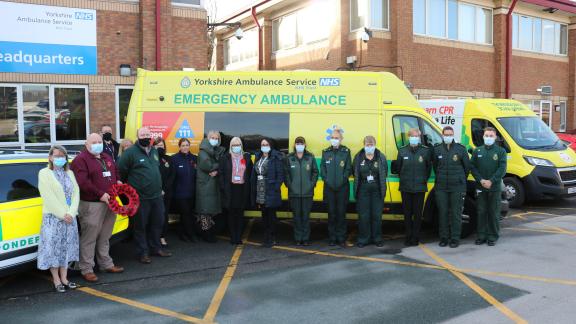 Overview
Yorkshire Ambulance Service (YAS) NHS Trust covers nearly 6,000 square miles of varied terrain, from isolated moors and dales to urban areas, coastline and inner cities. It serves a population of over five million people across Yorkshire and the Humber.
In March 2021, the trust formally pledged its support for the Armed Forces by signing the Armed Forces Covenant. The Trust achieved Veteran Aware status in September 2021, followed by the successful achievement of the Government's Defence Employer Recognition Scheme (ERS) Bronze Award.
Key benefits and outcomes
YAS has continued to work on its commitment to support those who have served in the military through a number of key initiatives, including:
policies to support our Armed Forces community

a commitment to grant two weeks of paid leave for reservists / adult cadet force members to attend annual camp or equivalent continuous training

training for regular units including medical regiment in Catterick Garrison where it has combat medical technician paramedics on placement

ensuring records on our recruitment and staff system accurately identify members of the Armed Forces community

dedicated signposting for mental health support, specific to the needs of our Armed Forces community

pledging to support the Step into Health programme

the launch of a new Armed Forces staff network in April 2023.
What the organisation faced
Historically, YAS struggled to identify the true representation of the Armed Forces community that make up its workforce. The trust knew that 5% of its volunteer Community First Responders were from the veteran community and 25% of the Hazardous Area Response Team (HART) is made up of reservists and veterans. However, there was still more work to do in regard to identifying the status of new employees as well as those already working in the Trust.
Since receiving the ERS Bronze Award, work has focused on gathering evidence on what the trust already has in place to support veterans upon leaving active service and ensuring best practice and recommended guidance is being followed. The Trust's ambition is full commitment to being a Forces-friendly employer and ERS Silver accreditation. This means it needed to go further still to support the veterans it employs, as well as prospective employees.
Achieving accreditation provides acknowledgement of the trust's recognition of its commitment to improving NHS care for veterans, reservists, members of the Armed Forces and their families. YAS is also one of many members of the Veterans Covenant Healthcare Alliance (VCHA), with its re-accreditation approved on 20 February 2023.
What the organisation did
YAS has successfully implemented several changes since signing the pledge with the Armed Forces Covenant and receiving its Veteran Aware status and Bronze ERS Award. These included:
Commencing a review of the organisations reservist policies to ensure they are enhanced and not disadvantageous to its Armed Forces communities or their families.

Actively engaging in employer connect events and attendance at recruitment events in partnership with the community engagement and recruit team.

Setting up a steering group to drive the work supporting the Armed Forces and preparing to launch an Armed Forces staff network in April 2023.

Utilising the new Electronic Staff Record (ESR) functionality to record status of those in the military, reservists, veterans and adult cadet forces.

Signing up to the Step into Health Programme which supports the Armed Forces community into NHS careers.

Actively recruiting from the Armed Forces community and offering Guaranteed Interview Scheme (GIS) places for those in clinical and non-clinical roles.

Raising awareness of key dates relevant to the Armed Forces through internal communications.

Ensuring the trust's health and wellbeing offer is relevant and up-to-date.
Going forward
The trust is aiming for ERS Silver accreditation in 2023 and is confident that the essential work has already taken place to achieve this.
YAS recognises the need to continue demonstrating advocacy for military staff, with a focus on stakeholder collaboration to build the support available to colleagues via its Armed Forces network.
Results and benefits
The results and benefits include:
positive experience of those recording their status on ESR to help inform representation across the organisation

the trust is in a good place to apply for the ERS Silver Award in April 2023 and has made an expression of interest

a commemorative events group has been set up to support staff who wish to attend ceremonies such as Remembrance Parades, National Arboretum Services and any other related ceremonial duties

building on actively showcasing its status and commitment to being a Forces-friendly employer to its workforce.
Overcoming obstacles
The trust was unsure exactly what resources existed in YAS to support its workforce.  
The lack of knowledge was a huge obstacle in getting the project off the ground. However, much of this was resolved with the help of the trust's two co-chairs, John Thompson and Dave Green. As named champions for the trust, and both with military experience, it was quite easy to start mapping the support available for the military community at YAS and defining the next steps.
A small steering group made up of reservists and veterans was a key driver in championing the work through the trust. The success of the Forces-friendly drive has been down to a cross-directorate, collaborative approach with many teams playing a part. This includes support from wider trusts who already have work underway to support their staff and patients and the willingness to share best practice.
Take away tips
Our tips to take away include:
pulling together a mix of colleagues from range of directorates including recruitment, health and wellbeing, IT and training; this will ensure the right levers are in place from the outset

setting up a project group and working backwards from the goal in mind

ensuring reservist policies are up-to-date or have the right stakeholders engaged to get it right

asking for help and research - what are other Trusts doing? Use best practice.

recognising that many people who served in the military will have a diverse range of transferable skills that can really benefit the workplace

ensuring there is a support network - understanding trauma, mental health and wellbeing is key for the Armed Forces community to truly excel in the workplace

identifying numbers of people who served in the military, their partners/spouses and family members who can provide a supportive network to our workforce from lived experience

ensuring senior representatives in your organisation are on board with the Forces-friendly project. 
Contact information
For further information on this case study, please contact Nabila Ayub, Head of Diversity and Inclusion at YAS, nabila.ayub@nhs.net or John Thompson, Head of Safety and IPC Lead and Co-Chair of the Armed Forces Network, john.thompson23@nhs.net