Webinar
Creating a culture for integrated working
This webinar was an opportunity to hear from colleagues who have successfully created a workforce culture that champions integrated working.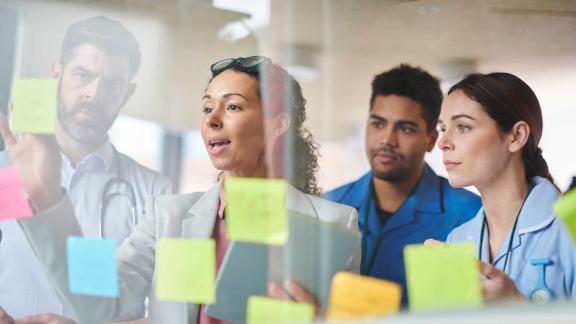 Creating the right culture is an integral part of establishing a strong integrated working environment. This webinar was brought to you by Partners in Care and Health, Skills for Care and NHS Employers. The webinar aimed to provide system leaders with the knowledge they need to adopt a culture where integrated working can thrive and share learning, best practice, top tips and experience for future conversations. Read more about the event below and watch the recording.
Agenda
Welcome and scene setting – Jim Thomas, Partners in Care and Health (co-chair)
Jim Thomas set the scene on integrated working since the establishment of Integrated Care Systems in 2022.
Case study: a place to meet the needs of people living with frailty– Hull and East Riding, Humber, and North Yorkshire ICB
Consultant Community Geriatricians Dr Anna Folwell and Dr Dan Harman presented the bishop (JB) Integrated Care Centre. The first of its kind, the centre assists frail individuals in the community. Their takeaway tips for establishing a culture for integrated working included:
Allow for time in the recruitment process as it takes time to grow an integrated workforce.

Be clear on what you want to achieve.
Lived experience: what good culture means to service users – Jane Green (co-chair)
Co-chair Jane Green discussed her lived experience of the health service as a carer and person with neurodivergence. She is the co-founder of the neurodivergence charity SEDS Connective and a trustee of an ICS board. Jane Green's top tips for integrated working were:
Move beyond working in silo to provide patient-led care and holistic services.

Embed diversity in the health service.
Case study: collaborating and listening – Staffordshire Local Authority
Amy Duffy, lead commissioner from Staffordshire County Council and Victoria Hill-Yates, chair of Staffordshire registered managers' network provided an overview of Staffordshire local authority's workforce strategy. It was created in partnership between the local government, Integrated Care Board, and the Learning Skills Enterprise. Their top tips for creating a culture for integrated working were:
Relationship building is strategy building.

Build on successes and track progress at each stage.
A spotlight session presenting the Six ways to create a culture for integration
Sally Gretton, programme head of integration for Skills for Care and Emily Smith the systems and integration programme lead at NHS Employers presented the six ways to create a culture for integration resource, which provides six key tips to help systems create a culture in which integrated working can thrive. 
Q&A session
The final part of the webinar allowed for a shared learning experience. Attendees had the opportunity to ask the speakers questions and share their experiences of establishing integrated working. 
Top tips from speakers and attendees:
Systems need to create a culture of openness, honesty, and respect.

Partners need to be able to disagree in a constructive way.

Have the right core values.

Integrated working is not one size fits all and therefore requires outside the box thinking.
To watch the webinar recording and access the supporting materials see the six ways to create a culture for integration web page.
For more information contact us systems.working@nhsemployers.org.