Webinar
Upskilling your workforce: from career outreach to professional development
This webinar was held to understand how you can effectively attract and retain talent through career outreach and robust career development pathways.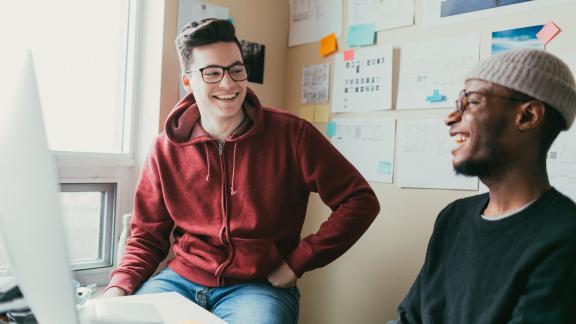 Aims of the webinar 
This webinar discussed how to:  
engage with schools through their dedicated outreach programme. 
effectively use the Support Worker Learning and Development Roadmap.
understand how broadening your workforces' skillset can ease pressures on staff and improve patient care. 
excel in offering robust career pathways by learning from other organisations good practice. 
During the webinar Anita Esser, head of education in training, development and workforce at the University Hospital Southampton NHS Foundation Trust (UHSFT) spoke about how you can use the Support Worker Learning and Development Roadmap, to develop your support workforce. 
University Hospitals of North Midlands NHS Trust (UHNM) discussed engaging with schools through their outreach programme and raising awareness of critical roles in the NHS. We heard about their staff development initiatives for support workers through to registered professionals. They spoke about creating a flexible workforce through broadening skillsets to ease pressures on staff and improving patient care.
A student from UHNM talked attendees through their development journey, and how the trust supported them along the way. 
Anita Esser  

Anita is head of education in training, development and workforce at UHSFT. She has been a senior manager in education at the trust for over 30 years. 

She has worked for the NHS for 40 years, originally training and working as an operating department practitioner. As head of education she leads on apprenticeships, widening participation and clinical skills and simulation. She is enthusiastic about ensuring support staff and professionals in all roles have access to career opportunities and has worked throughout her career to enable development pathways. Recently she led the NHS England project work to roll-out the Higher Development Award and the Support Worker Learning and Development Roadmap. 

Speakers from UHNM

Jennifer is the superintendent radiographer – education lead at UHNM. Jennifer and her team led the creation and implementation of development pathways for staff in the imaging department, and continue to improve awareness and interest in imaging careers. 

Deonne Lee 
Alexandra Evans 
Further information
For those who would like to access the Support worker learning and development roadmap discussed in the webinar, it can be found on the NHS England website. 
If you would like to speak to Jennifer Little, Superintendent Radiographer – Education Lead, from UHNM on their school engagement her email address is jennifer.little@uhnm.nhs.uk .