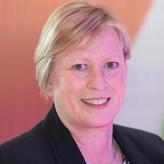 Andrea Hester
Andrea leads NHS Employers' work on the NHS Pension Scheme reform programme and the total reward strategy for the NHS. 
She has held a variety of senior roles including director of HR at Harrogate and District NHS Foundation Trust and director of OD and HR at NHS North of Tyne. Andrea was appointed to the NHS Employers Assembly in 2003 and from this role became a member of the management side Staff Council and Pay Negotiating Committee. She joined NHS Employers full time in 2006 as the head of programmes, with responsibility for the ISTC work programmes and workforce productivity.
In October 2006 Andrea became the head of employment services with responsibility for health and well-being, employment practice, revalidation and education. Following a period of just over 18 months at NHS North of Tyne, Andrea returned to NHS Employers as the Head of Pensions and Reward.