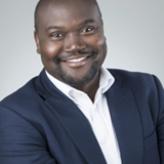 Eugine Yafele
Eugine was appointed as chief executive of Dorset Health Care University NHS Foundation Trust in December 2018.
He has significant clinical leadership and operational management experience gained in both the NHS and the private sector. Prior to his current role he was deputy chief executive and prior to that, chief operating officer at Dorset HealthCare.
He completed his MBA at Warwick Business School and has broad experience of partnership working and developing new models of care to improve the experience and outcomes for people who use health and social care services.