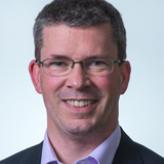 Professor Joe Harrison
Professor Joe Harrison has been an NHS acute hospital chief executive for almost ten years. He joined Milton Keynes University Hospital (MKUH) in 2013, transforming its record in quality, performance and finances. Under his leadership the trust has gained teaching hospital status and pioneered digital advances that have revolutionised patient care and experience.
He is also national director for digital channels for NHS England. 
Joe has championed innovation and expansion, overseeing significant development across the hospital estate, including the building of an academic centre in partnership with the University of Buckingham and a new cancer centre, along with multiple other developments to improve access and keep up with patient demand in one of the fastest growing places in the country.
Along with an ambitious digital innovation programme, Joe has championed workplace wellbeing to improve the working lives of the team at MKUH. He is also a board member of the Oxford Academic Health Science Network; and chair of the Clinical Research Network Partnership Board for Thames Valley. Joe also works nationally with NHSX to transform health information across the health and care sector, giving patients power over their own information and enabling organisations to work together more effectively to provide better care.