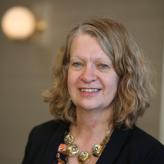 Karen Dumain
Karen currently leads the national NHS Do OD network. The programme is the expert resource for OD in health and care. A variety of private and public sector OD and HR strategic and operational roles have embedded her OD practice.
Karen has a degree in behavioural sciences, MA in leadership and organisation of public services alongside proud to be a CIPD chartered fellow and NTL OD graduate.
The golden thread in her work is the passion to inspire and enable people, organisations and systems to be the best they can be. A critical thinker and writer committed to evolve the theory and practice of OD to make a difference.