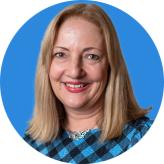 Rebecca Smith
Rebecca joined NHS Employers in April 2013 and was appointed director for the national engagement service in April 2016. In this role she worked closely with HR directors, area heads of engagement and HR director network chairs to ensure that the voice of employers was front and centre of workforce discussions. 

From October 2022 she has taken on a newly established role which is leading the work supporting integrated care boards (ICB) chief people officer's and building effecting relationships in support of a system approach in the workforce space.

She also leads on social partnership working which brings together employers, trade unions, ALBs and the Department of Health and Social Care.
Rebecca has worked at HR director level and has experience in a range of organisations including a local authority, NHS acute and community trusts and mental health organisations and within Strategic Health Authorities (SHAs). Rebecca has a Masters in HR management and is a member of the CIPD.