Blog post
Colleague recognition using Microsoft Teams
Read how this organisation has developed a new way to recognise and reward its staff with a peer to peer recognition app on MS Teams.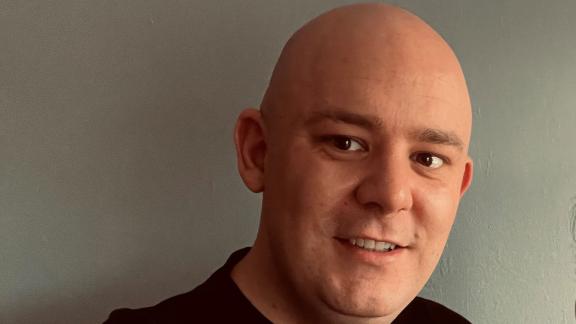 In this blog Jonny Simpson, reward and recognition advisor at NHS Business Services Authority (NHSBSA) shares how he worked with teams across the organisation, to develop an online recognition platform using Microsoft Teams, to continue recognising colleagues within a virtual world.
NHSBSA exists to provide essential support to the wider NHS. We are the expert delivery organisation relied upon by government and the health and care system to provide a range of complex and essential high-volume business services to the day-to-day running of the NHS. We also provide a wide range of services direct to the public to help citizens in gaining access to the healthcare and support with costs to which they are entitled.
Our services are essential to service delivery within NHS trusts which has been particularly important throughout the COVID-19 pandemic. When restrictions were implemented, the decision was made for many of our colleagues to work from home to keep them safe while enabling them to continue in the work they do to keep services running. For us, this meant that our usual methods of recognising our colleagues were impacted. A simple but effective thank you at a colleague's desk or a physical happy birthday card were now near impossible.
We recognised the immediate importance of staying connected virtually to maintain team spirit and morale during a challenging time. So, our aim was to reimagine the ways in which we recognised our colleagues while making sure our methods were easy to use and accessible to all.
Working in collaboration with our internal communications and technology colleagues, our approach was to develop an organisation-wide colleague recognition programme. During the planning process we researched and contacted several well-known and established benefit portal providers but found their fees were often very high. We therefore began the search for an alternative that was simple yet cost-effective.
With the support of our technology department, we found the PowerApps function within Microsoft Teams to be a suitable option, allowing us to build a custom app which aligned with our values, to be collaborative, adventurous, reliable and energetic.
After some system testing, we worked alongside our colleagues in internal communications to develop a robust plan to launch our, 'we CARE colleague recognition app' on 1 October 2021.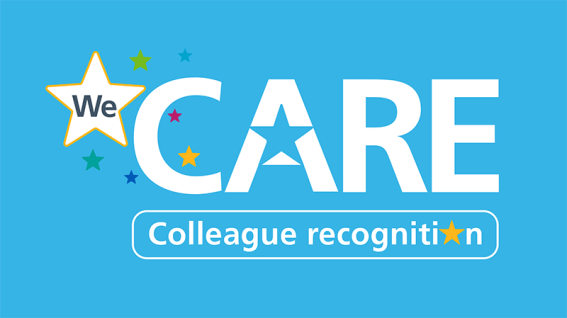 When a colleague logs into Microsoft Teams the app shortcut is instantly visible on the left tool panel. Once clicked, colleagues are presented with two options; send a star or nominate a star.
The send a star function allows colleagues to select one of eight badges which are delivered in an instant via the chat function and are designed to recognise peers and brighten their day. The badges are as follows:
Thank you
Welcome
Congratulations
Happy Birthday
Happy workversary
Friendship
Living our values
Also, colleagues have the ability to nominate a star for one of our, we CARE monthly awards, recognising individuals or teams who have gone above and beyond in demonstrating our CARE values.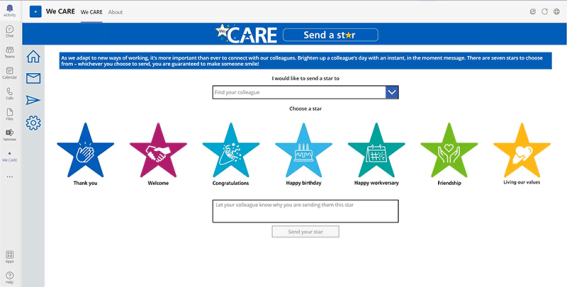 Since launch, we have received excellent overall feedback. The send a star function has been used more than 1,000 times and almost 80 colleagues have been nominated to receive a monthly award.
Microsoft Teams is now a widely used programme and with thanks to both our technology and internal communications teams, we have been able to use it to implement a cost-effective and successful recognition platform.
Next steps
We aim to continue to monitor the engagement levels of our we CARE colleague recognition app by introducing new stars to keep it fresh. This Christmas we will be launching our festive merry Christmas star to enable colleagues to wish each other a merry Christmas. We are also planning on further celebrating our colleagues in the future by hosting a we CARE, celebrate our stars ceremony as a way of bringing together and recognising all those who have demonstrated our values and contributed to our vision.