Infographic
Enhancing the attraction, recruitment and support experience for new healthcare support workers
Analysis of NHS Employers' second healthcare support workers survey covering trusts in Yorkshire and the North East.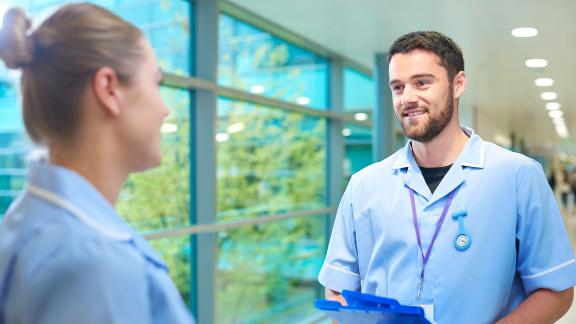 We have created this visual summary of results taken from our second survey of healthcare support workers (HCSWs) working in NHS organisations in the North East and Yorkshire, with comparison to the six months previous, to highlight improvements, reasons to celebrate, and areas for development in the employment of HCSWs.
In June 2021, on behalf of NHS England and NHS Improvement (NHSEI) North East and Yorkshire, NHS Employers conducted the first of two online regional surveys of newly appointed HCSWs in the North East and Yorkshire. This was in order to understand their attraction, recruitment, onboarding, induction and career development support experiences. 379 HCSWs appointed from 1 December 2020 completed the first survey.
In order to see if implementing the recommendations made following the 2021 survey results had improved the recruitment, interviewing and onboarding experience for candidates, the second survey was sent to any newly appointed HCSWs who had started in the same NHS trusts from 1 June 2021. This second survey was communicated on 28 February 2022, for a two-week period.
Below, we have captured and compared the highlights of the data taken from both of these surveys.