Blog post
Nursing associates at Derbyshire Community Health Services NHS Foundation Trust
Michelle Hoole, Project Lead (Nurse) NQN System Rotations Programme, talks to us about implementing the NA role through tailored learning.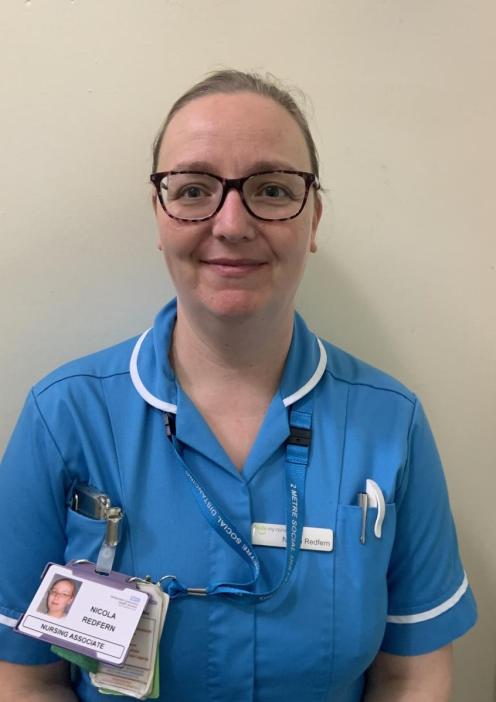 2022 marks the first revalidation year since the nursing associate (NA) role was introduced. So we have spoken to a variety of employers and NAs from across England to find out how the role was adopted and continues to develop as an integral part of the NHS workforce.
Derbyshire Community Health Services and Derbyshire Healthcare Foundation Trust (DHCFT) are now well known for their trainee nurse associate (TNA) programme and TNA apprentices have been supported since 2018 across both organisations. We are proud to now have two TNA intakes a year: March and September.
To help implement the role, we've developed a learning pathway which includes four workshops a year, as well as virtual learning support, and a focus on staff wellbeing and continual support.  All TNAs undertake the workshops and receive a certificate to show their completion. The workshops include sessions such as coaching, sepsis, clinical skills, mental health, learning disability and medication administration.
Prior to the two TNA recruitment intakes we hold engagement events, the wider workforce team offer support for individuals who are interested in applying, providing training sessions on application and interview techniques. We encourage applications from within the trust, particularly internal Band 2, 3 and 4 staff.  
Apprenticeship TNA opportunities are fantastic, at one time individuals may have faced financial and academic barriers accessing a university education. They can now gain a qualification whilst working and gaining practical experience.
We've also introduced support structures where our dedicated practice learning facilitators provide formalised practice and support sessions every twelve weeks. During the sessions we look at the quality of the programme, core skills and proficiencies, relevant training, placement experiences with a big focus on staff wellbeing and support, and we signpost staff to our wellbeing services. Originally, these sessions were delivered in person, but since COVID-19 we started delivering the sessions virtually. The virtual adaptation of the workshops was initially challenging as it was for everyone. However, the feedback has been positive and virtual workshops continue for some sessions as this also reduces time spent travelling, costs in mileage as well as TNA and trainer time.
Within the trusts the practice learning facilitators have helped develop TNA and NA competencies, which didn't previously exist. These competencies, give clear expectations for students within year one, year two and upon qualification as an NA. The practice learning facilitators support TNA managers, assessors and supervisors. 
The development of clear and extended competencies has helped with any challenges of integrating the NA role into practice.  Regular communication with teams about the NA role and its development has helped.  The role of the NA in supporting the RN workload is happening as the Nursing and Midwifery Council (NMC) intended. This has a positive impact on patient care as we are acknowledging the knowledge and skills that the NA can bring to the teams.
The wider workforce team work closely with our academic provider, we are involved in feeding into and supporting the changes in course structure. This has allowed us to ensure that the training meets the needs to TNAs and the organisations.
NAs are able to top up their qualification to become a registered nurse or other specialities. Within the organisations we promote a year's consolidation of NA practice and a year`s interprofessional preceptorship, this supports qualified NAs and helps them gain confidence in the role and their responsibilities. Increasing numbers of NAs apply for the top up degree while many are also happy in their role as a qualified NA.
The positive impact of the NA role on the quality of patient care is really apparent. NAs display evidence-based practice, they delegate to other staff and show they are confident and competent. The integration of the NA role has provided a positive impact on teams, patients and individuals who have completed this qualification.
We have fourty-two TNAs currently on the TNA journey across DHCFT and DCHS and the interest in the programme keeps growing. 
For more information please contact: michellehoole@nhs.net