Blog post
Recognition for health care workers using award schemes
In this blog, Katy Mallender-Ward, at Leeds Teaching Hospitals Trust (LTHT) talks about why they introduced a new recognition scheme and how it works.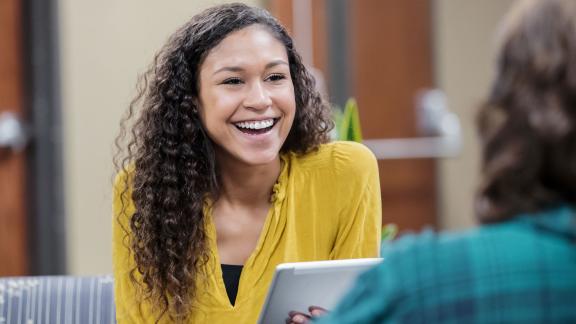 Katy Mallender-Ward, senior project allied health professional (AHP) at LTHT discusses the IRIS recognition scheme that was recently introduced and what effect it's had so far on staff morale.
We have two award programmes to recognise staff members at LTHT which are facilitated by the chief nurse team.
The first is the DAISY Award. We joined the DAISY Foundation, which is an American organisation set up to specifically recognise the efforts of nurses and midwives from all over the world. We have run these awards since December 2019 and have had over 500 nominations.
Following this success, we wanted to create a similar scheme that awards all staff, whether they're allied health professionals, housekeepers, or consultants.
So we introduced  the IRIS Award (which stands for inclusive recognition of inspirational staff). Launched in April 2021, the IRIS Award is a scheme where patients, staff or volunteers can nominate a member of staff for recognition. The award honours and celebrates the skillful, compassionate care that our staff provide every day.
To mirror the DAISY Award, the Iris flower was chosen as the emblem. This  is symbolic for many reasons, including signifying wisdom, gratitude and respect.
Nomination process
People can nominate their chosen health care worker either online or by filling in a paper form at the hospital. They share their story of how a member of our team made a difference to their hospital experience. We work alongside our communications team who promote the awards throughout the trust, on our social media and internal emails. 
To start with we go through all the nominations to form a long list, then shortlist five whose entries are sent to the committee. The awards committee is made up of directors, the chief nurse, the deputy chief nurse, AHP leaders and then us, the awards team. 
All nominations receive a recognition letter from Lisa Grant our chief nurse, with their nomination story. The shortlisted nominations receive a letter and a highly commended certificate and then committee chooses two winners.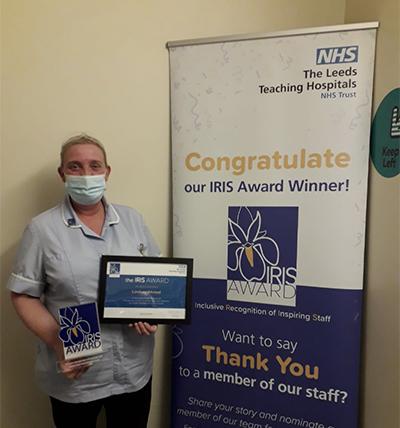 We get between 20 to 30 nominations per month for the DAISY Award and around 15 to 20 for the IRIS Award. We give two DAISY Awards and two IRIS Awards out each month.
The winners of the IRIS award receive a surprise MS Teams meeting invitation (or they are tricked!), where they find out that we're celebrating them and are presented the award. The winner receives a certificate, trophy, pin badge and Iris flower seeds with a plant pot painted by one of the children in the Children's Hospital. They also receive a sweet treat – an Iris cupcake - which are made by a respiratory physiotherapist, who works in the trust.
"Once I had got over the initial shock of being a winner I was extremely humbled and honoured that someone had taken the time to nominate me. I felt very privileged and proud of my achievements where in retrospect I was only doing my job to the very best of my abilities. I still wear my badge with extreme pride."

IRIS Award winner, Lindsey Ahmed, house keeper.
The only difficulty we have found so far, is around raising awareness of the awards schemes, because of the size of the organisation. With around 20,000 members of staff, it can be hard to reach all departments. Despite them being promoted on the trust's intranet, posters on walls and presence on social media, there are still so many people who haven't heard about the awards. We hope we can get our message out to more and more staff, over time.
Raising morale
Early in the pandemic, we wondered if we should pause the awards. We worried that it might be perceived as being insensitive. We eventually decided to keep going and move to a virtual award because people were so grateful. 
Getting that recognition and a thank you made a massive difference to the winners and being recognised by the executives at corporate level has really improved the morale in our organisation.

 "The IRIS Awards are a great way of recognising the contribution of our staff who consistently go the extra mile for our patients and are prized and celebrated by their colleagues. Our IRIS winners are great examples of the 'Leeds Way' in action".  Julian Hartley, chief executive.
I believe the awards have created a relationship between corporate and the front line. People can see that senior staff are human beings and that they genuinely care. The awards are funded through the corporate nursing budget, which is a significant investment, but we (and more importantly) senior leaders, can see it makes a huge difference to staff wellbeing. 
Some of the stories that we get to hear are incredible. I'm so glad that I get to be a part of it.