Article
Skilled worker route
Find out about eligibility, the immigration health surcharge exemption, and fee structure.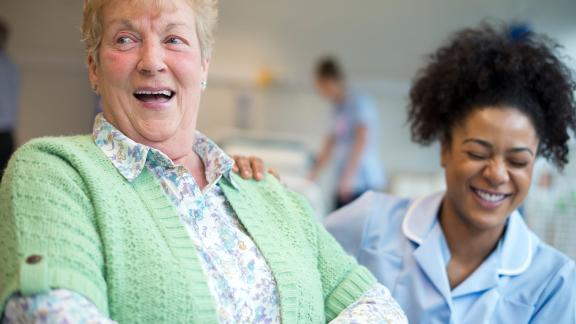 This route includes the Health and Care Visa which applies to qualified doctors, nurses, allied professionals and other professionals working in either health or social care. The minimum skill level is RQF level 3 (A-level equivalent).
The certificates of sponsorship (CoS) cap has been suspended which means there will be no limit to the number of eligible skilled workers wishing to come to the UK unless this is reinstated. The resident labour market test no longer applies.
Existing Tier 2 (General) sponsors will have been automatically granted a new Skilled Worker licence, with an expiry date consistent with their current licence, and receive an appropriate allocation of CoS. 
Eligibility
A full list of eligible professions for the Health and Care Visa and their standard occupational classification (SOC) code can be found on the GOV.UK website. This list was updated in February 2022 to include care workers, care assistants, and home workers, so please refer to the UKVI guidance for the most up to date list of eligible professions for the health and care visa. 
The Home Office launched a Skilled Worker Eligibility Checker (SWEC) tool to enable applicants and employers to immediately see if vacancies are eligible for a Skilled Worker Visa. The tool can be found on GOV.UK. 
The Skilled Worker Visa requires applicants to have certain characteristics, three of which are fixed, and six which are tradeable however 70 points in total is required.
Individuals will need to attract the following three fixed characteristics (for 50 points):
a job offer from an approved employer sponsor
a job at the appropriate skill level (RQF 3 or above – A-level equivalent)
the ability to speak English to the level set appropriate to the role.
In order to reach 70 points, they will also need to:
attract 20 points from the other tradable characteristics.
This table outlines the characteristics, whether they are tradable or fixed and the number of points allocated to each:
Characteristic
Tradable
Points allocated
 Job offer by approved sponsor
No
20
 Job at the appropriate skill level (RQF 3 and above)
No
20
 Speaks English at the required level
No
10

All of the above are required.

May score one entry from each section below:

 
 
 SALARY:
 
 
Salary of £20,480 but in listed health/education job that meets the relevant national pay scale*
Yes
20
 Salary of £20,480 (minimum) to £23,039
Yes
0
 Salary of £23,040 to £25,599
Yes
10
 Salary of £25,600 or above
Yes
20
 OTHER:
 
 
 Job in a shortage occupation 
Yes
20
 Education qualification: PhD in subject relevant to the job
Yes
10
 Education qualification: PhD in a STEM subject relevant to the job
Yes
20
 Applicant is a new entrant to the job market
Yes
20
*The £25,600 general salary threshold outlined above will not be applied for 24 health / public sector roles, with national pay scales used to determine the appropriate salary. More detail can be found in the UK points-based immigration system: further details statement, including a comprehensive list of eligible professions in table 28. 
Case studies outlining different eligibility scenarios can also be found in the government's UK points-based immigration system: further details statement from page 19.
Eligibility checklist
valid certificate of sponsorship
job which meets the appropriate skill level
evidence of knowledge of English language
one or more of the other tradable characteristics to reach the 70 points
demonstrate ability to travel and travel history over the preceding five years
valid tuberculosis test results (if from a listed country)
a criminal record certificate from any country where the migrant has lived for 12 months or more in the last ten years, if working with vulnerable people
£1,270 in savings (main applicant).
Fee
Health and Care Visa applicants pay a lower application fee and this reduction will also apply to partners and dependents. A visa for under three years for a profession on the shortage occupation list for example, is now £247 for those qualifying for the Health and Care Visa. Full Information including pricing is available on the GOV.UK website.
Application processing time
Decisions on visa applications are normally made within three weeks. A faster decision can be made on applications by using the priority service (within five working days) or the super-priority service (by the end of the next working day).
Immigration health surcharge exemption - no longer applies
Applicants applying for the Health and Care Visa and their immediate family are exempt from having to pay the immigration health surcharge. Family is classed as those who are dependents of the applicant who is eligible for the health and care visa. It does not cover extended family or anyone living independently of the applicant. 
Information on how individuals can claim a reimbursement for immigration health surcharge fees paid after 31 March 2020 is available from the Department of Health and Social Care on the GOV.UK website.
Switching to the Skilled Worker Visa from another visa 
Switching visas is streamlined under the new system and most migrants will be able to apply to switch from one immigration route to another without having to leave the UK. This will help to support the retention of talented staff and prevent unnecessary travel.
Switching employers or job roles on the Skilled Worker Visa 
The Skilled Worker Visa allows an employee to work in a sponsored role for one sponsor/employer. If someone wishes to change employers, they can do so if they receive a new qualifying job offer and Certificate of Sponsorship from another employer with a sponsor licence. The employee will have to make a new visa application.
If the employee will be doing a different job for the same employer, they will need to apply to update their visa if the new job is in a different occupation code.