Infographic
Student finance explained
An overview of student finance available to those studying undergraduate healthcare degrees.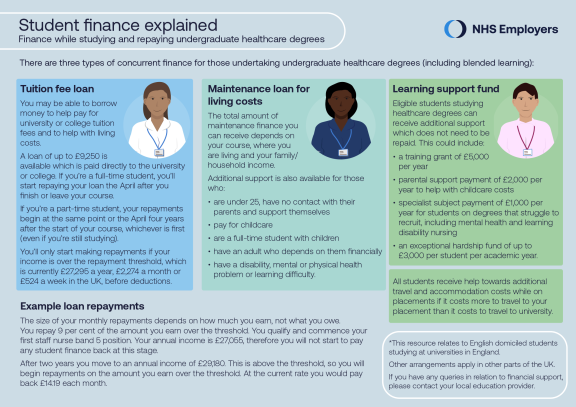 Download and use our infographic to help explain how student finance works to prospective undergraduate healthcare students.
This infographic has been created to support employers in conversations to explain student finance for those studying and looking to study a healthcare degree. It provides a breakdown of the available financial support for students and explains the repayment of these.
It has been created with a view to support employers to engage with potential students at events and with local Higher Education Institutes that deliver nursing programmes.
Applications for funding can be made up to nine months after the first day of the academic year for the course. It can take up to six weeks to process an application.
The current rising cost of living crisis has an impact on all staff but also students that will be with your organisation on placements. The loan and support funds are outlined in the infographic and a full list of cost of living support for students is available to understand what is on offer to share with students. For more information on supporting staff including apprentices with cost of living, you can access our dedicated good practice.
Please note, this information is accurate for English domiciled students studying at universities in England. Those studying blended learning degrees (which combine digital and traditional elements of learning) starting from January 2021 may also access this student finance. Those studying for a nursing degree through an apprenticeship route are not entitled to a student loan.
Student finance is set to change in England from 2025, with funding available for a wider variety of courses through the creation of a lifelong loan entitlement. The lifelong loan entitlement will enable people to claim up to the equivalent of four years of Post-18 funding to be used throughout their working lives. Current information on the LLE is available from the Gov.uk website, and the infographic will be updated if the new funding model impact healthcare degrees. 

We also have a printer-ready version available to send, if you wish to get some professionally printed. If so please email workforcesupply@nhsemployers.org for a copy.