Article
T Level FAQs
Answers to frequently asked questions from employers about T Levels.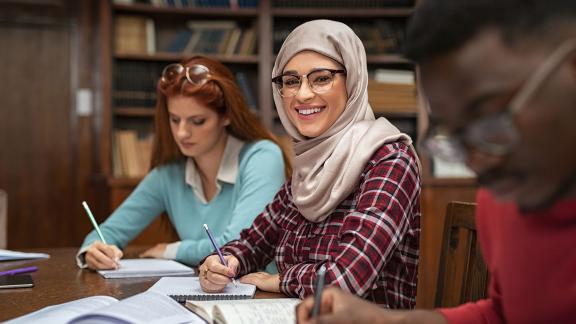 T Levels are two year technical programmes, designed with employers, to give young people the skills that industries need. T Levels will give 16 to 19 year olds a technical alternative to A Levels. One T Level is equivalent to three A Levels. Further information is available on our web page exploring the specifics of T Levels.  

T Level students within your organisation are likely to be studying health or healthcare science T Levels. However, employers may wish to consider placement students from wider T Levels for wider roles within the organisation, for example a management and administration T Level student, for an administration placement or digital T Level student for a business services placement. You can find a full list of subjects on the GOV website.

A T Level student may wish to go on to higher education or join the workforce straight away. For a health T Level student, some employers consider themselves to have the required skills to join the workforce as a healthcare support worker or go onto level 4 or 5 apprenticeships.  

It is important to consider not all T Level students will wish to join the workforce after completing their studies. However for those that do, the T Level could become a natural entry point to being a healthcare support worker, or perhaps start on a trainee nursing associate apprenticeship.

We recommend letting students know how their T Level could start a career in your organisation.

T Levels will become one of three choices for learners after GCSEs, alongside apprenticeships and A Levels:

T Levels are designed to offer a path for learners wishing to enter skilled professions. These are typically 80 per cent in the classroom and 20 per cent on the job.

Apprenticeships are for those who wish to learn a specific occupation on the job. These are typically 80 per cent on the job and 20 per cent in the classroom. It is more suited to those who know what occupation they want to pursue, are at the working age of 16 and want to earn a wage while learning at the same time.

A Levels are for learners who wish to continue academic education

Offering a T Level placement gives you early access to the brightest young people entering the market and the opportunity to develop your workforce of the future. Allowing you to grow your workforce in the short-term with little or no cost, excepting costs outlined later in the FAQ, and scout future talent in the area.
Onboarding T Level students
The placement offers students the opportunity to experience what is it like to be in a job and all the requirements it entails, such as travelling to work, learning new skills, and meeting new people. I

t allows the student to understand whether they would be interested in a career in health and social care, and the employer an opportunity to nurture and support young students who may then wish to join their organisation.

An industry placement is for a minimum of 315 hours, which can include up to 35 hours of work taster activities. The industry placement can be comprised of a block of time, a certain day or days each week, or a combination of the two. The specific time of the placement should be in line with the normal requirements of the industry, with consideration to working time regulations. The industry placement is likely to take place in the second year of study to allow the student time to develop core learning.

A typical T Level student will be between 16 – 19.

A T Level student should have the same package as any other new member of staff to ensure their safety in the workplace. It is important to speak with the course provider prior to the start of the placement to ensure that students are aware of what will be required, and agreement is reached on funding these requirements.

To ensure a successful placement for both student and employer, it is recommended that the student is interviewed prior to starting to work out the most suitable area for them to be placed and any future ambitions that can be factored into the placement. As this may be the first time that a student has a formal interview it is recommended that students are offered feedback after their interview.

Students on an industry placement do not need to be paid, though organisations can decide to pay them for their time on placement. Some employers will also place the T Level on their bank after they are confident in their competence as a source of income for the student. Whether the student is being paid or not, some organisations may decide to pay for the student's travel costs during the placement or offer some other form of financial incentive.

There is no limit to the number of students that can be on an industry placement if relevant health and safety legislation is observed. However, we would advise employers to consider the support that T Level industry placement students may need, as well as the demands of other students on other types of placements.

Students undertaking vocational placements as part of a professional qualification are likely to be eligible for a DBS check. The employer offering the placement will need to determine the level of check required based on the activities the individual will be required to undertake. We suggest using our DBS eligibility tool to check on the level of DBS required.

Whilst the student is on the industry placement to learn important clinical skills, they can be considered as a member of staff who are able to support their colleagues with appropriate tasks. Managers should be reminded of the value of having further support in their areas and ensure that they have a strong understanding of the tasks the student is able to support with, and those tasks which T Level students are not able to undertake independently. It's recommended that managers working with T Level students should have prior experience in hosting and mentoring individuals on placements.

A student on placement does not require a contract, but a document that mirrors that of a contract which provides clarity on expectations and is useful to further their understanding of later roles. For students on extended placements, or students who are also undertaking a bank role a form of contract is customary or in some cases obligatory.  
A T Level student will be asked to complete an employer set project whilst on placement. This project will involve the practical application of skills they have learnt during the placement reinforced by their previous classroom learning. This project will include research elements, written elements, roleplay, discussion and reflection. NCFE provide more information on the employer set project on their website and through a number of videos.

T Level providers are also required to carry out a student work-readiness assessment prior to starting the placement to ensure they are ready for the placement. The education provider is likely to ask for feedback on how the placement is progressing for the student and that they are meeting the relevant professional standards.

Depending on how the placement is organised, it is possible a student may have exams or other assessments during their time on placement. This should not directly interfere with the placement, but employers may wish to be mindful of the extra stress the assessment period could place on the student, and exam dates should be discussed with the college prior to the industry placement starting.

The placement does not encompass any formal study time as all study will take place during the classroom learning part of the T Level, as well as the student's personal study time.

You will need to agree with providers on the most appropriate placement working pattern, whether this is a block of time, a series of day releases or a combination. The timing of placements should be planned at the right stage(s) of the students' T Level course. Most placements are likely to take place in the second year of their course when students are familiar with the specialist content of their course and have the required technical skills to make a positive contribution in the workplace.
T Level industry placements are a free government scheme, you don't need to pay to take on a T Level student for placement. There may be certain business costs, like time invested in planning, training and supervising, and you can choose to pay the student if you wish or pay for their travel.

This should be discussed with the relevant education provider, some organisations have completed this internally to ensure students have the standard of pre-employment assessments prior to joining the placement but then have recouped their costs from the provider.
Find out more and next steps
It is recommended that you contact your local education provider that offers the T Level(s) that you would like to host students from to start the hosting process. It may, at this point, be worth considering the number of students that you could host to provide clarity to the education provider. Some organisations approach the conversation with a number in mind, whilst others ask the education provider to give them an indication of demand before making this decision.