Article
Virtual recruitment
Guidance and things to consider for successful virtual recruitment which supports the candidate experience, pre, during and post interview.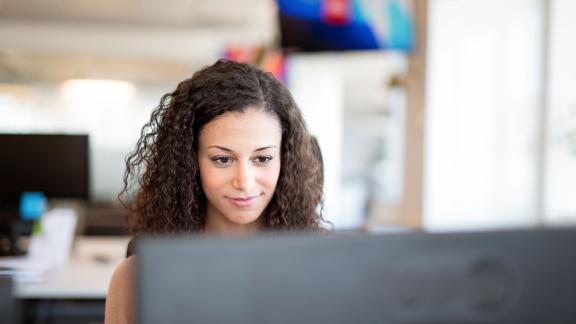 The COVID-19 pandemic has seen a necessary increase in working from home across all sectors, which has led inevitably to a need for remote recruitment processes.
This guidance is designed to support employers, recruiting managers and interview panels to recruit effectively, remotely. It provides questions to consider at each stage of the process, to help ensure a good candidate experience that maintains the principles of your recruitment process and organisational values.
Supporting your candidates before the interview
 
What technology will you need to use to interview candidates?
Find out which platform is your organisation's preferred choice for video conferences. Many NHS organisations use either MS Teams, Zoom or Skype. Consider if the chosen platform has all the features you need; or if you need to access a license for more advanced functions.
Have you spoken to shortlisted candidates before the day of interview?
Speaking to shortlisted candidates before the day of interview gives you the opportunity to understand more about them and their motivation for applying for the role. It also gives the candidates the chance to ask questions, gives a good impression of your organisation, and shows that you are people-focused.
Find out what support the candidate may need on the day to give the best account of themselves. Do they have the necessary device, software and camera for the platform you are using? Are you able to adapt if they don't?
Let the candidate know how long the interview will last and what documents they will need to have at hand. For example, ID documents. Recommend they find somewhere quiet and private for the interview and check they are happy for the interview to be recorded (if you intend on recording it). See how confident they are with using the software, suggest a trial run with a friend to build their confidence for the day. Some organisations provide a how-to guide for candidates.
Have you thought about how to help the candidate settle into the interview?
It is possible that your candidates will not have experienced a virtual interview before, so it is important to make them feel at ease. Make sure you have prepared an introduction for the candidate that explains how the interview process will work and any additional information you think will be helpful for them.
Do you have a single point of contact for candidates?
This could be the recruiting manager, or someone else in the team, depending on capacity. Having a single point of contact for candidates means that any queries or difficulties can be responded to efficiently, which in turn provides a positive experience of your organisation.
Preparing your panel for the interview
 
Who is going to be on your panel and what will their role be?
Decide in advance who is chair, who will cover the intro for the candidate, who is note-taking and how you will handle supplementary questions.
Have you considered the timetable of the day?
There is currently a saturated market for jobs and it is likely that you will have several candidates to interview for any one role. Take time to consider the timings of the day and try not to make the schedule too rushed. If you are running a test/exercise, give applicants 15 minutes between interview times so you have some flexibility and are not rushed if interviews run over.
Does you settling look professional?
It is important to remember that you are still representing your organisation while working from home. Try to avoid cluttered backgrounds wherever possible and ensure you have a professional backdrop that isn't distracting. Your organisation may have corporate backgrounds that you can use. If you are using MS Teams, you may wish to blur your background or use of the pre-set backgrounds.
Have you conducted a trial run with colleagues on the panel?
While, since March 2020, we have had more practice of video conferencing, a trial run gives the opportunity to make sure everyone is comfortable with the technology being used and their roles on the day. It also gives you the chance to test your camera, microphone and other technology you are using on the day.
Post-interview and induction
 
Have you confirmed the candidates' identity and right to work?
Employers must still complete each of the pre-employment checks mandated by the Department for Health and Social Care. Our web pages offer guidance on how you can complete the check remotely, where it is not possible to follow normal procedures.
Will you provide feedback to unsuccessful candidates?
Candidates are likely to value an open and honest assessment of why there were unsuccessful on this occasion, which will also give a positive image of your organisation.
Be constructive in your feedback and consider maintaining a relationship with the unsuccessful candidates. You could add them to your recruitment mailing lists and points out ways they can keep up to date with the latest opening in your organisation.
It is also important to ask unsuccessful candidates how they found the process. This will help you to assess the process through their eyes so you can continually improve the candidate experience.
How will you keep in touch with successful candidates?
It is important to keep new recruits `warm` by staying in touch with them while they wait for their pre-employment checks to clear. Consider who is best to check-in with your new recruit before they start. It could be the recruiting manager, a buddy or both. By keeping in touch, you will help your new recruit to settle quicker and be on hand to answer any queries they may have.
Have you planned the successful applicant's induction?
Starting a new job can be an overwhelming experience and it may be even more so when new starters won't be meeting with their new colleagues face-to-face.
It it likely you will have to move much of your onboarding process online. Map out how you would usually onboard new starters and consider how you can replicate the process online. Some of this may be straightforward to achieve, such as organising catch ups throughout the first week with yourself and others in the team. This will help them get to know people quicker and feel more comfortable in their role.
Other parts maybe more difficult and require your organisation to invest in an online platform to ensure all the necessary training is signed off.
Make sure new starters have everything they will need to get going on day one. This includes all the IT equipment training is signed off.
Make sure the new starters have everything they will need to get going on day one. This includes all the IT equipment they will need to do their job.
Gather feedback from candidates on how they feel their onboarding went. Factor in this feedback as you continue to develop and improve your onboarding process.
Below are some suggested tips that may help ensure interviews held remotely run smoothly and effectively.

Wherever possible and practical, ensure there are at least two people on the interview panel. Having someone who is currently working in the role, or in a similar role, will be helpful to ask more questions to further assess the person's suitability and competencies to deliver certain tasks or responsibilities that might be relevant to the role.

Take all reasonable steps to assess applicants using a range of methods to appraise attitudes and values. You may also want to consider including values based questions as part of the interview.

Prepare candidates as best you can; check if they have the necessary equipment and software for the interview, outline what you are hoping to get out of this stage of the recruitment process, check that they have somewhere quiet and private to talk, send candidates a "how to" email with information on how to access the platform you will be using and prompt them to do a trial run with a friend, if they're not used to using the software. 

If you are recording interviews, try to let the candidate know you are doing so in advance.

Consider the most appropriate setting to conduct the interviews, remember you are representing your organisation, so try to ensure backgrounds, for example, are as professional as possible.

Ask candidates to send identity documentation in advance of the interview, so this can be checked online when you are interviewing the candidate.

If possible, have a pre-interview check with candidates while they are waiting to be interviewed. This will allow you to mitigate against connection problems and keep interviews flowing.

Consider your privacy policy and whether you want to inform candidates they should be joining through a private internet link, e.g. a home connection or a designated booth in an internet cafe, but not publicly available wi-fi in a coffee shop.

Find a quiet space to conduct the interviews, put your phone on silent and mute your computer's notifications, these can cause distractions if they go off during the interview.

Test electronic equipment and IT systems in advance of interviews, to ensure there are minimal glitches - this is one of the most important factors since no-one knows when a technical or network fault may occur.

Consider the timing of interviews - this is particularly essential when communicating with applicants overseas and time difference may be a factor.

Consider the option of allowing candidates to send pre-recorded answers to questions. This could be helpful for candidates without access to the software needed for live video interview.

Try to leave some time between interviews, in case they overrun, or give a unique joining link to each candidate, so people do not join before one interview is finished.

Consider how you will keep successful candidates warm. This could involve a buddying system where an existing team member can keep in touch with the candidate in the time before their start date. You could also provide candidates with regular updates on the progress of their pre-employment checks.

Problems may arise despite your best laid plans. Have a back-up plan in case things do go wrong, this might involve calling the candidate and switching to a phone interview. Before the interview starts, let the candidate know what they should do if the software or technology isn't working or fails mid interview.

Be mindful that some countries do not allow access to certain programmes. If you are recruiting internationally, make sure you check that a candidate can access your preferred piece of software legally.