Blog post
Why work in healthcare science?
Healthcare Science Week runs from 14 March - 20 March and is an annual celebration and awareness-raising campaign for careers in healthcare science.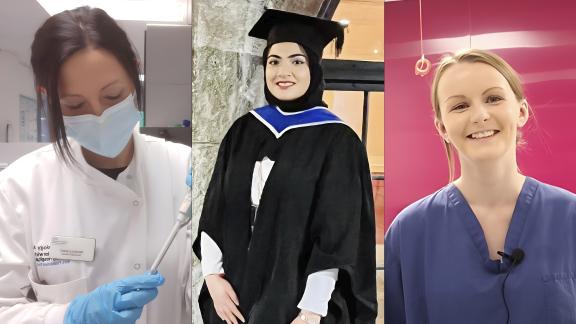 Three healthcare scientists tell us about their motivations for joining the profession, the practical experiences their roles have given them and share top tips for employers considering creating healthcare scientist roles.
Mahnoor Ali is an international trainee clinical scientist in clinical engineering at University Hospitals of Coventry and Warwickshire NHS Trust (UHCW).
I moved to the UK, aged 18, from Pakistan to pursue a bachelor's degree in biomedical engineering. I graduated in August 2021 and was lucky enough to be offered a role on the science training programme (STP) in September 2021.
The STP for clinical engineering is intense! I was based at King's College London NHS Foundation Trust for the first four months of my master's degree in healthcare science before moving to UHCW to start my rotations in the various sub-specialisms of clinical engineering in January 2022.
I feel absolutely blessed to be working at UHCW! The workplace environment is so supportive - for example, all trainees have regular check-ins with a training officer and trust STP lead. We are also provided with excellent learning opportunities throughout the three-year programme.
Here are some tips for employers recruiting healthcare scientists.
Have a presence at university campuses, career fairs or similar events - I found many students at my university did not know what the STP was.

Provide testimonials from students who obtained healthcare scientist roles despite not having a master's degree or relevant work experience – this will provide encouragement and hope to prospective applicants who believe the STP is competitive, and they have no chance of getting selected, so do not bother applying.

Have a training plan in place before candidates start their rotations – this can save time and confusion.
If anyone reading this is considering a career in the NHS, my advice would be to apply! Even if you think the post is too competitive or you don't have enough relevant experience. If you're passionate about helping people and having a positive impact, take my word for it, you will find a career in the healthcare sciences very fulfilling.
Michelle Frost is a band 6 biomedical scientist at Norfolk and Norwich University Hospital (NNUH). 
Before starting my career in the healthcare sciences, I worked as a photographer, and in HR and payroll. I completed an online master's degree and started volunteering at NNUH while working for a charity preschool in the day and evenings in a local pub. I was offered a job as a Band 4 associate practitioner, now I am a specialist Band 6.
As a biomedical scientist, I believe in improving patient care. When watching the media coverage of increased incidents of spiking, I realised my work in toxicology could help.
On a night out with a colleague, my drink 'disappeared' then re-appeared minutes later. Aware of the dangers of spiking, I refused to drink my cocktail. As I was leaving, I spoke to the security team about what had happened "Unfortunately, even if you suspect you've been spiked, there's no way of finding out" they told me.
The problem was a lack of available testing. So I figured, if testing was the problem, we should make tests available to everyone who wants one.
I went to the lab at NNUH and created a collection kit that could test for evidence of spiking.
NNUH joined forces with Norfolk Constabulary, the SOS Wellbeing bus, selected clubs and bars, and the University of East Anglia to offer my kits to anyone who thinks they have been spiked. The kits are submitted to NNUH for testing.
The initiative has been praised by the Home Affairs Select Committee and received positive local and national media attention.  
I took a less than straightforward route into biochemistry – but I always knew I wanted a career where I could improve patient care. My role in the healthcare sciences has allowed me to do this.
My tops tips for employers are:
to believe in people and give healthcare scientists confidence by supporting them, and letting people know when they are doing well in their role

to recognise outside of the lab skills, as although not directly related, these can be beneficial in a lab environment

little things always go a long way, so an ice-cream in the summer or as such, can a make a big difference!
Charlotte Mehegan is a highly specialised cardiac physiologist at West Suffolk NHS Foundation Trust and regional healthcare science training lead – East of England
I deliver patient-centred cardiac diagnostics and cardiac device therapy, and use technology, research, and clinical guidelines to provide therapeutic device care to patients. Ultimately, I evaluate and optimise device therapy to improve a patient's quality of life!
Before starting my career in cardiac science, I earned a bachelor's degree in sport and exercise science and a masters degree in clinical exercise physiology.
Since starting in 2017 as a band 5 trainee cardiac physiologist, my trust has supported me both practically and financially to achieve my career goals.
I completed in-house competencies, attended a variety of courses and conferences, and I recently obtained international accreditation as a cardiac device specialist. I am currently completing a science training programme (STP).
I am passionate about opening doors for prospective healthcare scientists from sports science backgrounds, which is why I love my role as regional healthcare science training lead for electrocardiogram (ECG) and cardiac rhythm management (CRM). I help to inspire future generations of healthcare scientists in the east of England. I particularly enjoy working with my colleagues to create and deliver ECG training to healthcare science students from a variety of specialisms.
My advice to those considering a role in the healthcare sciences is to choose a specialism you are passionate about! And to say 'yes' to every experience and professional development opportunity that is offered to you along the way!
My top three tips for how employers can support healthcare science recruitment are: 
engage with your regional healthcare science network for support

encourage your trainees to act as ambassadors for their programmes/roles at your trust

share experiences / 'Day in the Life of' videos from your trust / department to promote healthcare science roles.