Article
In-work poverty: using your benefits package to support staff
Providing the right employee benefits and ensuring that they are accessible to all staff is crucial to helping staff escape poverty.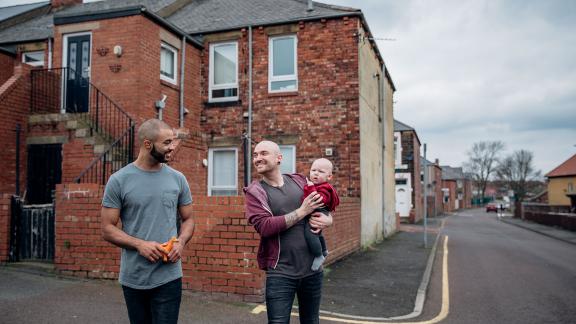 Having the right employee benefits can also help increase your employees' spending power and protect them from financial shocks.
Research by the Joseph Rowntree Foundation has found that 'low earners attach greater value to those benefits that mitigate their highest living costs, such as food and leisure, travel, childcare, housing and utilities'.
We have created the list below from working with employers to understand what is currently being provided in different places. Offers vary dependent on the local context.
Types of benefits to support staff

Housing and

utilities:
Rental deposit schemes.

Accommodation and rent subsidies.

Technology and telecommunications loans or subsidies. 

Home electronics salary sacrifice scheme.
Childcare:
Travel:
Free parking.

Transport season ticket loans.

Cycle to work scheme.

Car salary sacrifice schemes.

Work bus/public transport subsidies. 

Receipt fuel.

Fuel cards. 

Provide hire cars. 

Provide pool cars for teams.

Pay expenses and extra hours worked weekly rather than monthly.
Food and leisure:
Free or subsidised meals on site.

Discounted staff shops on site.

Deals with local businesses to offer NHS discount.

Signpost to emergency services discount sites, for example Blue Light Card and Health Service Discounts.

Access to free sanitary products.
Other financial support:
Savings schemes.

Will writing services.

Financial education workshops.

Budget planning guidance.

Credit union membership.

Low-cost crisis loans.

Early access to pay.

Debt management support.

Retirement planning support.
Good practice examples from NHS organisations
Mersey Care's women's network has put in free sanitary product storage boxes for their staff in the toilets across their site. The trust has put this in place stating that: 'Financial pressures can affect our colleagues too and we can have difficult days, for many reasons. Hopefully, in this small way, we can make the day a bit easier.

The Royal Orthopaedic Hospital NHS Foundation Trust has an on-site food bank where colleagues can access food in a discreet area of the hospital. The trust provides carrier bags so that staff can fill up a bag and no one needs to be aware. There is also signposting to the local food bank and services for individuals and families which is near the hospital. Staff are encourage to contact them as further ongoing support can be offered.

Sheffield Teaching Hospitals has a vast range of salary sacrifice options advertised on its benefits portal, including home electronics, car lease schemes and onsite nursery fees. The trust has also linked with a local credit union which offers salary sacrifice options for savings or loans and they are offering discounted monthly travel passes and free shuttle buses between sites to help staff travel to work at a reduced cost.
 

Cambridge University Hospitals offers a 'hardship loan' that is available to all staff members who meet a certain criteria. The loan is up to a value of £800 and can be applied for by staff experiencing financial difficulties.

NHS Arden and Greater East Midlands CSU designed and developed a series of financial wellbeing webinars and named them, wellbeing Wednesday lunches. These webinars offer staff services such as financial education, will writing and support with forms. 

Newcastle trust discretely offers meal cards for staff who may be unable to prioritise funds, to enable them to eat and drink while at work. Chaplains and the catering team can issue a card. This is a white credit card sized plastic card titled, 'staff loyalty card, in order to be as discreet as possible. Cards are returned at the end of use and if needed can be exchanged and further support sought. This is funded by the Newcastle Hospitals Charity.