Case Study
BAME ambassadors project: North East Ambulance Service NHS Foundation Trust
Read how North East Ambulance Service NHS FT increased the number of BAME people applying for jobs and increased awareness of services available.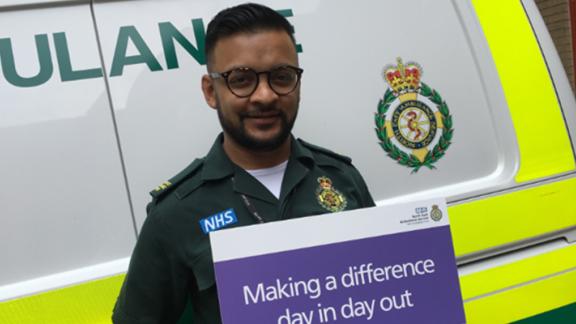 Overview
North East Ambulance Service NHS Foundation Trust identified that black, Asian and minority ethnic (BAME) people were under represented within the organisation at all levels, were less likely to access services, and many were not aware of the support available to help them access services. The organisation developed a pilot to work with regional BAME organisations to recruit ambassadors, offer training, challenge the myths and raise awareness of employment opportunities and services available.
Key benefits and outcomes
Increased number of BAME people applying for jobs, including non-executive director and associate director roles.
Increased awareness of the services available to people.
Greater understanding of support services, including language translation. 
What the organisation faced
As a region with a small visible BAME population (4.6 per cent visible and 6.4 per cent including white other categories) the trust found it very challenging to reach out and engage with BAME communities. They wanted to improve awareness of services and how to access them, and promote job opportunities, board and foundation trust membership.
In the past, the trust had attempted focus group activities, outreach projects, and targeted roadshows and events, but with little impact. 
What the organisation did
At the start of 2018, the organisation decided to take a different approach. It developed a process map of the various touch points where BAME people would access information, advice, guidance and employment opportunities at the trust. The organisation explored how it could improve its offer to BAME people at the various touch points and undertook a more comprehensive, blended approach to communication and engagement with communities across the region. 
The trust secured a dedicated budget to pilot the new approach and explored the metrics and data it could collate to measure its impact.
The objectives of the initiative were to improve awareness of: 
the organisation's services
support mechanisms for translation such as Language Line and Recite Me online language tools
the range of job opportunities available and support for people to register for NHS jobs
board and foundation trust membership opportunities.
Crucial to the success of the pilot was senior-level buy in, in terms of their time, commitment and financial resources to support the project.
Results and benefits
Activity

Outcome

Introduced Recite Me language web accessibility tool on the trust website and Language Line translation services.

BAME patient engagement has shown high levels of support. 96.1 per cent said they have found or would find Recite Me useful.

Updated recruitment literature with positive statement about employing under-represented groups and used more diverse images to show BAME staff at work.

Increased number of applications from BAME people (+0.4%) BAME people shortlisted (+0.8%) and appointed (+3.2%).

Developed an electronic communication support guide which helps paramedics undertake a basic triage in over 40 languages, accessible via tablet devices.

Greater access for paramedics and patients to language and pictorial support. Feedback from paramedics suggest 81.5 per cent have or would find it useful.

Produced 111 leaflets in 12 languages.

Over 6,000 more calls to the 111 service from BAME people in 2018/19.

Funded 16 BAME ambassadors to reach out to the BAME communities and help improve community engagement. Ambassadors received training and a resource pack. They kept a record of their work and contact details to help track people through the recruitment process.

The ambassadors have:

visited over 200 people in two months
signed up over 190 people to NHS jobs
helped attract over 400 people to the NHS BAME recruitment event
distributed leaflets/raised awareness
helped increase applications from BAME people to associate non-exec post.

 

Worked in partnership with other NHS trusts across the region to pool budgets and resources:

Held a BAME recruitment event.
Sent 35,000 flyers direct to BAME areas.
Boosted social media campaigns.
Promoted campaign as the NHS, not as specific organisations.
Used local radio, community outreach and BAME ambassadors.
Held job matching sessions, signed people up to NHS jobs. held workshops.
Developed a promotional recruitment video featuring BAME members of staff.

Partnership working has resulted in:

over 400 BAME people at the event
a contact list of over 50 prospective employees
bi-monthly BAME recruitment workshops
increased applications from BAME
people on employment and board opportunities
raised profile as an inclusive employer and improved trust/relationships.

Trained board and governors on race equality to help them understand white privilege, unconscious bias, the challenges facing BAME people and positive action.

Board and governors more informed on race equality and understand the reasons why there is a need for change.

Race equality workshops held internally with staff to improve understanding.

More informed employees who are able to answer queries and questions.

Inclusive leadership half day mandated course rolled out and delivered.

NHS Staff Survey data has improved across WRES indicators.

Reviewed how the trust supports employees who are victims of hate crime.

Recruited/trained 43 hate crime champions. All hate incidents are reported to the police.

Improved information to asylum seekers and refugees.

Z-cards produced and distributed with key information about 111 and 999.
Obstacles and challenges
Funding was secured for the pilot, but the organisation also needed to identify funding for longer-term engagement.
Identifying BAME community organisations with the ability and structures to deliver the project aims and objectives.
Gaining buy-in from senior management - it was important to brief the senior management team to help them understand the issues BAME people can face. 
Takeaway tips
Understanding your data before the project starts can help when measuring improvements.
Executive and senior-level engagement is important in facilitating change across the trust.
Work with community organisations that have the existing infrastructure and contacts - use their networks to help deliver messaging.
Set realistic expectations, it takes time to build trust and relationships.
Secure a budget - many community organisations are struggling financially, it's important to pay them for their time.
Work with other NHS trusts - the advantages of pooling resources, time and money can help ensure success.
Review your recruitment processes for board and non-executive directors (NED). Consider having an associate NED role, as this can help attract people that do not have board experience. 
Further information
Contact Mark Johns, Engagement, Diversity and Inclusion Manager.
Email diversity@neas.nhs.uk or telephone 0191 430 2099.