Article
Supporting the wellbeing needs of NHS staff
This guidance supports NHS health and wellbeing leads and managers to prioritise and fulfil staff wellbeing needs.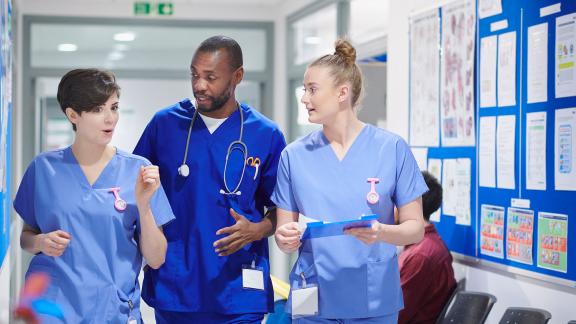 Lack of access to basic wellbeing needs such as hydration and sleep have been identified as a major concern for NHS staff wellbeing and patient safety. In the 2021 NHS Staff Survey over 21 per cent of respondents indicated that they often or always felt that every working hour is tiring for them. It is therefore vital we address basic staff needs, such as sufficient breaks, as priority.
Inspired by Maslow's hierarchy of needs, this NHS staff wellbeing needs poster demonstrates that basic needs are critical and the foundation for fulfilling the overall health and wellbeing agenda. Together with our poster, this guidance is for NHS health and wellbeing leads, staff experience leads and line managers to support them in ensuring that our staff are safe and healthy at work and can deliver safe and high-quality patient care as part of the 'looking after our people' theme in the NHS People Promise.
As we know, there is no one size fits all approach when it comes to supporting the wellbeing of your staff and NHS organisations may be at different points of their health and wellbeing journey. We also appreciate there are often a number of barriers to fulfilling your staff needs, this guidance highlights some ways to overcome them.
As well as the organisation, individuals have a personal responsibility towards looking after their own wellbeing. Collectively, organisations should work closely with their people to ensure the workplace environment fulfils all needs.
Top tips for health and wellbeing / staff experience leads
Identify how your current wellbeing offer meets your staff needs
 Formulate a plan to bridge gaps in staff needs
Get your board on board
Implement your plan and engage your staff
Evaluate the impact
Top tips for line managers
How organisations can fulfil higher level needs
Sherwood Forest Hospitals NHS Foundation Trust introduced a rest, rehydrate, refuel project to understand any barriers to employees accessing sufficient hydration, breaks and refreshment facilities and how they could resolve them. After evaluating a staff survey, interventions such as setting break times as a team at the start of shifts, increasing restaurant food choices and opening hours, and increasing the number of 'rest areas' were implemented and well received by staff.

Read how Gloucestershire NHS Health and Care NHS Foundation Trust use a locally designed survey to get a more regular snapshot of their staff's views.

Birmingham Women's and Children's Foundation Trust encouraged their people to put their needs first by giving nurses the confidence to ask for flexible working opportunities for any reason.  

North Cumbria Integrated Care NHS Foundation Trust has replaced its annual appraisal with quarterly discussions between managers and staff, covering a range of topics including wellbeing, learning and development and performance. For each quarterly discussion, managers are given prompts to discuss elements of wellbeing with their staff members. For example, a discussion about factors which have a positive or negative impact on their wellbeing and identify things that would improve their wellbeing.

North Bristol NHS Trust made a bold statement to their colleagues that 'your health is as important as our patients.' The organisation created a comprehensive wellbeing programme and ensured they listened to their staff when formulating this. They adapted their approach to influence 'hard to reach' groups such as junior doctors to engage in self-care and interact with newly introduced wellbeing champions. Within a year, they saw a reduction in staff sickness by 3,923 days saving the organisation £301,015 a year in sickness costs.

South Central Ambulance Service (SCAS) Since implementing a wellbeing guardian, SCAS has said that the visibility of health and wellbeing has increased on the agenda at board level, they have found that there has been more opportunity to share good practice and greater discussions about of health and wellbeing within the trust have taken place, for example, showing leadership on webinars such as 'What's Normal Anyway?' and 'Time to Talk Day'. Read more about how you can use wellbeing guardians.

When the pandemic began, Hertfordshire Partnership NHS Foundation Trust acted quickly to ensure basic needs relating to working remotely were put in place. The trust:

provided staff with appropriate equipment to fulfil their job roles

ensured IT support and guidance were available

enabled managers to lead their teams remotely

supported staff with cultural changes and challenges.

Read about how The Isle of Wight NHS Trust became one of the NHS Staff Survey's most improved trusts, and how the NHS England and NHS Improvement Culture and Leadership Programme supported putting compassionate leadership at the heart of change. You can also listen to our Dear Matilda: how great leadership turned around a trust podcast on how great leadership at the Isle of Wight NHS Trust transformed the organisation.

Learn how Sheffield Teaching Hospitals engaged with and supported carers in the workplace which resulted in their staff reporting they felt better supported by the organisation and feel less isolated.

West London NHS Trust reviewed its exit interview data in collaboration with Great with Talent and developed a new initiative they called 'promotion, praise and promise' which won a Healthcare People Management Award.

Blackpool Teaching Hospitals increased its staff communications during the initial phases of COVID-19 to include floor walks by senior clinical leaders, weekly engagement activity updates, and launched a new app with a dedicated wellbeing section and facility for staff to book their annual leave. They also installed a gratitude rainbow with messages from patients and staff. These initiatives lifted staff morale and engagement.

Wrightington, Wigan and Leigh NHS Foundation Trust introduced wellbeing champions into their organisation in 2019 as a part of their quality improvement project. The trust now has around 150 wellbeing champions in post as well as six wellbeing leads.

The trust follows the following procedure to recruit for wellbeing champions:

they are sent an application form (manager approval is required) and role descriptor

once that is returned, they are then asked to complete E-learning packages on: three step process in having supportive conversations and mental health responder, each one takes around 40 minutes

on completion of the training, they then schedule an induction with the wellbeing lead, this is an opportunity to give clarity and expectations, and share what other champions within the network are doing.

The trust also offers a six-hour diffuser training they can access if they wish. This was put together by the company who trained the staff in crisis management.

Read about how Northumbria Healthcare NHS Foundation Trust were awarded the Freedom to Speak Up Organisation of the Year Award at the 2021 HSJ Awards for its demonstration of an integrated approach to speaking up.

The links and information below provide further information to help you support the wellbeing needs for yourself and your colleagues: