Article
Evaluating your health and wellbeing programme
Guidance for health and wellbeing leads about how they can measure feedback from their health and wellbeing programmes.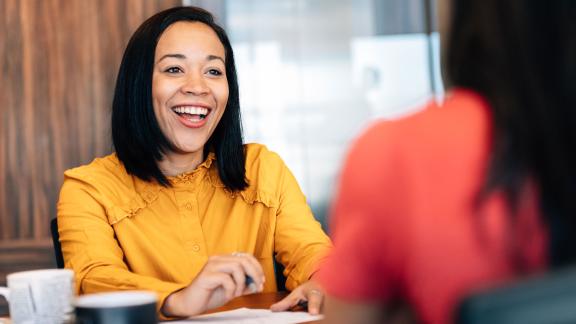 NHS organisations offer a range of staff health and wellbeing interventions, but how do you demonstrate whether an intervention has created the intended impact?
Many organisations use feedback forms, which give a snapshot in time about how people feel and whether they enjoyed and valued the intervention. What this doesn't measure, is the impact it had on the individual's behaviour and if they have made a positive shift as a result of taking part. Measuring behaviour change can help you to demonstrate where your health and wellbeing strategy has made a difference, and help you to improve your interventions as a result.
Evaluation can show where things are working well and where there is room for improvement. It can help to move from providing a good service to an excellent one. Robust evaluation can help to make a difference, demonstrate impact, improve your work and demonstrate value for money.

In order to evaluate your health and wellbeing programme robustly, it's important to build it into your overall strategy from the beginning.
The What Works Centre for Wellbeing in partnership with the Economic and Social Research Council , the University of East Anglia and the University of Sheffield have created a free cost effective calculator and how to guide. Used alongside their detailed user manual, these resources will help you evaluate and compare the cost effectiveness of wellbeing activities in the workplace.

When you are starting to plan your evaluation, consider the following steps.
Define your objectives
Objectives should set out in your evaluation plan what your overall health and wellbeing programme aims to achieve, and the overall goals that performance will be measured. The objectives should always be:
clear
provable – (if you will not be able to prove an objective has been met, then think about revising it)
relevant to your role and the remit of your strategy.
Health and wellbeing programmes often involve partners or participation from staff, and success can be dependent upon a number of external factors beyond our control. Make sure that your objectives are not impossible for you and your team to achieve.

Your health and wellbeing strategy will involve a range of tasks, activities or interventions, for example, a toolkit, a staff physiotherapy service and a health and wellbeing roadshow. Together these contribute to the overall objectives of the programme. You may choose to define specific 'activity' objectives within your programme evaluation plan, or for large programmes, you may have individual evaluation plans for specific activities within the overall programme evaluation plan.

When setting activity objectives, the same rules apply as for programme objectives. You should make sure they fit within the context of the overall programme objectives and ensure that you aim for consistency for similar types of activity or product.
Identify target audiences
It is really important to identify all of your target audiences. Are you trying to engage all staff or specific staff groups? Do you have different audiences for different interventions? Identifying your audiences will help you tailor your interventions and measure how successful they have been.
Mapping tasks and activities
The next stage in creating your evaluation plan is to map your tasks and activities. List everything you have done and will do as part of your overall strategy. This will help you:
demonstrate the full impact of your work, as we don't often include everything we do and the time that it takes to run a health and wellbeing programme - choose the right performance measures to track and evidence impact
begin to think about how to collect evaluation data and information as activities proceed.
Think about how your programme is expected to meet its objectives and note down which tasks and activities the programme will include and how each of these are expected to influence behaviour.
Define performance measures
When looking at what to measure in order to build your evaluation, it is helpful to think about the following:
Inputs

– these are the activities that you will be doing i.e. how many roadshows are you running?

Outputs - these are the number of people who have engaged in or been exposed to your intervention (i.e. web hits on your intranet or attendees)
Out-takes – this means the immediate impact on the audience after your intervention, this could be a happy sheet or the number of people who intend to change as a result of your intervention i.e. a health check or a mindfulness session
Changed behaviours – this is how many people have changed something as a result of the intervention. In the health check example, has the person made changes to their lifestyle as a result of the conversation?
Identify data sources
How will you gather data? Will you create a survey? Do you already have this data elsewhere? You may already have collected most of the data in one way or another, so think about what data your organisation already collects. Some key places to look for data are:
the staff survey
the NHS friends and family test
turnover rates
sickness absence
agency spend
patient satisfaction rates.
Risks and constraints
Finally, you need to think about the risks and constraints – will budget be a problem? Will people get survey fatigue? Do you have enough time to do everything? What do you need to prioritise?

You can then start to implement your evaluation plan. Once you have gathered your findings, it's important to share these with your colleagues and act on them. It can be a great way of demonstrating the value of your interventions and deciding where to invest money in new initiatives.