Article
Rapid access to treatment and rehabilitation for NHS staff
This updated guidance supports NHS organisation to manage rapid access services for staff in their organisation.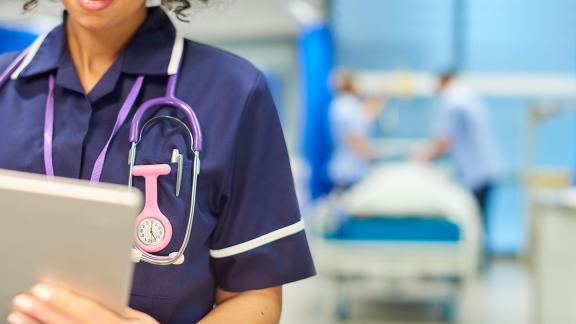 Line managers, health and wellbeing leads, trust boards, HR and occupational health professionals responsible for making decisions about how to manage rapid access services for staff in their organisation should read this guidance.
Our workforce is the NHS's most valuable asset. Without staff who are well and in work, the NHS cannot deliver quality patient care. As well as the moral case for looking after our people, there is increasing research and evidence to support the need to do this too.  
Given the NHS ambition to tackle the waiting lists that have built up during the COVID-19 pandemic, health leaders know how important it is to support their staff to remain well in the workplace or support a return to work safely and as soon as possible when they are unwell.  We have updated our guidance to support employers with this challenging ask. 
Organisations may experience that the longer someone is off sick, the harder it may be for them to return. This guidance provides information for NHS organisations looking to implement and/or review current rapid access processes and emphasises the importance of: 
timely intervention - early prevention and/or treatment for the main causes of sickness absence in the NHS 

rehabilitation - to help staff to continue to contribute to work retaining connection and purpose or support to return to work after illness. 
What is rapid access? 
Rapid access, or fast tracking as it is also known in some NHS organisations, is a system which provides rehabilitation and treatment for NHS staff but not to the detriment of the health needs of other patients. This enables staff to remain in the workplace or enables a return to work which is, fast, practical, and reasonable.  Each circumstance should consider the needs of the individual, organisation and where the support required is complex, be able to demonstrate value for money. 
 
Where rapid access to services is available, this may prevent a member of staff taking sickness absence leave from work.  They may have been seen in the workplace, or care may form part of a preventative approach to supporting staff with physiotherapy, mental health support or access to dermatology services support. 
Implementing a successful rapid access scheme that meets the needs of your staff and organisation may: 
help staff feel valued 

demonstrate that they are being listened to and cared for 

increase staff morale in individuals and amongst teams 

reduce staff sickness and in turn save the organisation money 

provide better patient care, as staff are well and in work 
reduce the organisations agency and/or bank costs if clinical staff are needed to cover a role 

retain staff and provide continuity of care. 
The stay at work (SAW) philosophy is focused on helping the individual (or workforce) to remain in work when experiencing a health problem, with the aim of preventing unnecessary sickness absence (both present and future).  
Return to work (RTW) is the process of returning to the workplace following sickness absence, the goal being a sustained return to usual tasks in the same job (accepting that this will not always be possible). Whilst SAW is the conceptually preferred option, the RTW process should not be ignored. The psychosocial obstacles to both SAW and RTW have shared characteristics, so tools applicable for one will help with the other. 
Implementing an efficient rapid access scheme in your organisation can have considerable benefits including: 

demonstrating the organisations commitment and value of staff wellbeing 

supporting staff to remain healthy and productive 

promoting a culture of positive staff experience  

providing continuity of patient care  

reducing pressures on colleagues resulting from sickness absence, and help sustain positive morale  

reducing sickness absence and associated costs. 

NHS organisations may be able to work collaboratively within their region and/or integrated care system (ICS) to support each other and have a reciprocal agreement where staff can access each other's services, for example, an acute trust and a non-acute trust or mental health trust could collaborate and work together to support staff in their area of expertise.

Alongside the results of existing schemes, there is strong evidence that early intervention and a facilitated return to work has a positive impact on staff with musculoskeletal (MSK) or mental health issues. This can significantly reduce the likelihood of staff having extended absence or further health issues. Adults that have been off work for long periods have a high prevalence of depression and anxiety, irrespective of the initial cause of absence. Depression and anxiety set in as early as six weeks after first becoming sick and are often the cause of extended absence.  

Research led by the mental health charity, MIND, confirms that: 

more than one in five (21 per cent) agreed that they had called in sick to avoid work when asked how workplace stress had affected them 

14 per cent agreed that they had resigned due to workplace stress 

42 per cent had considered resigning when asked how workplace stress had affected them.  

As Professor Woolf, chair of the Arthritis and Musculoskeletal Alliance (ARMA) suggests, "Musculoskeletal disorders are very often interlinked with mental health issues, and it is this combination of conditions, which most often lead to loss of days at work. It is therefore crucial that employers take a holistic approach to dealing with MSD (MSK) in their workplace"   

Early and reliable access to a physiotherapist has been shown to be one of the most effective forms of intervention to deal with MSK conditions within the workplace. Enabling faster access to people suffering from MSK conditions could optimise the clinical outcomes, reduce preventable deterioration, and enable them to stay in work or return to work quicker. Some organisations allow self-referral to their physiotherapist in occupational health and acute service. By passing the need for a GP referral, this helps speed up the process and the member of staff can be seen quicker. 

Working for a Healthier Tomorrow report by Dame Carol Black, NHS Health and Wellbeing Expert Advisory Board, highlights the adverse effects of lengthy absenteeism on health and wellbeing, ranging from the cost of absence to the effect on children of those on sick leave. It emphasises the importance of the workplace as a forum for improving wellbeing and advocates the introduction of services that facilitate earlier return to work.  

There are three common rapid access models in operation:  

Providing access to bought-in rehabilitation/psychological services for staff with the aim of returning staff to work sooner than waiting for appointments via another route. 

Expanding or investing in rehabilitation/psychological services within occupational health units to provide dedicated services for staff accessed via, manager referral or by self-referral (staff referring themselves directly).  

The GP refers the staff member, via the usual patient route, and rapid access is requested and applied to both outpatient appointments and hospital admissions for treatment. This does not necessarily entitle staff to preferential appointments or include private facilities and treatment, this would be dependent on the needs of the individual, organisation, and ability to demonstrate value for money in any agreed approach.  

Research collated as part of the Dame Carol Black's review, suggests that successful fast-tracking scheme policies should set out what the principle is for adopting this approach and highlight that: 

staff health is an organisational priority and not just a box-ticking exercise 

this approach may include employees gaining more immediate access to health services provided by the trust and being facilitated back more quickly. This in turn will benefit the staff, the organisation, and patients 

it is one of the ways in which the organisation is working to ensure it has a workforce that is fit and able to meet the challenge of delivering healthcare to patients. 

Where reviewing or implementing rapid access services for staff, these should be in line with the needs of the individual organisation, organisational data, and financial assessment. As with any workforce plan, board level agreement, leadership and organisational culture will be critical to support the success of the intervention.  

Where commissioning services, organisations will also need to ensure they adhere to local commissioning processes. Our commissioning occupational health services guidance supports commissioning teams in procuring occupational health services for their staff. 

Our eight elements of workplace wellbeing and the NHS Health and Wellbeing Framework may help you develop and review your organisational approach to rapid access.  

In our case study you can learn how Cambridgeshire and Peterborough NHS Foundation Trust created a rapid-access mental health service to support its staff.

Creating and developing a clear rapid-access process is vital. This is typically done either as a standalone process, through the organisation's sickness absence policy, or as a preventative measure as part of the organisations health and wellbeing strategy. The main focus should be on ensuring the process is simple, clear, and effective so that staff understand how and when to access the service.  

Engaging with unions and key stakeholders for example, occupational health, HR, line managers, the wider organisation, external stakeholders including GPs and support services, is critical to enabling the process to be as inclusive and effective as possible. Those involved in implementing a rapid access approach should also be included at this stage. It is essential to be clear when staff can access rapid access and how they do this.  

The majority of rapid access services are available before, during or after a staff member experiences a health issue. Where staff receive rapid-access services, before absence occurs, this may enable the staff member to stay at work and prevent them from going off sick.  

Where staff are off work, the below can be applied to every stage of an employee's rehabilitation and return to work following illness: 

early contact with the employee 

early health assessment 

quality health assessment 

development of an agreed rehabilitation plan 

availability of therapeutic intervention 

flexible return to work options 

work adaptations and adjustments. 

Whether developing a standalone policy, incorporating this into a current policy, for example your sickness absence policy, or just having a clearly communicated process, you may want to consider including the following areas in your rapid access intervention:  

Provide clear information on what rapid access is and your organisation's commitment to supporting staff wellbeing 
This can include a description, so employees and line managers are aware what it means and if this policy is relevant to their need. 

How and when rapid access should be considered 
Include how an employee or line manager can access this service and link in with your OH department. Include some examples of what situation is considered to apply for rapid access. 

Explain how staff can access/be referred for rapid access 
Discuss the process for accessing rapid access with the group creating the policy. 

This could be self-referral, via the line manager or GP. 

Roles, responsibilities, and contact details of those involved in the process 

This should be made clear and easy to find, so members of staff needing this information can access it quickly. For instance, can these also be displayed electronically or in breakout/relaxation areas so all staff can view them? 

Development of a case plan that reflects the needs and responsibilities of all concerned, details of what should be included are detailed below.  

Employee 
Where an employee is still in work, but is either showing signs of being unwell at work or has alerted their line manager to their MSK / mental health issue, the line manager should maintain regular one to one catch ups with the employee to discuss their needs and how the organisation can support them to remain well in work. 
 
Where an employee is absent from work through illness, it is important that reasonable contact with the trust is maintained via the line manager, and that the employee is contactable and able to keep any reasonable appointments offered. A decision about the frequency of this contact will be dependent on the individual case and should consider the views of the individual and the needs of organisation.  
 
Policies and care plans need to reflect these responsibilities and all parties need to be aware of the expectations placed upon them. 

Line manager 
The employee's line manager will have a key role to play in the rehabilitation. Having regular open and honest health and wellbeing conversations either before, at the start and throughout the process, will have a significant impact on the employee either staying well in work or returning to work. Our sickness absence toolkit is a simple and helpful guide for NHS managers about sickness absence. 

Occupational health  
Occupational health (OH) will most probably take the lead in implementing this process and providing links to all the others involved in developing the care plan and taking it forward. OH can provide updated information to the manager during periodic reviews. They should ideally develop a good working relationship with the employee's GP to ensure that they are kept up to date with what is happening to their patient and keep in regular contact with the employee's line manager where relevant. 

Human resources  
The human resources team or assigned HR partner/adviser need to be aware of the employee's progress, they should provide advice on any HR policies that may impact the process. 

Processes available to facilitate return to work
If the employee cannot come back to work in their existing role due to limitations or restrictions etc, OH, HR and the manager should plan regular meetings to review the capabilities of the employee, and job match with any current vacancies they could potentially fill through a rehabilitation or redeployment option.  

Depending on the types of treatment needed, employees may refer themselves (self-referral) or be referred by their manager or GP, this is usually the case if staff need access to physiotherapy or mental health support. If staff need rapid access for outpatient services or surgery, this will need to be a GP referral.  
 
There is demonstrable evidence that the facility to self-refer, for example to physiotherapy, is the quickest and most effective way to support employees back to work and in some cases, avoid staff absence altogether. Decisions about rapid access should be made by the receiving healthcare professional, as set out in the policy.  

This decision should be made after an assessment of the individual case by the healthcare professional. Consideration should be given to whether the employee is absent from work due to the illness or injury, and how contact will be maintained with them throughout the process.  

All parties involved should be clear that rapid access does not necessarily mean immediate access to services. It is intended to produce a care plan that will bring about staff being cared for and remaining in work, or to support a safe and accelerated return to work. Following referral and assessment, if the case is viewed as appropriate for rapid access a care plan should be developed.

The care plan should be developed with input from all parties outlined in the policy. It is a tool that records the outcome of the care planning discussion between the employee and their healthcare professional. This plan contains all the information needed to manage the care of the employee. It is particularly important that line managers are engaged early in the process. They need to understand and respect the need for the employee to remain well and in work or the need for the employee to return to work as soon as practical. This may mean that adjustments need to be made in working patterns or in the work itself.  

HR teams may need to consider how they manage issues such as pay, when employees are being rehabilitated back into work. The healthcare practitioner is most likely to facilitate the development of the care plans. They should facilitate the planning with support, guidance, and resources. A plan would contain information on the individual's concerns, their wellbeing needs, actions, goals, any support organisations, and any specific needs they may have. Developing a care plan involves discussion, negotiation, decision-making and review.

Annex 26 of the NHS Terms and Conditions of Service Handbook support employers and staff in the management of sickness absence and in managing the risk of premature and unnecessary ill health retirements. 

Consideration should be given to the way in which the individual returns to work, especially if a return to normal duties is not immediately advisable.  
 
There are many options available including rehabilitation and redeployment. Where rehabilitation is considered possible, the OH service and HR team will manage the return in the manner considered best for the individual. In most cases this is likely to be phased, with a change of duties if necessary. Many trusts using rehabilitation as part of their sickness absence management policies have found that it is not always possible to rehabilitate staff back into their original post in the short term. This may be due to job loading or to the nature of their illness. For instance, musculoskeletal problems need time to heal without the risk of further damage. In these circumstances, a widely used alternative is redeployment.  
 
Redeployment is an important mechanism that can assist in the retention of experienced and skilled staff. An effective redeployment policy can help retain staff unable to do their job through ill health or injury. This can be used in the short term while an employee is recovering, or permanently for staff who have no likelihood of returning to their original role. In some cases, redeployment will require retraining and it is good practice for this to be provided as part of a package devised and managed by HR and the line manager. The level and length of retraining should be carefully considered to ensure that is it appropriate and proportionate.  

Providing different/flexible phased return options supports your staff to come back to work in a way that can best meet the needs of the organisation and the individual. Phased returns should be agreed based on the needs of the individual and the organisation.  

It is important to plan how you are going to evaluate your programme before you start any interventions. This helps you to set measurable objectives and determine what success looks like. 

Once the process/policy has been developed and agreed, those involved in its implementation should be made aware of their responsibilities and what is being evaluated. A communications plan should be developed to make sure all staff and managers are aware of the policy and the best ways to implement it.  
 
Reasons to evaluate: 

It can give you focus and ensure that you are doing the right activities according to your objectives. 

It is often an afterthought, but in planning early, you can demonstrate the impact of your programme from the offset and ensure your interventions are aligned with your strategic objectives. 

It can be built into your planning from the beginning and have regular target checks so that you can adjust your activity accordingly if things aren't working.  

Things to think about when choosing your communication channels: 

How many staff are you targeting with the intervention? 

Where are your staff based – at one or many sites? 

Does your target audience work remotely? Can they regularly check emails or access the intranet? 

Would posters or payslip leaflets be an effective way of reaching your audience?  

For more in-depth information on evaluation, read our evaluation web page which will help you when you are implementing your rapid access for staff. 

It is essential that NHS organisations that intend to set up and use rapid access schemes collect data to show the effectiveness of their strategy. The collection of data prior to implementation is vital to achieve a base line with which to benchmark progress.  

If NHS organisations have already been using a rapid access scheme it is important that ongoing evaluation takes place and information is collected. The collection of this data is helpful in making regular reports to the board and in making the case – if necessary – to expand the service.  

Working with human resources, occupational health and finance colleagues will allow those implementing the policy to collect data about patients, sickness absence, reductions in associated costs and most importantly the reduction in length of absence that is facilitated by the rapid access process.