Article
Musculoskeletal health in the workplace
Information on how to focus on prevention of work-related incidents that may lead to MSK injuries and therefore long-term absences.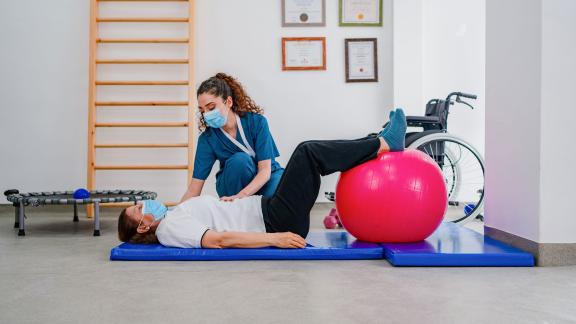 Musculoskeletal (MSK) disorders can include back pain, neck or arm strains and diseases of the joints. All parts of the workforce can be affected by MSK. It is one of the most common reasons for sickness absence in the NHS.
It accounts for 40 per cent of all sickness absence which in many cases become long-term absences. MSK may be caused by work-related injuries, such as incorrect handling, or not having equipment in the workplace personally adjusted. Prevention and early intervention is key to effectively managing MSK disorders.
Prevention
Preventing musculoskeletal disorders and long-term absences should be a high priority for any organisation. Ways to prevent work-related injuries include:
encouraging your staff and their safety representatives to tell you when MSK disorders start to develop
reviewing risk assessments regularly and when necessary
regularly check the accident book and sickness absence records
having information and advice on work-related injuries and MSK disorders available
providing work station assessments for employees.
To effectively manage MSK diseases, organisations are advised to implement a robust MSK policy. It is essential to understand that early intervention is key to prevention of such disorders and the shortening of employee's recovery.
We have developed tools and collated information to help combat sickness absence and manage MSK.
| | | |
| --- | --- | --- |
| | Toolkit | For further information on musculoskeletal disorders and the prevention of long-term sickness absence, use our toolkit. |
| | Toolkit | This toolkit from Business in the Community (BITC) is designed to help employers take positive actions to build a culture that champions good mental and physical health and provide a greater understanding of how to help those who need more support. |
| | Guidance | Find out more about the framework which sets out the standards for supporting staff to feel well, healthy and happy at work. |
| | Guidance | Skills for Health, with Health Education England, NHS England, Public Health England and the Arthritis and Musculoskeletal Alliance (ARMA) launched a musculoskeletal core capabilities framework aimed at practitioners who will be the first point of contact for people with musculoskeletal conditions. |
The PAW toolkit  (Pain at Work) is an online digital toolkit designed to provide free, online resources, supportive information, advice and guidance for people at work who have chronic or persistent pain. Created jointly by the University of Nottingham and the charity Burning Nights, The toolkit has five key sections:
What is chronic or persistent pain?

Chronic or persistent pain and disability.

Work capacity, advice and support.

Self-management strategies.

Resources
The content includes individual stories, understanding chronic or persistent pain, returning to work, reasonable adjustments in the workplace, employment rights, physical and psychological self-management techniques, specialist organisations and resources.
For more information, contact the project lead: Dr Holly Blake, School of Health Sciences at holly.blake@nottingham.ac.uk