Guidance
NHS staff wellbeing needs poster
This resource highlights the importance of basic needs to help ensure our NHS people feel healthy at work.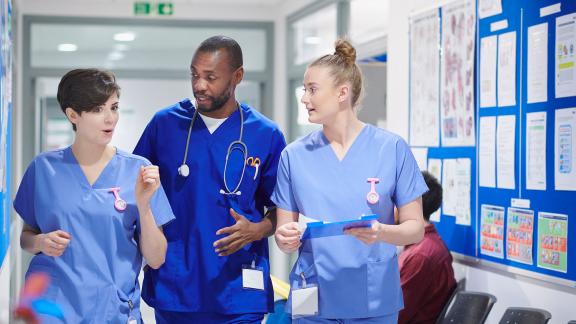 Lack of access to basic wellbeing needs such as hydration, sleep and sufficient breaks has been identified as a major concern for NHS staff wellbeing and the impact this has on health of staff and patient safety. 
This easy-to-use and editable resource has been designed with the NHS for the NHS, and was inspired by Maslow's hierarchy of needs. It aims to support health and wellbeing and staff experience leads and line managers to understand the importance of implementing and sustaining the wellbeing needs of NHS staff, so they are able and are supported to be healthy at work. Employers can use it as a poster, and may wish to provide contact details of relevant wellbeing leads in their trust in the text box at the bottom.
This can also be used alongside our Back to basics for a healthy working environment infographic which includes statistics and key facts about the impact of hydration, nutrition, sleep, and regular breaks on workforce wellbeing.
Further information
The links and information below provide further information to help you support the wellbeing needs for yourself and your colleagues:
The COVID-19 Clinician Cohort (CoCCo) Study: Empirically Grounded Recommendations for Forward-Facing Psychological Care of Frontline Doctors aimed to develop empirically grounded recommendations and a model of psychological care taken from the experiences and psychological care needs of COVID-19 frontline doctors.
COVID-19 Clinicians Cohort (CoCCo) Study - towards a model of psychological care in frontline doctors.
The study above is supported by this animation that highlights the key programme of research into mental health of frontline doctors and a model of psychological care, both in response to the pandemic and beyond.
For further information on supporting the health and wellbeing of your NHS colleagues please visit our health and wellbeing web pages.