Article
Mental health in the workplace
Tools and resources to help you make positive improvements to mental wellbeing in the workplace.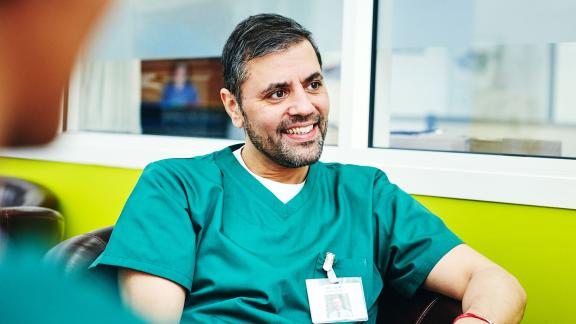 It is widely reported that mental ill health will affect one in four people at some point in their working lives.
People with mental health problems frequently suffer discrimination in the workplace and unemployment affects those with long-term mental health disorders more than any other group of disabled people.
The term mental ill health covers harmful levels of stress, depression, anxiety, schizophrenia, bi-polar disorder (manic depression), psychosis, obsessive compulsive disorder and is often associated with drug and alcohol abuse and eating disorders (such as anorexia nervosa and bulimia).

The mental health charity Mind found:
30 per cent of staff disagreed with the statement 'I would feel able to talk openly with my line manager if I was feeling stressed'
56 per cent of employers said they would like to do more to improve staff wellbeing but don't feel they have the right training or guidance.
As the largest public sector employer in the UK, the NHS can make a significant contribution to combating discrimination against people with mental health problems, not only benefiting the individuals concerned, but also having a positive impact on the diversity of the workforce and the experience the NHS is able to offer patients.
Mental health is one of the key reasons for sickness absence within the NHS. The Mental Health Foundation states that:
1 in 6.8 people are experience mental health problems in the workplace
evidence suggests that 12.7 per cent of all sickness absence days in the UK can be attributed to mental health conditions.
Ensuring staff are supported and cared for with their mental ill health is paramount. The NHS Health and Wellbeing framework encourages NHS organisations to ensure that prevention and self-management is available for all staff by taking the following actions.
Our infographic provides a range of up-to-date key statistics and facts about workforce mental wellbeing in the workplace. Employers can download the infographic to use within their organisation to raise awareness about the importance of positive mental wellbeing at work for NHS staff or as part of their business case to further the workforce mental wellbeing agenda at a strategic level with senior leaders.
Create a healthy and supportive working environment
The organisation's culture does not stigmatise people with mental ill health and actively encourages people to maintain good mental health and feel able to talk about it.
Line managers have training and support to assist staff who disclose a mental health issue.
Working conditions promote good mental health.
Policies and practices are embedded that encourage a good work/life balance.
Access to taking regular breaks.
Upskill staff and line managers
Staff and line managers have access to information about how to improve their own and others' mental health and wellbeing through self-management.
Training for line managers covers how they can promote the mental health and wellbeing and be aware of the signs and symptoms of poor mental health.
Training or advice is available on making reasonable adjustments for mental health e.g. changes work hours, temporary redeployment.
Staff have access to interventions
Peer support.
Stress management exercises.
Mindfulness.
Physical activity.
Sleep advice.
How managers can support workplace mental wellbeing 
Managers have a key role in improving the mental health and wellbeing of NHS staff but many NHS managers do not feel confident in speaking to their staff about mental health as it's often perceived as a challenging issue.
Mental health can fluctuate along a spectrum in the same way that physical health does and there may be times when it is better than others. Mental health problems should be supported in the same, honest and consistent way that physical health problems are.
Mental health problems affect one in four people at some point in their life and account for over 30 per cent of sickness absence in the NHS. Mental health problems cover a range of conditions such as depression, anxiety, panic attacks, obsessive compulsive disorder, phobias, bipolar disorder (manic depression), schizophrenia, personality disorders and psychosis.

Managers do not need to be experts in mental health but an understanding of how to support staff and how to have open conversations about mental health problems will help create a positive culture around mental wellbeing and will create opportunities for staff to feel safe talking about their mental health.
 
What can managers do?
Managers play a key role in creating and maintaining positive and open team cultures that support mental wellbeing.
Engage and inform
Engage with staff so they understand their own objectives, their teams' objectives and the organisation's objectives. This includes giving staff the opportunity to ask questions and feed back their views.
Give staff as much control as possible over how they deliver their work while ensuring they have the right skills for the job.
Monitor the workload of staff to ensure what they are expected to deliver is realistic within the timescales and resources available.
Develop a culture where open and honest communication is encouraged, bullying and harassment is not tolerated and people are treated with dignity and respect. This includes encouraging staff to talk about mental health and creating a safe environment for staff to disclose their own mental health problems.
Keep members of staff informed of organisation or team changes. This includes providing a rationale for actions and decisions taken.
Support
Encourage staff to have a good work/life balance including facilitating flexible working where possible. Make staff aware of your organisation's flexible working policies.
Have protected time when managers are available for staff to come and speak to them.
Treat all staff consistently and fairly and provide positive feedback to staff when they do a good job.
Encourage exercise and social events. Physical activities are shown to boost staff health, team work and mental wellbeing.
Make staff aware of the internal resources that are available to them such as occupational health or employee assistance programmes.
Follow up on problems on behalf of the team as soon as they arise.
Employers have a legal duty to assess the risk of stress-related ill health arising from work activities. The Health and Safety Executive (HSE) has produced the HSE management standards which provides information on how to assess and control the risk of stress. The standards cover six key areas which are the primary causes of stress at work and there is a degree of overlap with the principles of supporting mental health and wellbeing listed above. The HSE has also produced guidance on how to implement the management standards (pdf).

For further information on supporting mental health and wellbeing please take a look at Mind, the Health, Safety and Wellbeing Partnership Group and Mind in conjunction with the Chartered Institute of Personnel and Development

For further guidance take a look at our supporting staff who are experiencing mental health issues.
Further information
Web pages

Our supporting workplace mental health web pages help managers provide support to their staff.

Toolkit

Online support tool for line managers providing guidance on mental health related sickness absence.

Support Service

This free Mental Health Support Service is funded by the Department of Work and Pensions to support employees with a mental health condition that makes it difficult to do their job. Support is also available for employers on how to improve staff mental wellbeing at work.

Toolkit

Public Health England, Business in the Community and the Samaritans have joined forces to produce useful toolkits for employers.

These toolkits help employers take action around suicide prevention and support them when responding to the death of an employee caused by suicide. They include advice on steps employers can take to help their teams and providing them with the tools and support they need to prevent suicides.

Support hubs
NHSEI staff mental health and wellbeing hubs have been set up to provide health and social care colleagues rapid access to assessment and local evidence-based mental health services and support where needed.

Thriving at work – The Stevenson/Farmer review of mental health of employers

Report

This extensive report includes recommendations employers can adopt regardless of their workplace type or size.

Toolkit

Funded by The Royal Foundation as part of their Heads Together campaign, Mind created the mental health at work tool. The tool covers a range of resources and examples from different organisations including businesses, charities and the government.

Men's mental health and work – The case for a gendered approach to policy, 2018

Report

Written by The Work Foundation and supported by financial grants from the British Safety Council and NAPP Pharmaceuticals Ltd, this report assesses the changes in recent decades that have influenced men's role in the workplace and what impact it has on health and more importantly, how to address it.

Our Frontline
Support service

Our Frontline provides 24/7 call and text emotional support from trained volunteers, as well as online resources to all frontline workers working through the pandemic.

Support 
NHS Practitioner Health have pulled together some top tips for how doctors can care for themselves and their colleagues when starting a new role. 
Mental health in junior staff during COVID-19
Research Paper
This academic research paper outlines how mindfulness and meditation based interventions can increase the mental health of junior health and social care staff. 
Supporting mental health at work- ACAS
Web page
This outlines the legal duty of care of employers, and provides guidance and resources you can use to support your the mental health of your staff.