Article
Suicide prevention and postvention
Information on the impact of suicide and how employers can best support their staff through preventative and postventative measures.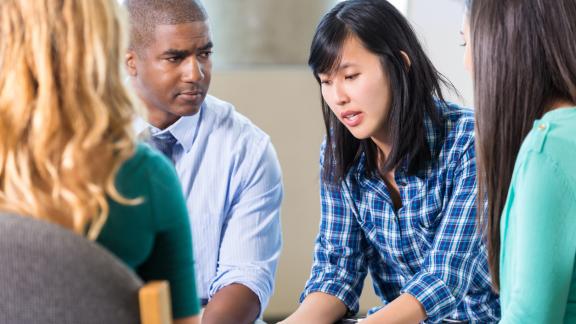 The rates of deaths by suicide are climbing across the world.
Over 800,000 people die by suicide every year across the world – that's one person every 40 seconds.
It is estimated for each suicide, around 135 people suffer.
Suicide is one of the three most common causes of death in young people.
Suicide does not discriminate and affects our NHS staff.
Doctors are twice as likely to kill themselves compared with people working in other professions.
Nurses are four times as likely to their own lives than people working in any other profession in the UK.
Female nurses are more likely to commit suicide than their male counterparts.
Suicide is preventable and employers play a crucial role in suicide prevention. People in work spend about one third of their lives at their place of employment. Colleagues and line managers can provide an important social and emotional support network, built on shared experiences.
Alongside a strong organisational suicide prevention strategy, it is vital that employers include a suicide postvention strategy into their management of the crisis, supporting those staff affected by suicide and experiencing trauma, as well as those experiencing bereavement due to death by suicide of a colleague or loved one.
Resources, tools, and training
Support available for employers
Support available for staff at risk of suicide
Samaritans

– for everyone, call 24-hour helpline

116 123

. During the COVID-19 crisis, NHS staff can freely access a confidential staff support line operated by Samaritans from 7am to 11pm, seven days a week by calling

0800 069 6222

or text

FRONTLINE

to 85258 for support 24/7 via text.

Campaign Against Living Miserably (CALM) – for men, call

0800 58 58 58

from 5pm to midnight everyday or visit the webchat page.
Papyrus – for people under 35, call

0800 068 41 41

from Monday to Friday 9am to 10pm, weekends and bank holidays 2pm to 10pm.
Stay alive app – NHS and social care staff have free access to the Stay Alive app which aims to provide help to people with existing mental health concerns, suicidal thoughts, and those struggling in self isolation. It provides information to help colleagues stay safe, including advice for people concerned about someone else who may be considering suicide.
Bereavement support line – NHS staff have access to a confidential bereavement support line, operated by Hospice UK and free to access from 8am to 8pm, seven days a week where they can speak to a fully qualified and trained bereavement specialist. Call 0300 303 4434.
Worried about someone else? See the Samaritan's tips on how to support someone you're worried about and Rethink's advice on

how to support someone with suicidal thoughts

.
World Suicide Prevention Day
Every year on 10 September, the world comes together to raise awareness of the suicide crisis and ways in which we can all take action to prevent deaths by suicide. Each year has a different focus to highlight a specific aspect of suicide prevention.
Norfolk Community Health and Care NHS Trust is planning to train over 200 mental health first aiders (approximately 10 per cent of the workforce), as the trust feels that this training best fits the model of a community trust. Community trust team members often work in small teams at multiple different locations and can go for periods of time without direct contact with colleagues. Mental health first aid will enable the organisation to offer wide-reaching cover across its many locations for those who may be experiencing mental health concerns including initial support for those who may be thinking about taking their own life.

University Hospitals of Northamptonshire NHS Group (Kettering and Northampton General Hospitals NHS Trusts) has developed a strategic approach to suicide prevention across the hospital's group. This includes the development and rollout of a brief staff suicide risk assessment to be easily implemented by health and wellbeing managers, wellbeing champions, trauma risk management (TRiM) team practitioners, managers, leads and supervisors within clinical and non-clinical teams. 

A robust training and consultation service developed by the staff psychology service supports managers and colleagues to have sensitive and healthy conversations about wellbeing that includes this risk assessment where red flags are identified. Managers are supported to have basic knowledge to refer staff to urgent crisis support teams and psychological follow-up care. Staff psychology services and supportive peer-led listening services are provided within the hospital to offer a stepped approach to psychological wellbeing support to prevent the escalation of risk and manage staff wellbeing proactively. Suicide prevention is a core component of the Group People Plan Health and Wellbeing Strategy, focusing on not only individual wellbeing but the systemic and operational impacts of healthcare delivery and staff.