Case Study
Big Thank You Fortnight
Learn how Leeds and York Partnership NHS Foundation Trust developed an approach to recognise the efforts of staff.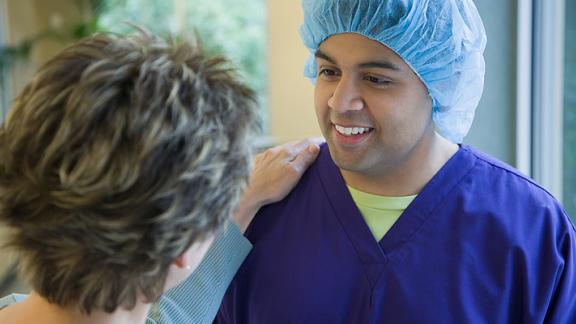 Leeds and York Partnership NHS Foundation Trust (LYPFT) is the main provider of specialist mental health and learning disability services in Leeds. It also provides specialist services across York, the Yorkshire and Humber region, and some highly specialised national services. In the summer of 2022, the trust set out to provide staff with the opportunity to reflect on their achievements during the pandemic, reconnect with each other, and for managers to offer thanks to staff with the ceremonial awarding of a Covid Star and thank you card.
Key benefits and outcomes
3800 Covid stars and thank you cards were presented by managers to their teams.

105 teams used their budget allocation to hold a local team event and take some well-deserved time out from their day jobs.

E

ngagement from staff and managers was exceptionally high, generating a real buzz of excitement through the organisation. The Covid Stars were well received as staff appreciated the gesture from the organisation for their commitment and hard work.
What the organisation faced
Prior to the pandemic, LYPFT hosted an annual trust awards with 250 staff attending a ceremony and dinner-dance. As an event of this size has not been feasible since 2019, the trust was keen to consider other opportunities to show thanks and appreciation to staff in a celebratory fashion.
With over 50 bases across Leeds, York and Northern England, the trust faced the additional challenge of ensuring that communications and initiatives reach and involve everyone. For the Big Thank You Fortnight, the trust wanted to ensure that every member of staff had the opportunity to feel involved.
LYPFT had planned for the Big Thank You Fortnight to culminate in a Big Thank You Bash. This would re-launch the trust awards of previous years but with a focus on celebrating all staff, instead of focusing on specific teams or individual awards. However, due to unavoidable external influences and increased Covid cases, the event was cancelled.
What the organisation did
The trust's people director sparked the Covid Star initiative and while the people engagement team were planning for their distribution, the concept of a Big Thank You Fortnight emerged. Instead of the costly, somewhat impersonal and logistically difficult delivery of 3800 stars to staff home addresses, the team took the opportunity to do something a little differently.
As the pandemic had impacted on the ability of teams to come together and connect informally, holding local team events felt ideal. Especially as restrictions lifted around gatherings and with it being summertime the organisation was able to plan outdoor events, allowing teams to hold their own local event at a suitable time and place meant more staff could get involved.
Planning for The Big Thank You Fortnight centred around three key objectives:
Ensuring all substantive staff, bank staff and volunteers received a Covid Star and thank you card.

To provide teams the opportunity to get together physically and take time out from their day jobs.

For team managers to lead their events as a thank you to teams.
The procurement team advised offering vouchers for teams to spend as they wished as the most straightforward option. Teams could choose either an Asda or Costa voucher to allow flexibility to cater their tea party or picnic or to meet at a coffee shop. With a budget of £4 per head, the majority chose Asda vouchers and held their event at a trust site or in a local park. Two teams even organised barbeques.
At the events, managers said a few words of appreciation to their teams, reflecting on their collective achievement of working so well together through an immensely difficult time in NHS history.
700 Covid Stars and thank you cards were also sent to colleague home addresses to ensure they reached bank staff, those on maternity leave and anyone on long-term sick.
Results and benefits
The perinatal services team picnic was the first event and an operational manager for the service said afterwards: "I just wanted to express our gratitude for the picnic idea and vouchers. We had a really lovely get together and a great turn out. The Covid Stars and the thank you cards were a nice touch and went down well."
An important contributor to the success of The Big Thank You Fortnight was the communications and engagement campaign. The initial campaign helped to engage managers and staff with the events of the fortnight and lots of group photos and positive comments were shared through internal and external communications.
The project team was made up of several teams including people engagement, communications, finance, the Andrew Sims Centre (an event organising arm of LYPFT), procurement and logistics. It is rare that these teams work so closely together, so strong working relationships have since been developed to take forward.  
 
Overcoming obstacles
As with any project of this size, there are learnings to be taken forward, especially as the trust plans to hold a similar format of events again. The main obstacle is timeframes and, with the benefit of hindsight, a longer lead time would allow for more in-depth planning as there were so many moving parts to manage.
Similarly, involving essential teams like procurement and logistics from the initial planning stages would have benefitted the project, as those teams were vital in ensuring the successful distribution of the vouchers and Covid Stars. Involving the team further into the process meant a pull on its staffing, as it was not planned in advance. The engagement team was then often responsible for the packing and transport of both the vouchers and stars.
An obvious challenge that the trust was unable to influence was the cancellation of the Big Thank You Bash. While this was disappointing for the project team and the over 500 staff due to attend the event, staff sentiment in the run up was incredibly positive. The reasoning behind the cancellation was understood and would not detract from the potential success of future, similar events.
Future plans
The trust has learned that to engage successfully across a multi-site organisation it is crucial that initiatives are as easy and flexible for people to access as possible. 
With feedback around the Big Thank You Fortnight being so positive, a similar schedule of events is being planned to run in line with the NHS75 celebrations in early July 2023. 
Top tips
Initiatives that bring things to staff are so much more successful than asking people to come to you. The flexibility for teams to choose the format of their event, as well as where and when suited them best, was key to having so many people involved.

Evaluate your work. A written evaluation of the Big Thank You events went to through governance groups and to the executive team meeting with feedback about the successes and learnings being incredibly positive.

Covid-proof plans as much as possible. The situation in early planning phases may differ drastically to that at the time of any events. Having a backup plan just in case alleviate any potential issues further down the line.
Further information
For further information about LYPFT's approach to award and recognition, contact Lucy Heffron, people engagement manager via award.lypft@nhs.net.