Case Study
Bradford District Care's NHS Staff Survey journey
A case study exploring Bradford District Care NHS Foundation Trust's journey to improve its NHS Staff Survey results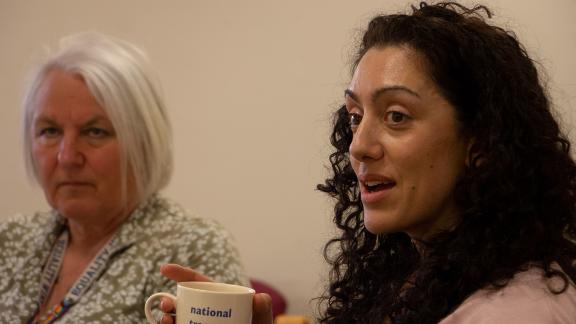 Bradford District Care NHS Foundation Trust (BDCFT) is a mental health, community and learning disability trust in West Yorkshire serving a population of 648,000 people. It has just over 3,000 staff providing a wide range of community and inpatient services across multiple sites. Over the past three years the trust has focused on improving staff engagement, which has been reflected in sustained improvements to its annual and quarterly staff survey scores.
Key outcomes and benefits
In 2020, despite pandemic pressures, it was one of the most improved trusts for staff engagement and did well across its NHS Staff Survey scores.

In 2021, the trust made further improvements in the staff engagement score, one of a dozen organisations to do so.

There was an improvement in the scores for involvement, with staff feeling more able to show initiative and make improvements happen in their area of work.

Shortlisted for a Nursing Times award.
What the organisation faced
BDCFT historically had lower-than-average scores in the NHS Staff Survey, especially on staff engagement.
The trust began its improvement journey following a critical Care Quality Commission report in 2018, which rated the organisation as Requires Improvement. In response, a new leadership team aimed to transform the culture of the organisation and to improve staff experience and increase staff involvement to deliver better care. The COVID-19 pandemic created challenges of delivering services in different ways and sustaining change while meeting operational pressures.
What the organisation did
BDCFT aimed to deliver improvements across the range of staff experience, building on a strategic and blended approach to staff engagement, underpinned by comprehensive approaches to wellbeing, recognition, and equality.
The trust sought to ensure everyone has a voice that counts. Throughout the pandemic regular communication increased, and staff could raise and get urgent responses to queries. A weekly online executive briefing was developed, which has continued into regular weekly or twice-weekly executive broadcasts, supported by chief executive vlogs and other enhanced trust-wide communications. Senior leaders became more approachable and visible, and managers were encouraged to involve all staff. An online listening and conversation platform has continued to be used to enable all staff to participate in key decisions and initiatives
There has been particular emphasis on ensuring staff feel valued by the organisation and the trust has enhanced its staff awards programme including a monthly Thanks a Bunch scheme, Living the Values awards, long service awards, and an annual You're a Star award. The trust produced a staff charter, highlighting commitment to its values of We Care, We Listen, We Deliver, and the associated behaviours across the organisation.
During the pandemic, the organisation improved its support for staff health and wellbeing, focusing on the balance between work and home life through increased opportunities for flexible working. It also strengthened its health and wellbeing offer by setting up and in-house staff support and therapy service, which provides a range of therapies and workshops covering a wide range of health and wellbeing areas including bereavement, menopause, and loneliness.
The trust has a staff-led model for quality improvement called The Care Trust Way, which enables staff to be fully involved in identifying areas for service improvement and then implementing them. On top of all this, I-care has been developed to support staff who have a new or innovative idea around improving service delivery and experience to take forward the idea and put it into practice.
BDCFT is committed to staff-led innovation and has been shortlisted for a Nursing Times award. The organisation's Beyond Words programme supported staff to develop and implement ideas for innovation and improvement to meet the needs of its diverse community.
The organisation works with its various staff networks to ensure that all staff groups have a voice. A new beacon staff network was developed during the pandemic to support staff with long-term conditions, disabilities, and staff who are working carers which has included a carer's passport scheme. The trust's commitment to equality, diversity and inclusion has been reinforced through a staff-informed belonging and inclusion plan.
Next steps
The COVID-19 pandemic and ongoing pressures on staff are a continuing challenge. The 2021 NHS Staff Survey showed that staff are concerned about workloads and staffing levels, in-keeping with the sector as a whole. The trust is aiming to tackle lower than average scores in some service areas and among staff with protected characteristics. The organisation has an ongoing focus on tackling inequality and encouraging speaking up and is using the new quarterly staff survey to track engagement rates throughout the year.
The organisation aims to build staff willingness to recommend BDCFT as a place to work and continue the improvement in engagement. Overall, its aim is to make the trust the best place to work. It also increasingly works with its partners in the West Yorkshire Health and Care Partnership and the West Yorkshire Integrated Care System.
Overcoming obstacles
The trust has a staff-led model for quality improvement using a framework called the Care Trust Way. There are resource and development issues in enabling staff to work in a different way. Space for improvement is limited when services are under pressure. Staff and line managers also need support to develop skills in making improvements. The trust quality improvement unit works with teams to facilitate them to develop and implement improvement ideas.
It has started to analyse NHS Staff Survey data to address the issues faced by different groups of staff and in different parts of the organisation. To do this it has undertaken specific initiatives to address issues faced such as, for example, international medical graduates.
Top tips
Overall staff experience has an impact on staff engagement. The trust looked to improve all aspects of staff working life rather than on engagement alone.

An equality focus is an essential part of an approach to engagement. This can be applied to issues such as understanding data, improving services, and working with staff networks to enhance staff voice.

Improved staff engagement starts with basic issues - improved communication, approachable leadership, and commitment to respond to issues raised by staff.

Staff-led quality improvement and innovation programmes will enhance service delivery and staff engagement.

To become a best place to work, it is essential that variances in staff experience across different parts of an organisation (either by services, geography or staff group) are understood and addressed.
Further information
For more information, please contact Fay Davies, head of workforce development at BDCFT, via fay.davies@bdct.nhs.uk