Case Study
How the Digital Pioneer Fellowship is helping to accelerate digital transformation in the NHS and social care
Read how the Digital Pioneer Fellowship equips NHS staff with the digital skills to improve the NHS and social care in London.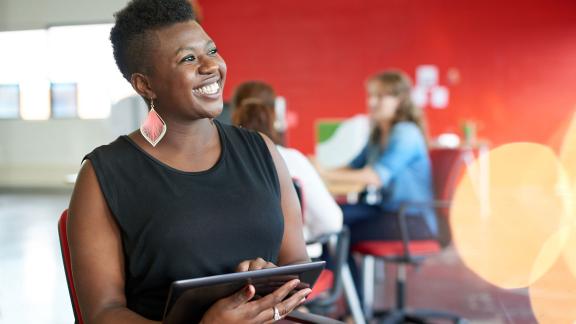 Overview
DigitalHealth.London connects health and care staff, digital health companies and academics, and equips them to improve the NHS and social care in London through digital technology. As part of supporting this vision, DigitalHealth.London runs a 12-month Digital Pioneer Fellowship programme that supports up to 40 NHS and social care staff from all levels to design, lead and deliver innovative digital transformation projects within their organisations. The programme has so far supported 97 fellows from 45 NHS organisations across London and the South East and was shortlisted for the HSJ award for Workforce Initiative of the Year 2021.
Key benefits and outcomes
97 NHS staff across 45 organisations in London and the South East have been supported so far.
All projects undertaken by Fellows have led to improved patient care or experience either directly or indirectly.
32 per cent of Fellows said that their project was not just more successful but was delivered more quickly.
All Fellows surveyed in cohorts 1 and 2 were confident that being part of the Fellowship was of benefit to their career.
What the organisation faced
Five years ago, using digital solutions in healthcare was less common, and there were fewer digital roles in the NHS and social care. Many people were asked to step into digital roles, however, there was often a gap between their experience and what was being asked of them. Without a network of digital colleagues to share learning, those roles were difficult. It was also hard for organisations to set clear key performance indicators (KPIs) for digital staff, or to identify what skills they needed.
DigitalHealth.London recognised that the successful implementation of digital innovations required NHS and social care staff to have support, guidance, and space to develop new skills, form collaborations and manage change. Focusing on building the capabilities of staff to bring about digital transformation would significantly increase the success of introducing technology into the NHS.
While digital leadership programmes already existed for clinical staff, CIOs and NHS leaders, the Digital Pioneer Fellowship was created to support NHS staff both clinical and non-clinical, and across any organisational level. This approach aimed to create a strong network across London and a truly digitally enabled workforce.
What the organisation did
The Digital Pioneer Fellowship programme was launched in 2018 to support innovators within the NHS to lead and deliver digital transformation projects and was promoted in NHS trusts across London and the South East. In the first year of the programme over 80 per cent of the Fellows surveyed, reported that they gained specific technical skills or had met an individual challenge thanks to the Fellowship.
DigitalHealth.London is a collaboration between MedCity, CW+ and two of London's Academic Health Science Networks – UCL Partners and the Health Innovation Network. Through sponsorship, the Fellowship is free to both the Fellow and the organisation they work for.
The goal of the 12-month Digital Pioneer Fellowship is to support up to 40 people employed by NHS organisations in London and the South East. The type of digital project the Fellow works on can either be the adoption of technology (for example, implementing a digital health app) or it could be a transformation project (for example, introducing digital vaccine passports, or making a process paperless).
The individuals taking part attend six learning days across the year, where they access expert-led workshops, resources and taught modules on key topics. The Fellowship is designed to equip the fellows with new skills and knowledge, from building good business cases and using Agile as a project delivery technique, to structuring a good evaluation, and implementing change management principles.
The programme also provides the Fellows with peer-to-peer support through action learning sets, which allow the Fellows to support one another, share issues, create solutions and challenge one another to develop their leadership skills.  Finally, each Fellow can select a mentor from a number of high-profile leaders in business, the NHS and the health and care sector.
Results and benefits
The programme has, to date, supported 97 members of NHS and social care staff across 45 organisations in London and the South East. DigitalHealth.London saw a 48 per cent increase in applications for the 2020-21 Fellowship programme, suggesting the reputation and impact in the sector is renowned and the need for the programme is growing.
All 97 projects undertaken by Fellows so far have led to improved patient care and/or experience either directly or indirectly.
Mark Needham, Programme Director at Digital First, led a health and care team to build a digital bridge to connect 195 GP practices with 500 care homes during the Covid-19 pandemic. At the end of his year as a Fellow, 500 homes were estimated to have benefited, including 25,000 members of the workforce who support 12,000 residents. Going into the autumn of 2021, the project was half-way to its target of digitally monitoring 6,000 patients.
You can read more about Mark's project here.
When surveyed, 32 per cent of Fellows said that their project was not just more successful as a result of the Fellowship but was also delivered more quickly. This meant patients saw the benefits sooner and it allowed trusts to start saving money much earlier.
"The insights from the Digital Pioneer Fellowship programme have been incredibly valuable to my development. The peer groups organised by the programme were particularly valuable to share learning and focus on delivering better outcomes for people." Mark Needham, programme participant.
Overcoming obstacles
The benefit of a London-wide programme is the network it provides and the learning opportunities between different organisations and ICSs. To maximise this benefit and make the Fellowship available to as many members of NHS staff and organisations as possible, there are a number of factors that challenge delivery:
The number of applications received each year for a limited number of spaces. 
Each year the programme can support between 30 and 40 Fellows but for the 2020/21 programme, 98 applications were received. Most of these additional applicants would benefit from support but spaces are limited and not all projects can be included.
Ensuring role and Fellow diversity
Diversity is crucial to not just the programme's success, but also the wider peer learning of the Fellows. Some groups of NHS staff are more often underrepresented and are less likely to put themselves forward for the opportunity, so wide-scale outreach during the application process and diversity in the selection is important.
Sponsorship
For this programme to continue delivering benefits, sponsorship from public and private organisations who support this initiative and see mutual benefits are vital.
Fellows keep in touch with each other regularly, but it is also important for DigitalHealth.London to help maintain these relationships so both the organisation and the Fellow can keep up to date with the developments in digital health. This will become more of a priority as the network grows, and the DigitalHealth.London team focuses on embedding the Fellows into as many other DigitalHealth.London programmes of work as possible, for example giving the Fellows the opportunity to support selection of the companies on the DigitalHealth.London Accelerator programme or to mentor for the Horizon Fellowship.
Takeaway tips
Try to mix learning levels and abilities for group work.
Having a mentor is very important for individuals leading change on the ground but the mentors themselves also gain helpful insight through the relationship.
Peer-to-peer learning is one of the most useful aspects of the programme and highly valued by NHS and social care staff.
Future plans
DigitalHealth.London will open applications for NHS staff to apply for the next cohort to grow their skills and support digital transformation later this year.
In the meantime, the DigitalHealth.London team is delivering the Horizon Fellowship. Due to the success of the Fellowship and the positive experience some staff had, DigitalHealth.London was approached by CW+, the charity of Chelsea and Westminster Hospital, to deliver the Horizon Fellowship, a programme incorporating the learning days from the Digital Pioneer Fellowship with additional ringfenced project time and funding for staff across their two sites, Chelsea and Westminster Hospital and Middlesex Hospital.
Contact details
For further information on this case study please contact Dr Katya Masconi-Yule, Senior Programme Manager via katya.masconi-yule@nhs.net