Case Study
Improving board diversity - recruiting differently
Read how Sheffield Children's NHS Foundation Trust improved the diversity on its board.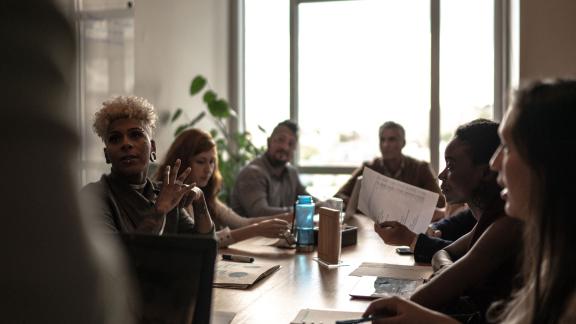 Overview
Sheffield Children's Hospital employs around 3,800 people, with colleagues from an ethnic minority representing 11 per cent of the workforce. Sheffield is a diverse city with 19 per cent of the population from an ethnic minority. 

Although the hospital's board was diverse in other ways such as gender and LGBTQ, it recognised that it lacked ethnic minority representation. The leadership felt it was essential that the board was representative of its workforce and the communities that it serves.
Key benefits and outcomes
Board and executive team commitment that equality, diversity and inclusion (EDI) is an organisational priority.

Board diversity increased from 0 per cent to 7.7 per cent

.

Increased skill mix of the board and effectiveness of the organisation.

Developed a diversity recruitment blueprint that can be used in the future.
What the organisation faced
The board and executive team identified that there were no board members from an ethnic minority background and committed to increasing the diversity of the board. There was also a growing demand from its Council of Governors for greater diversity across the trust's decision-making structures.
What the organisation did
The director of people and organisational development champions the EDI agenda, and worked with the executive directors and the board to secure commitment for change.

The board recognised the lack of diversity on the board and committed to change, as well as board development on race and wider EDI.

It was important that the Council of Governors who select board members were representative of the community. There was a focused effort to recruit from a diverse background, which resulted in two more governors from ethnic minority backgrounds joining the council.

Governors recruit non-executive directors and the recruitment committee had diverse representation from the Council of Governors.

 
Increased ethnic minority diversity of the board - a diversity recruitment blueprint for the future. 

The organisation had a non-executive director vacancy and took an opportunity to recruit differently. 

An

open competition specification highlighted that the board were looking for someone different and from a visibly diverse background.

Involved the ethnic minority network on the design and strategy of the recruitment process for the organisation.

Engaged with ethnic minority individuals/networks to encourage applications from a wider pool and to ask them to circulate to their networks.

Changed to a blind recruitment process which is more inclusive.

Acknowledged the importance of reflecting the diverse community they served and that their job adverts did not emphasise their commitment to EDI. These were updated to encourage candidates from minority backgrounds to apply.

 

Expanded job advertisements outside of NHS Jobs and onto social media such as Twitter and LinkedIn, this created a wider pool of candidates. The trust also sought out excellent colleagues through social media and encouraged them to apply for their roles.
Results and benefits
70 per cent of applications and 75 per cent of shortlisted applicants were from an ethnic minority background.

Board diversity increased from 0 per cent to 7.7 per cent.

The trust's current workforce has an ethnic minority representation of 11 per cent. The ethnic minority population of Sheffield is around 16.4 per cent, the trust acknowledges there is still work to do around making the workforce fully representative.

Different perspectives and knowledge led to better decision-making and

representation of their workforce and the communities they served.

Activities undertaken have given a clear message across the organisation of how serious the board is about diversity and inclusion.

Developed a diversity recruitment blueprint that can be used in the future to continue to increase diversity at board level, senior roles and areas in the organisation where diversity is lacking.
Overcoming obstacles
The board had to overcome a natural nervousness of 'what if this doesn't work?'
Getting people from different backgrounds to see their adverts and apply - using LinkedIn and one-to-one phone calls made a difference.

The trust had plans to work with external bodies and run schemes to provide individuals from under-represented groups an opportunity to be placed at the trust. The trust is still pursuing this avenue, even though they were successful in widening the diversity of their board. 
Next Steps
The trust is beginning to look more closely at their recruitment and selection process to make this more inclusive.

Creating a standardised job advert which showcases the trust's commitment to EDI.

Reviewing the selection process, particularly around how to ensure all recruitment panels are representative.
Takeaway tips
Plan early to allow time to develop the right diversity strategy and recruitment process.

Develop a robust recruitment process that can stand up to challenge.

Provide diversity recruitment training to the recruitment committee.

Involve all stakeholders in the recruitment design including your ethnic minority network.

Scrutiny and de-biasing of the recruitment process is essential.

Engage directly with people and networks from different backgrounds to share the vacancy and encourage applications via social media.

Be courageous, do something different to enable a different outcome.
Further information
For more information about the work in this case study, contact Nick Parker, Director of People and Organisational Development, Sheffield Children's Hospital NHS Foundation Trust. nick.parker1@nhs.net