Case Study
Piloting industry style placements: Yeovil District Hospital NHS Foundation Trust
Read how one NHS trust piloted industry placements with BTEC health and care students, in partnership with their local college.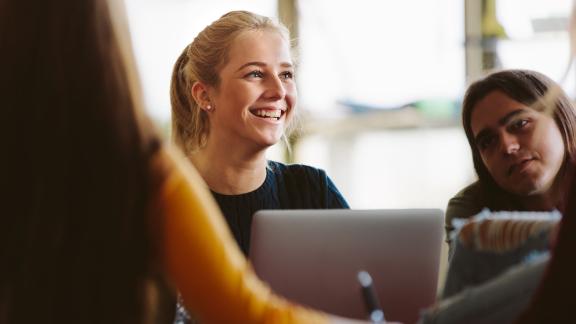 Overview 
Yeovil District Hospital NHS Foundation Trust (YDH) worked in partnership with its local college, Yeovil college, to pilot industry placements with BTEC health and care students. These industry placements gave local students an opportunity to experience working in a healthcare setting for an extended period of time (45 days). This meant that they were able to see and understand a healthcare setting, become part of a team and gain valuable experience in the NHS. 
As one of the largest employers in the area, the trust recognises its responsibility to support the local community and sees the importance of investing in young people and raising awareness of the opportunities available within the health and care sector. 
As an employer they also identified how providing industry placements could inspire students to want to work in health and care in the future while giving them a real-life experience of the workplace. The trust sees this as a new and integral pipeline into nursing.  
What the organisation did 
The trust engaged managers early in the process and were clear about the scope of practice for students. They also held a session to dispel some of the perceptions that were held around having young people in the workplace, and what to do if managers have any concerns or if the student is unwell. 
YDH began by only offering the placements in a few wards. The trust was aware that the limited number of areas and managers may not support the career choices of all students, but they saw the benefits of starting small to develop an acceptance of young students in the workplace and build understanding of what they can do. 
The hospital worked collaboratively with the college to interview BTEC health and care students, to offer them T Level-style industry placements and decide upon appropriate placement areas. The students took part in a two-day induction of personal care skills in addition to the normal trust induction. They also began the Care Certificate prior to starting and completed this during their time on placement. 
The trust made sure that all paperwork required, including an honorary contract was in place prior to placement starting and the college had carried out a DBS check. Each student received a pack of information about their industry placement along with a trust ID and were assigned a workplace mentor. Each industry placement area accommodating the students was given their start dates and a plan of the industry placement hours. 
Overcoming obstacles 
One of the key elements to achieving a successful outcome lay in the preparation, for both the student and the areas providing industry placements. Engaging placement managers early in the process and working through a list of tasks and activities that the student can participate in, allowed them to be clear on the scope of practice. 
To achieve a successful pairing, the trust found it is essential to work in partnership with managers and have an open and honest relationship, being clear what each are responsible for, any changes that are needed and to set out the conditions, or 'ground rules'. 
Both managers and students were aware that it is perfectly acceptable to say if the industry placement is not working for whatever reason. The students were made aware of the whistleblowing policy and given guidance on the best way to do this that makes them feel safe. 
The trust made it clear that students must never be in an area alone with a patient and students have a 'go to' person for each shift. Placement area managers must have the point of contact for the trust and the college, should they need to raise any concerns, require assistance, or need a review. 
As well as giving students an induction, YDH has identified that they need to embed and build basic healthcare skills over a longer period prior to the placement start date. A second self-assessment process has been put in place to help improve, enhance and maintain the placement provision and the governance process. 
Positive outcomes
Since taking part in the pilot, the trust has already created placements in maintenance, administration, and with porters and ward clerks. They have also agreed a placement plan for allied health professions and healthcare science. 
Some of the students that took part in the placement opportunity are now employed on the trust bank while still attending college. The trust is looking into the possibility of them being able to access substantive positions after completing their studies. To support this and in recognition of the student's contributions to the trust, YDH would like this to be a transition rather than an application process, depending on roles and vacancies. 
Eight students that were on industry placements also supported the trust during the COVID-19 pandemic. These students either supported by working on the trust bank, or as volunteers in the organisation. This experience has further strengthened their desire to work in the NHS. 
Next steps 
As part of the review process carried out by YDH and the college, it has already been agreed that a mixed approach, allowing students to do a period of time on an industry placement, and a day a week for a longer period of time will be offered in clinical placements. This approach works well due to the fluctuating pressures in those areas. This may differ in other areas depending on trust's needs as well as those of the students and the college. 
Students who gain a position on the bank during their placement programme can choose to count this towards their placement hours, as long they agree a pattern of working with the trust and continue to record this. If their study or placement provision is compromised by their paid work, then a review meeting will be called. 
Takeaway Tips
Those looking to offer an industry placements should work with education providers to carefully plan this mandatory provision to ensure they offer a high-quality experience. 

Consider the impact for managers where there is a high volume of students and provide links to other students within the organisation. 

Remember that while the students on industry placement are often seen as 'another pair of hands', they are students and must be supported.