Case Study
A place to meet the needs of people living with frailty: Jean Bishop Integrated Care Centre
Discover how Hull and North Yorkshire ICB integrated health and care services to establish a centre for frailty.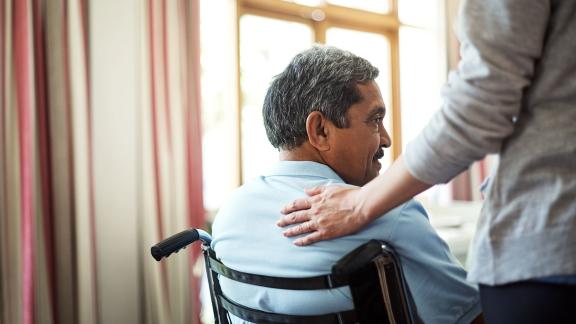 Overview
In 2018, Hull opened the Jean Bishop (JB) Integrated Care Centre, the first of its kind in the UK that aims to assist frail individuals in the community. Using population health management tools, the centre offers preventive integrated health and care planning by bringing together NHS, social care, voluntary sector and fire and rescue services to work together to improve outcomes for both individuals and the system.
Key benefits and outcomes
Since the centre opened, there has been a significant and sustained reduction in A&E and hospital admissions for people living with frailty. To date, there has been an 18 per cent reduction in emergency department attends and a 25 per cent reduction in emergency admissions.

Improved the emotional and physical wellbeing of people undergoing assessment by putting them at the centre of their care. Supporting individuals to stay fit, out of hospital and living independently at home or in a care setting.

Created a culture which respects their residents' choices by giving them autonomy on how they receive their care.

It has created a good integrated workforce culture which brings together five organisations. Having this one team results in improved knowledge and understanding of each other's roles and organisations, reduced duplication and supports better outcomes for patients and staff experience.  
"I've never witnessed anything like it, a potential vulnerable and quiet cohort of patients are advocating for themselves which is great to see" - a member of staff at the JB centre.
What the system faced
Hull is the fourth most deprived local authority in England. 45 per cent of its neighbourhoods fall within the top centile of deprivation. Around 25,000 residents are living with frailty, and 3,200 with severe frailty.
As a result of this, the system was overwhelmed with non-elective hospital admissions, struggling to find beds for elderly patients amidst peak admissions and growing demands from the aging population.
The region has a tough time attracting and keeping health workers, especially with nearby cities competing. Hull has the lowest GP to patient ratio in England, with 2,804 patients per GP. The workforce was also identified as a top risk. To address these pressing issues Hull CCG decided they needed innovative action.
What the system did
They developed an anticipatory care model that completely redesigned the approach to create an out-of-hospital service to help people in their community to stay at home.
Local residents were interviewed to learn about their experiences accessing services. Feedback revealed that people desired assistance in staying at home and maintaining their wellbeing and independence.
As the model developed, the team started thinking about physical space and what sort of building would be needed to deliver this type of care.
The local improvement finance trust (LIFT) scheme was used to create a building that was frailty and dementia friendly. The team created a calming, accessible environment for patients by adding eye-level signage, space for breaks, and artwork designed by local artists. The building now feels inviting, with individual assessment rooms connected to group spaces.
The East Hull fire station was also relocated to the centre, which supported the integration of the safe and well checks and falls pick up team.
The JB Centre for Frailty officially opened on Friday 6 July 2018. The centre gives elderly people access to both physical and mental health advice from geriatricians and GPs and nurses specialising in frailty, occupational therapists, physiotherapists, pharmacists, and social care. This means patients can feel supported to manage their own care and age well.
This way of working flips the focus to the patient's concerns by putting them at the centre and asking them what their concerns are.  
Scroll through our animation below to see how a service users journey looks at the JB centre. 
"I've been able to talk for the first time in a long time. I feel so much happier. I have felt so comfortable it has been lovely I can't thank you enough." - a service user.
Results and benefits
Recruitment and retention of staff in Hull was initially a concern, but it hasn't been a problem. GPs from nearby cities have joined the team for portfolio careers, while others still work in local practices. The team's therapy and pharmacy roles are split between positions solely within the team, rotational posts with the acute trust, and job shares across providers. The team recently advertised a role for an urgent care position to which they received 27 applications which is rare for health and care jobs in Hull.
The culture that this model and centre has created for the staff and service users is exemplary and this is shown in the feedback that the centre has received from both.
Even though this centre brings together people from across five organisations they act as one team. This creates space for each person to utilise their skills to assure that the people they treat are provided with the best care possible.
A study assessed wellbeing of patients who received comprehensive geriatric assessment (CGA) compared to those who did not. The study aimed to evaluate CGA's impact on quality of life.
The data showed:
For those living in their own home, a 15-20 per cent reduction in emergency department (ED) attends and a 10-25 per cent reduction in emergency admissions for the twelve months after their assessment compared to the twelve months prior.

For residents in care homes there has been a 20-25 per cent reduction in ED attends. For the frail cohort who had more than five ED attends in the twelve months preceding their assessment there is consistently over 50 per cent reduction in ED attends and admissions in the following twelve months.

Medication savings continue to average £100 per patient, per year.
"Our patients have the time to be listened to, it's patient-centred care. Not just for the patients but their family members as well." - a member of staff at the JB centre.
Overcoming obstacles
Despite initial cynicism, the team prioritised safe and effective care in local communities and actively listened to community concerns in opening the centre. The team started small to build trust and credibility. Prior to the building opening, they tested integrated working and the comprehensive assessment principles by taking the model into care homes. They were able to demonstrate:
improved outcomes for patients

increased confidence from local GPs

cost savings from medication reviews

system outcomes in terms of reduced ED attends.
This continued once the centre opened, with business analytics support to measure benefits and independent evaluation in the form of a non-randomised controlled trial of patient reported outcomes.
The JB centre faced significant challenges in 2020 as individuals with frailty were at a heightened risk of contracting COVID-19 and couldn't visit the facility due to shielding guidelines. Nevertheless, the centre partnered with Yorkshire Ambulance Service to explore new ways to make the frailty model more responsive, including virtual delivery. Thanks to these efforts, the centre can now offer services to housebound individuals, provide specialised care for frail individuals in crisis, and even bring hospital-based treatments to people's homes, including care homes. The team collaborated closely with Yorkshire Ambulance Service to create these innovative pathways.
Takeaway tips
Start with small steps and build on what success looks like before expanding with courage. Follow a plan-do-study-act cycle to test any development/ change services. Act on the findings and slowly build the model and credibility and support from system partners.

Prioritise people over organisations. All too often, we can get caught up in which provider / organisation is delivering a service and creating unnecessary competition. The centre took a collaborative approach, with staff working together to provide a multi-disciplinary team assessment.

Effective leadership plays a crucial role in supporting transformation by delivering a shared vision with resilience and credibility. The aim is about creating time/capacity for dedicated leadership time from both clinical, operational and strategic leads. 

Trust is essential for sharing information and collaborating effectively. Due to the trust between our organisations, the centre was able to share information across provider organisations which allowed the development of a minimum data set. This valuable clinical information allows you to measure the impact of our model on emergency department attendances and admissions. They also had access to GP, hospital and mental health electronic patient records. This degree of clinical information allows them to practice safely and more effectively.