Case Study
Recruiting and retaining healthcare support workers from your local community
Leeds and York Partnership NHS Foundation Trust (LYPFT) introduced several initiatives to fill healthcare support worker vacancies.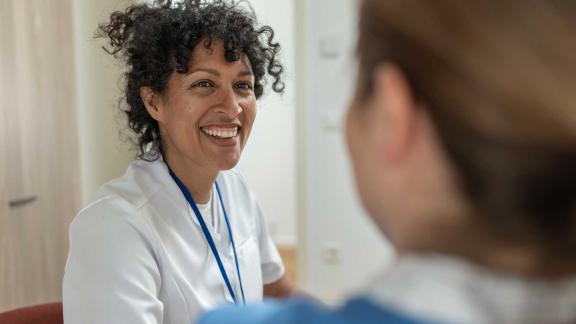 Key benefits and outcomes
A formal induction process for healthcare support workers (HCSW) led to increased confidence in the workplace and positively impacted retention.

In-person and virtual recruitment events leading to increased recruitment of HCSWs. 27 HCSWs and 16 apprentice HCSWs were recruited for one service. 

Recruitment fairs included information from service users and colleagues, as well as interview advice which benefitted the candidate in a competitive job market.

If permission was given, candidates were signposted to multiple suitable vacancies during the application process.
What the organisation faced
The trust was struggling to recruit to HCSW roles, made worse by the COVID-19 pandemic and competition from other local organisations. Therefore, they needed to develop new ways of recruiting for these roles, beyond using NHS Jobs.
Moreover, the ongoing recruitment process had a high administrative burden due to constant interviewing and onboarding. To streamline the process, they decided to recruit larger numbers of HCSW concurrently to reduce the burden on staff. 
Retention was also an issue, with some new starters leaving the organisation after just a few weeks or months in the role.  This was mainly because some applicants felt they were not fully aware of what a HCSW role could entail and found elements of the role challenging.
What the organisation did
To widen participation the trust developed and tested several initiatives. First, was the Kickstart programme, a government funded scheme to create new job placements for 16-24 year olds who are at risk of long-term unemployment. The recruitment team was able to create several videos of successful Kickstart recruits, including a walkthrough example of an employee who began as an apprentice and progressed to trainee nursing associate level.
In-person recruitment events
The trust needed to recruit support workers for its specialised supported living service (SSLS), which supports around 90 adults with learning disabilities. To recruit to these roles they held a local, easily accessible, in-person event that was advertised through various social media channels as well as targeted advertisements on the radio.
Following shortlisting, candidates were sent packs of event information, including a map, FAQs, what to expect on the day, interview tips and additional information about the SSLS. Candidates had the opportunity to chat with service users on the day and were then interviewed. The team ensured feedback was provided within three days of the event. Service users were actively involved, including on the interview panel and with planning and decision-making.
Virtual recruitment events
Due to the COVID-19 pandemic, the trust needed to focus on digital processes while face-to-face restrictions were in place. This led to the introduction of virtual recruitment events (VREs), since nominated Health Education and Improvement Wales (HEIW) award for working smarter.
The events were developed in collaboration with the West Yorkshire Health and Care Partnership ICS and supported by Touchstone, a local charity. Posting flyers through letterboxes proved to be an effective way of advertising the events as it connected with people who are not active on social media and not engaged with the local community. The campaign also used social media influencers to capture a wider audience, as well as advertising on a range of social media platforms including TikTok, which was a first for the trust.
The VREs offered prospective candidates the chance to watch different webinars, such as a day in the life of a HCSW and explore career guidance for non-clinical roles. Plus, candidates could apply without completing application forms and following screening via Touchstone were offered support to attend an online interview. Following the interviews, successful candidates were given conditional offers on receipt of the completed application form.
Induction process
To enhance the profile of HCSW roles, the trust developed a comprehensive and positive clinical induction programme, particularly for those candidates without any prior experience. 55 recruits have completed this since implementation 18 months ago. It helped to change perspectives around mental healthcare which led to increased retention rates asemployees feel more valued and supported. There is also a one-day course available for bank staff which promotes upskilling and building confidence.
Talent Gateway
Talent Gateway enables candidates to give permission to be considered for multiple similar vacancies, other than the one(s) they applied for. This benefits the candidate, facilitating their application to multiple services within LYPFT, and increases the talent pool.
Future Plans
The trust has moved towards recruiting HCSWs in cohorts - recruiting groups of people rather than recruiting to individual vacancies This was achieved by identifying optimal times to recruit, for example when training courses are completed and a larger talent pool is available.
The trust is committed to a values-based recruitment approach and one of its aims is to appeal to individuals who've had caring responsibilities in their personal life and who might be looking to develop a career, as they have the appropriate skills and values required for HCSW roles.
Result and benefits
The trust was pleased to fill the outstanding vacancies they had in their HCSW workforce, and through increased support given to applicants, retention has improved. New starters are better informed of the role requirements prior to joining the organisation.  
The initiatives implemented by the trust offered opportunities to those living locally, widening participation. They have developed relationships with organisations across the system, finding the support of the third sector particularly useful in advising and supporting on barriers to entry for certain candidates. The support of the Leeds Health and Care Academy supported the trust with implementation and provided contacts from across the city.
Through the introduction of a HCSW induction process, members of staff have been encouraged to take an interest in further career development opportunities and discussions, therefore supporting the grow your own initiative.
Overcoming obstacles
The Kickstart project provided less candidates than hoped. However, the lessons learnt helped to kickstart new ideas, and forty percent of applicants remain in employment.
Recruiting to mental health and disability roles has been challenging. Many younger people aren't aware of the variety of nursing pathways and so it was beneficial to raise awareness of those roles.
The localised recruitment campaign was intensive, for example posting flyers through letterboxes was very time-consuming, however, this method proved to be most successful in attracting suitable applicants.
The team's administrative procedures became more complex because it was found that many candidates didn't want to use NHS Jobs due to the lengthy application process and so the team was tasked with finding other ways to support them.
Takeaway tips
The trust had many different recruitment strategies that worked well together, rather than focusing on just one. Persistence is key to resolving recruitment issues, have many strategies and continuing to do them.

Review or introduce induction processes as these will upskill staff, raise engagement, and help clarify career aspirations.

Advertise for HCSW and apprentice HCSW in separate job postings, as this both gives candidates further information on which role may be more suitable and ensures the roles don't get lost when being picked up on job sites.

A recruitment campaign on the radio complemented advertising through social media, however it was deemed that advertising through radio might be better suited to raising general awareness of trust vacancies rather than focusing on specifics.

Within a competitive job market, ensure there is an informative, timely, positive candidate journey.
Contact Details
If you would like to find out anything further on the initiatives noted in this case study, please contact workforcesupply@nshemployers.org and we can pass your query on to the team at LYPFT.