Case Study
Staff engagement at Sherwood Forest Hospitals
Learn how Sherwood Forest Hospitals NHS Foundation Trust has applied staff engagement techniques as part of its continuous improvement efforts.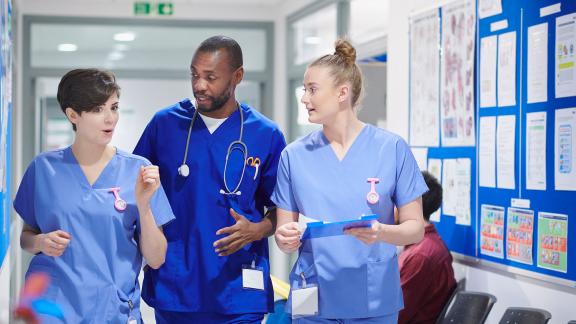 Sherwood Forest Hospitals NHS Foundation Trust is a medium-sized acute hospital trust in the East Midlands. It has become one of the top performing acute trusts in the NHS Staff Survey over the past five years. In the 2021 Staff Survey it was one of the top scoring hospital trusts on all People Promise measures, while in 2020 it was one of most improved trusts across staff engagement metrics. This case study explores what the organisation did and how it applied staff engagement methods to improve its NHS Staff Survey results and continuous improvement.
Key benefits and outcomes
Rated Good overall by the CQC, with the King's Mill Hospital site rated Outstanding.

Staff voted the trust as the Best Midlands NHS Acute Trust to work in for the fourth year running in the National NHS Staff Survey (2018-2021).

One of the top ten scorers for staff engagement in the 2021 NHS Staff Survey.
What the organisation faced
In 2016, Sherwood Forest Hospitals NHS Foundation Trust was in special measures following the Keogh mortality review and a CQC inspection, which rated the trust as Requires Improvement.
In its efforts to overcome the challenges it faced, the trust undertook a programme of staff engagement as part of its continuous improvement strategy. This involved active listening, promoting multiple platforms to engage with colleagues at all levels of the organisation to care, to engage with and to lead improvement.
What the organisation did
One of the key elements of the trust approach to staff engagement has been its approach to quality improvement. This is part of its wider staff engagement approach which includes seeking regular feedback from staff and ensuring staff feel valued.
The trust's staff engagement strategy is grounded in building a culture where colleagues feel valued, listened to, cared for and are encouraged to have a voice to speak up.  Supporting and nurturing a culture of learning and improvement, allows the organisation to ensure that it is great place to work and receive care.  
Staff engagement is embedded throughout leadership behaviours and teamworking ethos. An example of this in practice is the trust's culture collaborative is where staff come together in a safe supportive space, boundaries of hierarchy were removed and they discussed topics that were important to both staff and patients. Action is owned and progressed. 
A staff led initiative is Fitness for All: a virtual exercise group. Created as a virtual platform connecting colleagues to focus on physical/mental health during COVID-19.  It now has over 700 members regularly sharing exercises and activities, and in the last challenge month, over 44,400 minutes of exercise were recorded. This is one initiative that has built a real sense of community, connectivity and teamworking across the trust.
Results and benefits
The trust has learned about the value of deliberate and relentless conversation spaces, whether formal, informal, virtual, or in person. The organisation now continually engages, listens, understands, learns, and together improves with staff.
Feelings of trust are fostered by being curious and by having inclusive, safe platforms to actively engage diverse views and perspectives.
Through the trust's You Said, Together We Did mechanism, the organisation demonstrates that it acts on it hears from both staff and patients.
The organisation's values are embedded at the very start of recruitment process and run as a thread throughout all that the organisation does.
Overcoming obstacles
Hierarchy within organisations is normal, but can be barrier to staff feeling comfortable offering ideas or giving constructive criticism. As part of its quality improvement approach, the trust has had to address existing hierarchical boundaries and create safe spaces where all staff feel able to put forward ideas. 
Takeaway tips
Actively respond to staff feedback and implement ideas which will create confidence.

Use a range of platforms to engage with all groups of staff, including both face-to-face meetings and online tools to foster collaboration.

Support staff in quality improvement, using tools such as structured conversations to develop a culture of continuous learning.

Improved staff experience goes hand in hand with improved care for patients.
Further information
For more information please contact Beth Hall, business support officer for culture and improvement at Sherwood Forest Hospitals NHS Foundation Trust, via beth.hall8@nhs.net.