Case Study
Supporting the recruitment of overseas mental health nurses
Read how Solent NHS Trust has worked on improving international recruitment and retention rates for mental health nurses.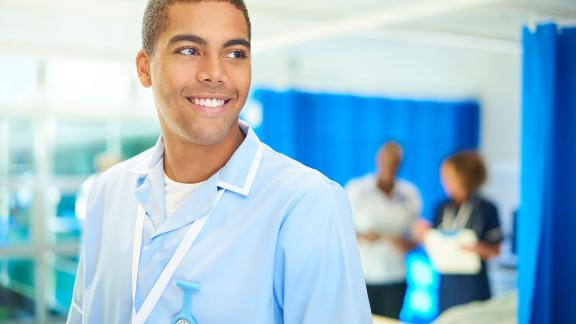 Solent NHS Trust began to recruit internationally in March 2022 as it was facing challenges filling vacancies. By introducing a practice educator, pastoral care support and a new recruitment platform alongside its international recruitment package, the trust has been successful in recruiting and retaining overseas nurses.
Key benefits and outcomes
97 international nurses have been recruited since March 2022 with 98 per cent retention rates.

Eight international recruits have used the developmental support to progress into Band 6 roles.

The trust has developed consistency in staffing across teams, this provides better support for patients and removes extra pressures on existing staff.
What the organisation faced
Solent NHS Trust was struggling to recruit and retain mental health nurses for various reasons. Even though nurses were graduating from UK universities, there were not enough successful applicants recruited by the trust to fill its vacancies. The organisation faced staff shortages which led to challenges in continuity and delivery of care. Agency staff were brought in to cover shifts, however, this created a lack of consistency across teams and the care of the patients, which the trust felt wasn't sustainable.
Other local trusts had seen success with international recruitment, providing Solent NHS Trust with an opportunity to learn in order to increase safe staffing and improve consistency in delivery of care.
What the organisation did
The trust developed a new role of practice educator and recruited someone with international recruitment skills to help support the overseas nurses joining the organisation. Solent used a new recruitment platform to attract applicants from green list countries and accessed the NHS Employers International Recruitment Toolkit for guidance. The trust liaised with nearby organisations around recruiting registered general nurses, shadowed these trusts to set up an OSCE boot camp, and attended Royal College of Nursing (RCN) and NHS England webinars.
Solent, Southern Health and Isle of Wight NHS Trust worked together to run their own in-house Nursing and Midwifery Council (NMC) OSCE programme to help prepare the nurses for the exams in Ulster - a university that has one of the higher pass rates.
The first cohort joined the trust in March 2022, and the organisation is currently in the middle of teaching the second cohort. Initially the nurses are employed as Band 4, and after receiving their qualifications they become Band 5. Nurses have a dedicated 10-day intense programme to gain skills to prepare for their mental health OSCE exam prior to registration with the NMC as mental health nurses. Candidates have to sit the OSCE exam within 12 weeks of their arrival.
The practice educator delivers training on the Mental Health Act and aspects of mental health service delivery specific to the UK, as countries of origin have different ways of delivering these services. The role supports the new starters with a robust induction programme by working alongside the nurses to coach, role model and support them with their work to complete their Band 5 competencies.
The trust found that having a preceptorship programme which runs alongside the ward induction helps to support the new nurses as they integrate into the trust's ways of multi-disciplinary team (MDT) working. Between the cohorts, the practice educator would work with the nurses on their shifts and spend time with them to understand how they're settling in and discuss any challenges they face.
When the nurses arrive in the UK they receive support with food, shopping, uniforms, and housing from the pastoral care team. The trust has also introduced a buddy system and WhatsApp groups along with pastoral care support. This allows the nurses to have a safe space to talk to each other.
The pastoral care team liaise with nurses as soon as they accept employment via WhatsApp group for housing, food and orientation needs. Zoom calls are set up for support and to answer any questions about the working environment.
Results and benefits
Currently Solent is one of six NHS trusts that have begun community general nursing via international recruitment. They also recruited their first cohort of mental health inpatient nurses who were mostly from India with some responses from Zimbabwe and the Caribbean.
A diversity and inclusion course has been introduced since the organisation started international recruitment on top of improvements to ensure staff feel supported. Staff have found the diversity and inclusion sessions to been eye opening, reminding everyone of the values of the trust and demonstrating the benefits of having new people and new talent working for the trust.
Retention rates have improved, with only two resignations from the cohort. The trust believes this is due to providing support to the international nurses starting from the beginning of the recruitment process, to preparing their arrival in the UK, supporting them through the OSCE programme, pastoral care, inductions, and integration programmes.
The trust supports the nurses through career progression and gives them development opportunities. Band 6 development programmes allow nurses to shadow and work in different wards prior to taking up Band 6 posts. The organisation also signposts to leadership courses and has found that some of the nurses with an education background have joined the practice educator teams and the OSCE facilitator teams as Band 6.
Overcoming obstacles
Challenges included different ways of working and language barriers. A local college offered a course for English as a second language for health care professionals which allowed the trust to enrol the nurses into this. The nurses improved their confidence in communication skills such as listening skills, everyday use of technology, and learning the different terminologies and words they can use on the wards. Through networking with other trusts, Solent also discovered that it helps to give new nurses communication tips and etiquette norms.
Initially, the different working styles the nurses had prior to being recruited had not been taken into account. The nurses were given support to adapt to the new ways of working to gain confidence in their day-to-day nursing roles. Training and information packs, which include information about their job description, how they can seek help and who to communicate with to feel supported, whilst being able to lead in their own work, is provided in the initial stages of their induction programmes.
As there are more registered nurses than mental health nurses worldwide, it may not be possible to get mental health nurses from abroad for the nursing posts available. There are UK trained nurses that do conversion programmes to be dual trained as a registered general nurse or mental health nurse, international nurses recruited this way will be following a similar conversion path. It will involve partnership working with local universities for the programme accreditation.
Future plans
The trust is currently working on a language course and plans to develop a map of the world in the hospital to show where all the nurses are from and to write a bio about themselves to learn more about each other. The ward staff can also get to know and understand the new members joining them.
In the future, Solent is looking at recruiting registered nurses who have some experience of working in mental health units or hospitals. Nurses recruited in this way would need a different induction programme. Solent NHS Trust is focusing on recruiting registered mental health nurses in their countries of origin.
Take-away tips
Create a support system from the start of the recruitment process which includes preparing for their arrival, developing the OSCE support programme, pastoral care, induction programmes and ongoing support.

Support international recruits to settle into the country and to gain registration. Solent is paying for visa charges, the OCSE programme, and an English course, as well as three-months free accommodation.

Prepare your staff on the ground with a programme for integrating the new overseas nurses and involve them.

Communicate with the nurses and ask them what they need help and support with.

The Mental Health Act is new to international nurses: design a robust teaching and induction pathway with experienced staff to support the Induction process to confidently recruit to any setting.

Use some numeracy days for competency testing, do simulations of various presentations on the ward and how to deal with them.

Ensure timely supervision, reflection time, debriefs, focus groups and exposure to teams that work alongside the particular settings.
Contact details
For further information about this work please contact Noma Ndlovu, international nurse education lead and OSCE training facilitator at Solent NHS Trust. Email: Noma.Ndlovu@solent.nhs.uk