Case Study
Supporting working carers to stay in work
Read about how Dorset Healthcare is supporting its staff who have unpaid caring responsibilities.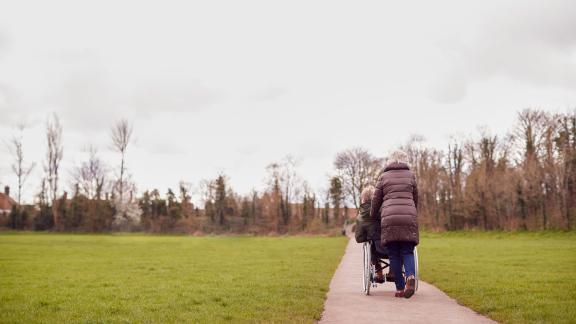 Dorset Healthcare is responsible for all mental health services and many physical health services in Dorset, delivering both hospital and community based care. Employing around 6,000 staff who provide healthcare at over 300 sites, ranging from village halls and GP surgeries to mental health inpatient hospitals and community hospitals, as well as in people's homes.

We spoke to Catherine Granville, deputy director of people and culture, and Dr Sue McCowan, a senior doctor in older people's psychiatry and memory services about how Dorset Healthcare supports its staff who have unpaid caring responsibilities.
 
Key benefits and outcomes
Avoiding the potential loss of staff from the trust.
Faster recovery for the person being cared for by having the most appropriate person there to meet their needs.
The staff member returning to work faster with improved wellbeing and reduced risk of time off sick.
What the organisation faced
Often, people with caring responsibilities worry about how to juggle these alongside their work responsibilities. If caring responsibilities are not acknowledged promptly, it can quite quickly have an impact on an individual's wellbeing.
The latest NHS staff survey showed that there could be up to one in three of the NHS workforce balancing working and caring responsibilities.
As the definition of 'carer' is very broad, a lot of people don't identify themselves as carers. A carer is a person who provides unpaid help and support to a partner, child, relative or friend, who could not manage without this help. A parent carer provides more support than usual parenting.
 
A survey in 2019 showed that only 20 per cent of unpaid carers in the NHS shared that they had caring responsibilities with their manager, which can put them under increasing pressure inside and outside of work without any support. This can impact on their personal health, finance, and wellbeing.
Dorset Healthcare wanted to create a culture where carers felt able to discuss their situation and felt empowered to work with their manager to find solutions, without the risk of judgement.
Dr Sue McCowan is a part-time senior doctor in older people's psychiatry and memory services in a community mental health team for Dorset Healthcare.
 
Dr McCowan needed to personally care for her child during periods of illness, leaving her struggling to juggle work and wellbeing. After a call to HR from her line manager, it was recognised from her child's diagnosis and support needs that Dr McCowan is a parent carer, and as such the trust's leave policy was used to good effect including urgent paid leave, expected unpaid leave and periods of flexible working.
What the organisation did
All employees have the right to take a reasonable amount of time off work to deal with an emergency or an unforeseen matter involving a dependant.
 
At Dorset Healthcare, wellbeing discussions between staff and their line managers were introduced, as well as personalised wellbeing plans. In line with the NHS People Plan, everybody is offered a dedicated one-to-one chat about their personal wellbeing and given the opportunity to create a wellbeing plan.
Experienced staff have valuable skills and knowledge that the NHS needs, so supporting carers to stay in employment benefits the service.
  
By incorporating a carers passport into their wellness plan, Dorset Healthcare recognised that personal lives are not left at the door when staff come to work. A carers passport is a record that identifies the carer and sets out an offer of support, services or other benefits. The scheme provides a straightforward way to document flexible working that can be carried into an employee's future roles, so if a person moves jobs, a manager will know the member of staff's situation, cutting down on unnecessary meetings and paperwork. The carers passport is now mentioned during the induction process for new starters to make sure from the beginning that staff are aware of the support offered to carers.
Flexible working
All employees have a right to request flexible working after they have worked for the same employer for 26 weeks (six months), as long as they haven't already made a flexible working request within the last 12 months.
Carers may be entitled to special or dependant's leave which is normally short term and may be with or without pay (depending on the duration). This is intended to help staff balance the dual demands of their home and work responsibilities at times of unforeseen need through the provision of paid or unpaid leave. There will be a review period in place to meet periodically to make sure the arrangement is working for the employee and the service.
Line managers can consult with the HR team to learn how to support staff around flexibility. There is a regular newsletter that goes out monthly and a carers network where staff can meet other carers and share experiences. Intranet pages also signpost resources to staff and ongoing communications help raise awareness. The trust has over 100 healthcare and wellbeing champions who spread the word within teams.
As the parent of a child with periods of unexpected illness there were times that Dr McCowan had to take time off to care for her child.
"I was likely to have become unwell myself and be on sick leave if I continued trying to cover both work and caring through periods of my child being unwell. Ultimately it was likely that the team, trust and the NHS would have lost a professional with 20 years' experience as nobody else, including trained agency carers, could care for my child during these times."
Although her line manager was not aware of all the rules around parental or carers leave, they sought detailed advice from the HR team that immediately recognised that Dr McCowan was a carer. HR explained the carer policy that includes more flexible working, the possibility of urgent paid carer leave and planned unpaid carer leave. These benefits were invaluable to Dr McCowan.
As a result of learning about the carer policy, Dr McCowan's line manager was able to support her more confidently and Dr McCowan benefitted from knowing where she stood regarding employment and could concentrate on supporting her child's recovery, rather than trying to continue working and becoming increasingly strained.
Overcoming obstacles
Most people don't know they are a carer for several years, they do not recognise it themselves and they are usually not told by anyone.
Not everybody feels comfortable sharing their carer status, so work needs to be done to develop a culture of trust.
The main barrier was that Dr McCowan, her line manager and most other NHS staff were unaware of the term 'parent carer'. Once this was discovered, support was put in place promptly.
Many line managers may not know there is a different way of managing staff with caring responsibilities compared with normal parental leave.
Caring responsibilities are not always for members of the family.
Dorset Healthcare has a 'Valuing Carers in Dorset Vision' - an intranet page for staff carers with links to the special leave policy and an active carers' lead, as well as a staff carers' group.
Takeaway tips
If you have caring responsibilities, talk to your line manager, human resources and the carers' lead at your trust.
Ensure that all line managers know about the special leave policy, and can recognise that some parents are parent carers due to their children's diagnoses and support needs. Parent carer support and leave is different from normal parental leave. Line managers need to be aware of the policy so that solutions can be found that everyone can benefit from.   
Make sure the caring policy is mentioned in inductions so that new starters are aware early on that support is available. 
Add links to resources and signpost to useful information for carers on your organisation's intranet.
Set up a staff carer group so people can connect and share experiences. 
 
Future plans
The trust hope to have a carers' day to get everybody together to connect, create a sense of community and raise awareness.
Further information
For more information about the work in this case study, contact Catherine Granville, Service Director, People and Culture at dhc.carer.support@nhs.net