Case Study
Sustaining and Improving International Recruitment
A case study looking at Wye Valley NHS Trust's efforts to improve its international recruitment.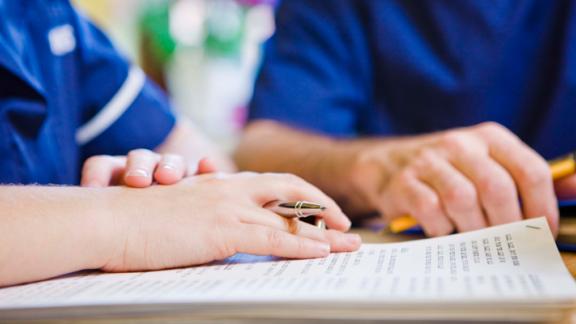 Wye Valley NHS Trust is a small rural district hospital that, like many others, had difficulties filling nurse vacancies. While the trust already used international recruitment, it embarked on a large campaign to attract high numbers of international nurses by understanding its unique selling points and how best to market its organisation.
Key benefits and outcomes
90 international nurses recruited over twelve months.

Reduced Band 5 registered nursing gap by nearly 14 per cent.

Saved almost £400,000 in monthly nurse agency spend.

Developed a series of unique selling points to help the trust's offer stand out from other organisations.  

 
What the organisation faced
Like many rural trusts, the national shortage of qualified nurses impacted its nurse vacancy rates over the last five years. Despite engaging in international recruitment in the past, and having an existing strong objective structured clinical examination (OSCE) programme, the trust needed to increase its presence within international recruitment and embark on a large-scale recruitment campaign.
What the organisation did
Due to high levels of nursing vacancies from 2017 to 2018, the trust looked at workforce data of Band 5 registered nurses to see after how long in employment nurses were leaving the trust, understand its high agency spend, and took a deeper dive into the reasons why nurses were leaving the organisation.
The trust then started a large-scale international nurse recruitment campaign with the aim of significantly reducing nurse agency spend, improving staff engagement and morale, and sustaining clinical standards by maintaining a stable and permanent Band 5 workforce of registered nurses. 
Recruitment, education and nursing teams joined forces to recruit 90 international nurses over twelve months.  The trust already had a very successful OSCE training programme from recruiting international nurses for the last five years, but to recruit 90 nurses and ensure they all passed their OSCE exams was a challenge.
The trust engaged three nurse recruitment agencies, instead of one, to secure its pipeline and bring in cohorts of 10-15 international nurses per month.  The aim was to develop a robust recruitment campaign with a comprehensive induction, on-boarding and pastoral care offer, so the nurses felt welcome and had a positive experience from start to finish.
To make the trust stand out from other offers and organisations, it developed the unique selling points of:
working with practice educators to offer robust onboarding, induction, and pastoral care with support from senior nursing colleagues and practice facilitators

creating a welcome pack with benefits of the organisation, local community information, induction information and more to ease anxieties before relocation and enhance the reputation of the organisation

supporting integration with the hospital and local community area

a buddy system was implemented where previously recruited international nurses support new cohorts in OSCE preparation, orientation and integration

cohorts of 10-15 nurses per month supported to complete their OSCE programme and culminate in twice-yearly award ceremonies with the Director of Nursing presenting certificates and awards

a twelve-month preceptorship programme facilitated by education and a dedicated mentor.
Results and benefits
As a result of its efforts, the trust was able to meet its goal and recruit 90 nurses over twelve months.
Additional international nurses enabled the trust to reduce its Band 5 registered nursing gap which contributed to better patient care, consistency of care, and staff morale, as there were substantive nurses on the wards to support other nursing staff who had been covering. The trust's nurse vacancy rate reduced from 22.85 per cent in December 2018 to 8.96 in May 2020.
The trust also saw a reduction in its Band 5 registered nursing agency spend by nearly £400,000 between agency spend in July 2019/2020 compared to July 2020/2021.
Overcoming obstacles
The trust struggled at first with accommodation, as it only had a limited number of rooms available on site. To overcome this, it worked with a local letting agency to source suitable housing of large HMO houses, of up to five to six nurses. This helped the nurses to adjust to their new way of life, support one another and saved them financially with their utility bills as they shared the costs.
The trust also had to adopt a bespoke induction programme just for the international nurses, which proved to be successful as the full corporate one did not adhere to their requirements.
The trust was also flexible with the supernumerary period and agreed on an individual basis the level of support they need to properly prepare them for delivering care safely and competently.
Takeaway tips
Communication, meeting regularly across a multidisciplinary team, and involving senior leadership from the start is essential to ensure nurses feel welcomed and looked after across the whole process.

Having a robust OSCE training programme helped to support large cohorts of international nurses and award ceremonies demonstrated how much the trust valued the nurses and the sacrifices they made to work for the NHS.

Working with three recruitment agencies increased the

volume of high standard and calibre nurses arriving each month in larger cohorts.

 

Strong pastoral care and a robust onboarding process will ensure the needs of international nurses are met and they feel culturally, emotionally, and professionally supported.
Further information
For more information about the work in this case study, contact Karen Miller, head of resourcing, Wye Valley NHS Trust: Karen.Miller@wvt.nhs.uk.