Case Study
Trust sets the pace on gold-standard military support
Milton Keynes University Hospital raced to the Defence silver award for its work supporting the Armed Forces, with sights now firmly set on gold.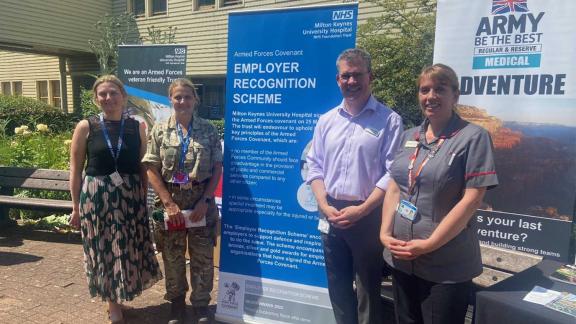 Overview
Milton Keynes University Hospital NHS Foundation Trust (MKUH) is a medium-sized district hospital providing acute hospital services and employing more than 4,000 staff. In May 2021 the trust formally pledged its support for the Armed Forces by signing the Armed Forces Covenant. The following July it successfully achieved the government's Defence Employer Recognition Scheme (ERS) silver award, in recognition of the value and commitment it places on supporting those who have served in the military or continue to serve, including reservists, veterans, and military families.
Key benefits and outcomes
The trust introduced several key initiatives as part of its Forces-friendly commitment.
New Armed Forces network, offering educational awareness and social support.
Dedicated Armed Forces reserves policy.
Additional 10 days paid leave for reserves to cover annual training, plus additional five days unpaid leave if required.
New Armed Forces buddy scheme.
Appointment of Armed Forces Covenant officer.
Collaborative working relationship with local military reserve units and Cadet Force Adult Volunteers.
What the organisation faced
The trust recognised the huge talent and skills that Armed Forces reservists bring to the workforce, and that these skills are developed by the world-class training offered through a military role.
The long-term aim was to increase the number of military reservists in the workforce, and to ensure these staff had the right support and a good working experience.
In May 2021, the first step was signing the Armed Forces Covenant, publicly pledging to support employees who serve or have served in the Armed Forces and reinforcing the commitment to becoming a Forces-friendly employer. It was then essential to work towards Defence ERS accreditation, to demonstrate formally the work being carried out to support Defence and the Armed Forces community.
What the organisation did
The trust established an Armed Forces working group, comprising both staff and external stakeholders. This included colleagues from the government Defence Relationship Management body, which offers guidance to organisations to help them understand the value of the Armed Forces Covenant.
The aim was to hear multiple perspectives, incorporate different skillsets and encourage proactive participation in the group. The trust successfully applied for grant funding through the Armed Forces Covenant Fund Trust to support its Forces-friendly work. It was able to appoint an Armed Forces Covenant lead officer to co-ordinate the planning, management and review of the new Armed Forces network, its aims and objectives.
A partnership was developed with the Armed Forces Covenant officer at Milton Keynes City Council to help build relationships with local military reserve units, the veteran community, and relevant Armed Forces charities.
Finally, a corporate review of HR policies looked to ensure the right support was available for reservists to carry out their military training, and when called to mobilise.
The trust opted to introduce an 'ERS gold-standard' reserves policy, including 10 days paid leave for annual training plus an additional five days unpaid leave if required. The aim being to ensure the right policies are in place to achieve ERS gold when applications open in 2023.
Results and benefits
MKUH was successfully awarded Defence ERS silver accreditation in July 2022, just over a year after kick-starting its drive to become a recognised Forces-friendly employer.
The trust is now in a good position to apply for gold ERS in 2023, with all relevant policies in place.
New Armed Forces community employees have an established structure to support their working experience; potentially boosting staff retention at the trust.
Existing reservists and their families can benefit from the enhanced policies in place, ensuring they are not disadvantaged in terms of available leave..
The aim to become a Forces-friendly employer is now a formal commitment which can be communicated to staff and the public.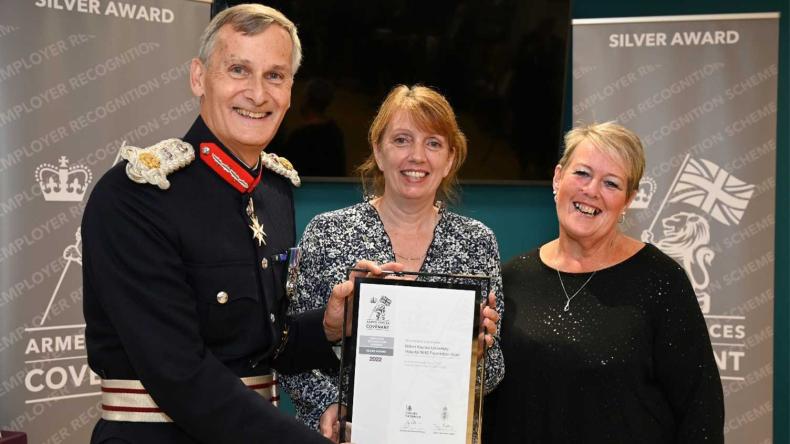 Going forward
The trust is aiming for ERS gold accreditation in 2023, confident the essential work has already taken place to achieve this.
It recognises the need to continue demonstrating advocacy for military staff, with a focus on stakeholder collaboration to build the support available to colleagues via its Armed Forces network.
Takeaway tips
Review your organisation's HR policies as a priority.
Aim for ERS gold award at the outset, to ensure you achieve your aims.
Promote your Armed Forces staff network widely, capture and involve as many Armed Forces staff as possible.
Many ex-Forces personnel miss the camaraderie of military life. The support that veterans, reservists and family members can offer each other in an Armed Forces network should not be undervalued.
Arrange Armed Forces staff coffee mornings and drop-in sessions, especially around Armed Forces Week and Armistice, which can be a difficult time for many.
Engage with your local council Civil Military Partnership Board to widen the Armed Forces network locally and boost what it can offer to staff.
Contact details
For more information about the work in this case study, contact Johanna Hrycak, Armed Forces Covenant Lead at Milton Keynes University Hospital NHS Foundation Trust, at johanna.hrycak@mkuh.nhs.uk.