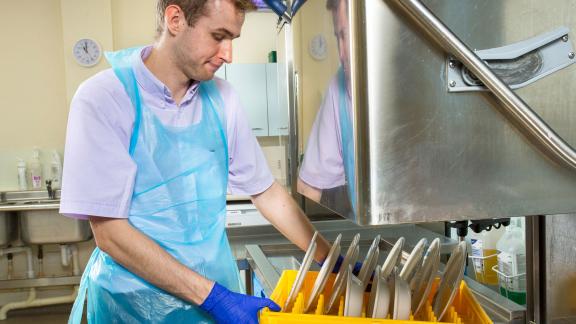 Introduction
Approximately 60-80 per cent of health and wellbeing is attributable to the social determinants of health. Employment is one of the key determinants. There is an inherent and reciprocal link between health and work. Being in good work with fair pay and conditions improves people's overall physical and mental health and supports quality of life; good health enables people to work, creating a virtuous cycle.
Through inclusive employment and by targeting activities, the NHS can have a significant impact on enhancing the lives of people experiencing deprivation and inequalities, support economic and social recovery and levelling up. We can actively offer pathways into NHS careers and ensure apprenticeships and pre-employment opportunities are open to people:
experiencing poverty or deprivation

with a physical or learning disability and/or autism

with a long-term condition or mental health condition

that are care leavers

that are experiencing homelessness

that are in, or have left the criminal justice system

are from an ethnic minority group

have recently been made unemployed.
Inclusive employment that helps to tackle health inequalities can be achieved by:  
optimising the role of the NHS as an anchor

addressing our workforce challenges while tackling inequalities

engaging with local partners

learning from COVID-19 workforce practices.
Optimising the role of the NHS as an anchor
Anchor institutions are large organisations which are 'anchored' in place, meaning they are unlikely to relocate and are rooted in and connected to their local communities.
Anchors can intentionally use their assets, resources and influence to support their local community's health and wellbeing and tackle heath inequalities by creating new opportunities for local people to enter employment for example. Across the country, we are seeing the emergence of place-based anchor systems or networks, involving a range of NHS and non-NHS partners.
London is taking a city-wide approach to recovery that leverages the power of the range of anchor institutions

The London Recovery Board, co-chaired by the Mayor of London and London councils, brings together political, civic and business leaders from across the city. It aims to stimulate and co-ordinate action to:

reverse the pattern of rising unemployment and lost economic growth caused by the economic scarring of COVID-19
support our communities, including those most impacted by the virus
help young people to flourish with access to support and opportunities
narrow social, economic and health inequalities
accelerate delivery of a cleaner, greener London.

As one of the largest employers in London, the NHS has taken a leading role through the establishment of the NHS London anchor network. NHS leaders have been inspired to act, as the objectives of the London recovery board strongly align with their values and help shape what they can do in partnership to address inequalities and leverage their role as an anchor institution.

The programme that supports the actions the NHS will take is deliberately nimble, balancing a social movement with the need to influence business as usual. There are currently four high-level workforce priorities:

Vaccination to vocation (providing pathways into good work for vaccinators).
Youth unemployment (considering guaranteed apprenticeships, amongst other things).
Reskilling communities (embedding pathways to work in communities, such as through primary care training hubs).
Embedding London as a living wage city (gaining living wage accreditation for NHS organisations in the city).
What you can do
Develop a strategic approach with clear ambitions of what you are trying to achieve and for which population groups.

Seek opportunities to collaborate with other local organisations who are already providing support to your target groups as they will have complimentary skills or expertise, for example, local authorities, organisations in the voluntary or education sector.

Engage with communities and other key stakeholders to co-design your approach.

Join the

Health Anchors Learning Network

to share and develop innovative ideas and practices. It is a free network for people responsible for or interested in anchor approaches to health.

Measure the difference you are making.
Addressing our workforce challenges while tackling inequalities
Health and care workforce
There were over 110,000 vacancies in England and 105,000 vacancies in adult social care. 
NHS workforce

Adult social care workforce

21 per cent are BME

77 per cent are female

6 per cent is aged 25 or under

21 per cent are BME

82 per cent are female

9 per cent is aged under 25
The estates and facilities workforce across the NHS accounts for approximately eight per cent of the total NHS workforce and faces recruitment and retention challenges as well as an ageing workforce. There is a lack of diversity in middle and senior management positions.

Five per cent of the workforce is aged under 25, with 75 per cent aged over 40. Whilst 50 per cent of the workforce is female only 20 per cent occupy senior positions. In addition, 20 per cent is from an ethnic minority background but occupy only five per cent of senior leadership positions.

Many of the skills required roles in estates and facilities are transferable from other sectors and offer local people a wide range of job roles and careers pathways in the NHS.
What you can do
What does your current workforce profile look like in comparison to your local community?

Is your workforce representative of your local community?

If not, where are the gaps? And how do these split across roles, specialties, and grades?

Who else can you partner with locally to work at scale and utilise others' expertise and support to reach and diversify your workforce?

Enabling your existing staff to become

NHS Ambassadors

, will connect your organisation with future generations and encourage them to consider a career in healthcare.

Work with local partners to promote and develop career pathways and apprenticeship routes.

What's your long-term workforce plan and how will this work support your ambitions? Review plans with regional and system people boards to align with national policy.
Engaging with local partners
With hundreds of roles across the NHS and social care, you may want to consider how you engage with local partners including other health and care partners, local councils and the voluntary and education sector to promote roles and facilitate career pathways to local people of all ages, and people who experience health inequalities.
Humber, Coast and Vale Health and Care Partnership (HCV) has developed system wide projects and resources to support recruitment and retention in the region.
What you can do
Where are you now and where do you want to be? Use your data to develop a case to sustain and grow activity.

What resources are needed and where can working collaboratively across your system maximise impact and scale from any investment?

Develop relationships with education providers to influence the skills agenda locally and ensure visibility as a good and stable employer within the local community.
Learning from COVID-19 workforce practices
COVID-19 has resulted in more agile and flexible working practices across the health and care workforce and has reduced bureaucracy, particularly during the mass vaccination recruitment drive.
This has opened new workforce supply pipelines to local people who may not have previously considered a role in the health sector and connected the workforce to the community it serves.
It has also provided an opportunity to promote the wide range of careers available within the NHS to local people with transferrable skills who are unaware of the full range of roles available.
What you can do
Promote

health and care as an attractive and accessible sector for local talent either starting out on their journey or for those with transferrable skills to access a wide variety of career opportunities.

Continue working in an agile way, learning from the best of people practices that we saw during the acute phases of the pandemic.

Ensure that people who have joined the NHS to support the pandemic, for example, into vaccination centres, are encouraged and supported to develop their career in the NHS.