Article
Advanced clinical practice
Find out about what advanced clinical practitioners are and what they can do to support your multi-disciplinary teams.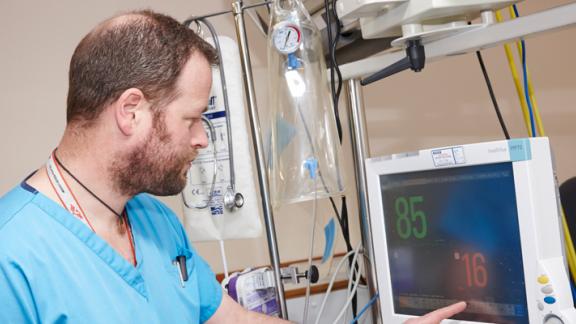 Advanced clinical practice is a level of practice healthcare professionals can attain. Advanced level practitioners (ACPs) are from a range of professional backgrounds such as nursing, pharmacy, paramedics, occupational therapy, healthcare science and midwifery.
Health Education England has added 'credentials' for health and care professionals working in learning disabilities and autism services, to expand their professional competencies. For a full list of the credentials available, please visit the Health Education England website.
ACPs are educated to masters level and have developed the skills and knowledge to allow them to take on expanded roles and scope of practice. Healthcare professionals at this level can enhance capacity and capability within multi-professional teams by providing clinical leadership and enabling collaboration across the multidisciplinary team. They help to improve clinical continuity, enhance multi-professional teams and provide high-quality care for patients.
Multi-professional framework for advanced clinical practice
In 2017, Health Education England and NHS England and NHS Improvement worked in partnership to develop a national framework for advanced clinical practice, which ensures that there is national consistency and understanding about what the ACP role is. This is the first time that a national framework has existed in England and has established a shared understanding of the ACP role and how they can be deployed to deliver better patient care.
The framework offers opportunities for mid-career development of new skills such as prevention, shared decision making, and self-care. The framework includes:
a national definition of the role
what the requirements for entry are
guidance and principles that ACPs should adhere to in their professional practice
a clear career pathway into and within the profession.
View the multi-professional framework for advanced clinical practice in England.
What can ACPs do?
Health and care professionals working at an advanced clinical practice level will be able to evidence the underpinning competencies, skills and behaviours applicable to the specialty or health and care setting and job role they are working within. As part of the framework for advanced clinical practice, ACPs must be able to evidence additional core capabilities across four pillars: clinical practice, leadership and management, education and research.
ACPs can demonstrate expertise and professional judgement to achieve these capabilities in areas such as: diagnostics and therapeutics, enhanced skills in consultation, critical thinking and clinical decision-making, and the leadership they demonstrate within their teams.
These can be demonstrated in different ways depending on the setting or role the ACP is practicing, which means that there is flexibility for employers to determine how ACPs demonstrate these capabilities, based on service, patient, team and organisational needs.
Workplace supervision of trainee ACPs
Existing workplace supervision practices may not map neatly to the learning needs of developing multi-professional advanced clinical practitioners or trainees. A range of practical and comprehensive guidance for the workplace supervision of trainee ACPs can be found in HEE's supervision for advanced clinical practice resource.
Find out more
There is now a level 7 (master's level) apprenticeship in advanced clinical practice available, which can be funded through the apprenticeship levy. Visit the Skills for Health website for further information. For more information about Health Education England's work on advanced clinical practice, please visit the HEE website.
Watch how Nottingham University Hospitals NHS Trust who are using the apprenticeship route to train their Advanced Clinical Practitioners in this video.